Yaya Toure should be dropped from the Manchester City team as Fernando and Fernandinho form a better partnership when it comes to the big games in Europe.
That's the opinion of former Manchester United defender turned commentator and analyst Gary Neville, who felt that the defensive pair gave City the platform for their 2-0 Champions League victory over Roma that secured their progression to the last-16 at the Italians expense.
Neville believes that the two Brazilians give Manuel Pellegrini's side a "template" that allows them to utilise their attacking assets, and feels that when playing Toure - who was suspended for the match against Roma -  in midfield his defensive weakness allows teams to play around him and attack City's back four.
Manchester City player ratings vs Roma
Speaking after the game on Sky Sports, Neville said: "When Yaya Toure plays he's a game changer and a goal scorer, but his defensive play can be easily played around - we've seen that in the Premier League and in European games.
"Tonight for the first time we've seen City play as a pair in midfield. In terms of moving forward that might be a template of how to play in Europe - it's a question for Manuel Pellegrini.
"If City play their best Premier League team - that's Aguero and Dzeko up front, Silva and Nasri out wide, and Toure as part of the midfield - you cannot play that way in Europe because Nasri and Silva do not play defensively.
"What Milner and Navas have given them tonight in wide positions is legs to attach themselves to the two in midfield (Fernandinho and Fernando).
"If you lose the battle in central midfield you will struggle - this is the template city need to use going forward.
"If you play your best players, you don't necessarily play your best team.
"You don't necessarily leave them all out, but you can't fit them all in. If you go away to Barcelona you can't play with Silva, Nasri, Dzeko, Aguero and Toure in the same side."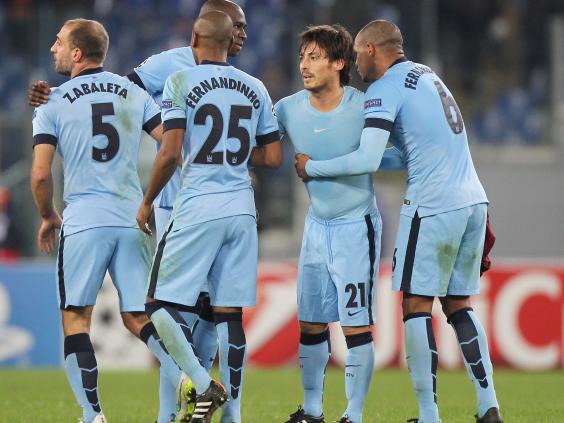 Neville's praise for Fernando and Fernandinho was reiterated by his Sky Sports colleague Jamie Carragher. Despite the two retired footballers enjoying many an argument in the studio as the break down the game to the finest details, they managed to agree that it was the pair in the middle that formed City's somewhat surprising victory.
"It was an excellent European performance and it comes on the back of a lot of big players missing," said Carragher.
"Fernando and Fernandinho, those two did a proper job shielding the defence and that is part of the reason City got their first clean sheet from the group stages."
Reuse content