Arsène Wenger believes Arsenal have the desire to "create something special" and come back from 3-1 down against Monaco in the Champions League tomorrow.
Wenger's side got precisely the score they need to go through in the European tie from Saturday's home match against West Ham United, winning  3-0, and Wenger thinks they can recover what looks a near-impossible situation by applying the same approach in the principality.
"Doing what we did [on Saturday], going until the last second, be patient, play a quality game [Arsenal can go through]," Wenger said.
"Focus on the quality of what we want to do and try to do it together. We are in a position where today Monaco is favourite. We can go there and create something special. I believe that we will have the desire to do it and give absolutely everything to do it."
Arsenal 1 Monaco 3 player ratings
Arsenal 1 Monaco 3 player ratings
1/20 David Ospina - 6/10

Diffiicult to overly criticise him for Monaco's opener. Kondogbia's shot took a wicked deflection that left him with no chance. Pulled off a good save to prevent Berbatov scoring a third.

GETTY IMAGES

2/20 Hector Bellerin - 5

Not his best game in an Arsenal shirt. When he did go forward he lost possession and Martial, who he was meant to be marking, too often beat the right-back to the byline. Good run and cross

GETTY IMAGES

3/20 Laurent Koscielny - 6

Didn't have to do much to register a better performance than Mertesacker. He was effectively Arsenal's rock when the German defender wandered into positions he wasn't quick enough to return from.

GETTY IMAGES

4/20 Kieran Gibbs - 6

Arsenal's most dangerous player in the opening minutes of the match. Toure, at right-back for Monaco, found it very difficult to keep up with the rapid left-back.

GETTY IMAGES

5/20 Francis Coquelin - 6

Alongside Cazorla in the two deep midfield roles again. He was a little exposed when the Spaniard decided to charge forward but the French midfielder never looked troubled. Substituted for Oxlade-Chamberlain in second as Arsenal chased the game.

GETTY IMAGES

6/20 Santi Cazorla - 6

Took advantage of space in the middle to surge forward from his role of deep-lying playmaker. Stifled in the second half as the opposition read what he was going to do effectively.

GETTY IMAGES

7/20 Mesut Ozil - 5

Too slow to progress play. The German midfielder was booed by the Arsenal on a night where he really should have done much more to unlock the Monaco defence.

GETTY IMAGES

8/20 Danny Welbeck - 6

Very sharp in the first half but failed to carry out his defensive duties well enough. Indeed it was Welbeck who gave the ball away that led to Monaco's opener. Caught out a few times in the second half.

GETTY IMAGES

9/20 Olivier Giroud - 4

Missed a very, very easy chance from close range in the second half. Posed relatively little threat to the Monaco defence. He was subbed for Walcott on 59 minutes.

GETTY IMAGES

10/20 Best off the bencj: Alex Oxlade Chamberlain - 7

Immediate impact when he came on for Coquelin with 20 minutes to go. It was his late strike that gave his given his side a glimmer of hope going into the second leg.

Getty Images

11/20 Danijel Subasic - 7

Outstanding performance from the goalkeeper. His quick thinking helped his side stay in the lead on a number of occasions. Very quick to close down Walcott in second half. Distribution very good too.

12/20 Almamy Toure - 6

In the first half he found himself overrun by Gibbs but was given some respite in the second half as Arsenal attacked Monaco's left side.

13/20 Wallace - 6

A very assured performance. He frustrated Giroud while also organising his defence with precision.

14/20 Aymen Abdennour - 6

Allowed the Arsenal attack to bypass him too often. He seemed to panic when the French striker got anywhere near the Monaco penalty area.

15/20 Elderson - 6

Playing at left-back, the Brazilian found himself out of position on so many occasions. For most of the night he was either dallying with the ball too far into the Arsenal half or chasing the heels of Welbeck.

16/20 Nabil Dirar - 6

Not as effective as Martial on the left but seemed confident when in control of the ball and always looked forward for the out ball.

17/20 Joao Moutinho - 7

One of Monaco's brighter players. He regularly dropped deep in midfield to start attacking moves. Assisted Kondogbia for Monaco's opener.

18/20 Anthony Martial - 7

Utilised his pace effectively on the left side of the Monaco attack. He took advantage of Mertesacker's bad positioning to assist Berbatov for his side's second goal.

19/20 Dimitar Berbatov - 7

Booed by the Arsenal fans because of his former connection with Spurs, but he was to have the last laugh when he smashed past Ospina in the Arsenal goal to send Monaco 2-0 up

20/20 Yannick Ferreira-Carrasco - 7

What an impact he made when he replaced Berbatov with 15 minutes remaining. His pace, coupled with quick thinking, gave Gibbs hell at left-back. Ferreira-Carrasco added Monaco's third in stoppage time.
Illustrating the scale of Arsenal's task beyond the two-goal deficit, only six teams in 59 years of the European Cup have gone through in knockout rounds after losing a first leg at home. Wenger admitted that his side had lost their composure in that defeat, but argued that the performance wasn't as bad as the final score made it look. "We knew we were impatient and threw ourselves forward too much, and that we lost our patience and composure."
He also disputed Dimitar Berbatov's claim that Monaco wanted it more in the first leg. "I don't believe that," Wenger said. "I think we wanted too much to make a difference in the first game and forgot our basics. That means to defend well and attack well.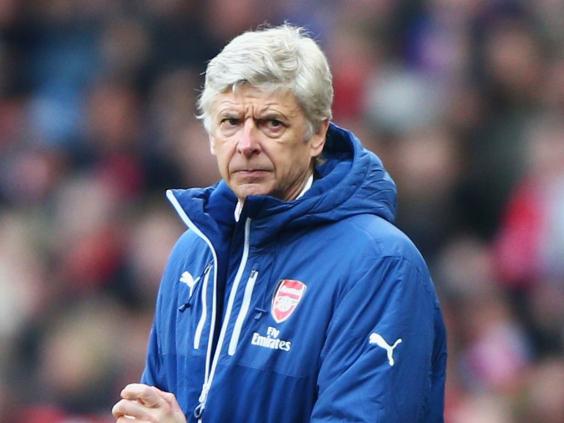 "We just focused on attacking well. Because it didn't go in, we opened ourselves up. If you analysed well the numbers – I am used to analysing the numbers – you would revise a bit the assessment of the game. We have got it wrong in the first game. What you want in life is the chance to put it right. We have the opportunity to put it right and we will be ready to give everything to do it."
Picking up a similar theme, Olivier Giroud poetically described football as "an everlasting new beginning". The striker was criticised for missing a series of chances in the first leg against Monaco, but has showed resilience by scoring in the last two league games since then, including the first just before half-time in the win over West Ham. Late strikes from Aaron Ramsey and Mathieu Flamini sealed the points.
"Football is a sport where you need to have a strong mentality because you have to face some difficulties. It's like life. Even when you play well and score a lot of goals, if you miss some everything is forgotten," Giroud said. "You have to have a conscience about it and be aware. Don't believe the people who talk too much about football. I'm not used to reading the media. I know when I play well or not. I know how to bounce back. I used to say that football is an everlasting new beginning. You have to be aware of that and do it.
"You have to question yourself every week and bounce back. I try to show my answer on the pitch with my mentality."
Reuse content