This was the way Jose Mourinho likes his team to play away in Europe: unyielding, disciplined and gradually introducing in opposition minds a looming sense of despair about their prospects in the London when the final business of this tie will be conducted.
Never a classic European game by any means – these Champions League tie first legs so rarely are – but it would have been the perfect performance for Mourinho's team had a brief miscalculation not allowed Edinson Cavani in for the equaliser ten minutes into the second half. They needed to Thibaut Courtois to intervene more than once, but there they left Paris in control of this tie.
In this great clash of two of European football's fossil fuel fortunes, Chelsea still look very much the grown-ups of the piece when it comes to Champions League football. Their performance ebbed a little in the second half and yet for the few chances PSG created Mourinho's team, and their fine goalkeeper, back in the side, looked in control.
After Branislav Ivanovic had given them the lead in the first half it was not implausible to think they might have gone on to win this match but a scoring draw was no hardship. In the quarter-finals last year they lost 3-1 at the Parc des Princes and then scored two goals without reply at home, and with a much better result against PSG this time, they are the favourites to go through. 
By the time they meet again, Mourinho will hope to have the first trophy of his second coming at Stamford Bridge, the League Cup, the final of which divides these two legs, absurdly three weeks apart. Zlatan Ibrahimovic and his team-mates will have to conjure the performance of PSG's recent Qatari oil-fired history to eliminate Chelsea. Mourinho has never lost a two-leg Champions League tie in which his team secured an away score draw in the first leg
PSG 1 Chelsea 1 player ratings
PSG 1 Chelsea 1 player ratings
1/22 Salvatore Sirigu

Authoritative handling but left helpless for opener. Hung on to Hazard shot and beat Terry to free-kick but underemployed in second period. 6

2/22 Gregory van der Wiel

Enjoyed space to motor forward but often let down by poor deliveries. Beat Azpilicueta too easily a couple of times and added threat for home side. 7

3/22 Marquinhos

Imperious domestic form has seen him linked with Manchester United and played a key part in keeping backline secure in early exchanges. 7

4/22 Thiago Silva

Stood up well to physical challenge of Costa before hosts turned up pressure. Had little to do after break as Chelsea were kept on the back foot. 6

5/22 Maxwell

Linked up well with Verratti and part of composed PSG backline who recovered from shaky spell before interval. Partly to blame for Chelsea's goal. 6

6/22 Marco Verratti

Ceded free-kick to Hazard in dangerous area but later caught by Matic for PSG's own set-piece. Inventive and at times overly combative.7

7/22 David Luiz

Deployed in midfield but badly lost former colleague Ivanovic as the Serb put visitors in front. Better in second half. Creative usage of referee's foam. 6

8/22 Blaise Matuidi

Effervescent midfielder always sought to burst forward and went close with header that Courtois repelled. Delightful cross for the equaliser. 7

9/22 Ezequiel Lavezzi

Effective work on left side but overhit his crosses at times. Pounced after Ibrahimovic effort was saved but had shot blocked by Azpilicueta. 7

10/22 Zlatan Ibrahimovic

Denied from close range and sent another free-kick over Courtois' bar. Slalomed through Chelsea box before being twice denied by strong Courtois stops. 7

11/22 Edinson Cavani

Has revelled in this competition this season and inspired early attacks. Forced Courtois save before powering home leveller. Dribbled effort wide late on. 8

12/22 Chelsea: Thibaut Courtois

Restored to starting line-up and made strong saves from Matuidi and Cavani but left exposed for latter's equaliser. Two superb stops to deny Ibrahimovic. 8

13/22 Branislav Ivanovic

Tireless running but not able to have same impact as PSG counterparts, who were more direct and confident on ball. Could not be faulted for effort. 6

14/22 Gary Cahill

Trusted ahead of the impressive Kurt Zouma despite indifferent form. Inspired flick set up Ivanovic for goal but lost his man for home side's goal. 6

15/22 John Terry

Provided unlikely cross that led to Ivanovic's opener and was hub of Chelsea backline as he tried manfully to prevent a winner for the French side.7

16/22 Cesar Azpilicueta

Usually one of the side's more reliable performers but struggled to settle here. Made a vital clearance from Lavezzi shot after Courtois save. 6

17/22 Ramires

Tireless running but not able to have same impact as PSG counterparts, who were more direct and confident on ball. Could not be faulted for effort. 6

18/22 Nemanja Matic

Habitually saves his better displays for the bigger matches and was impressive. Used size as he dropped back to aid Chelsea's defensive efforts. 7

19/22 Willian

Endless energy but not able to impact greatly as hosts enjoyed better of the middle of the park. Sacrificed for new man Cuadrado in final minutes. 5

20/22 Cesc Fabregas

Pushed forward into number 10 role but not at his creative best as he suffered from heavy cold. Afforded little time on ball and taken off near the end. 6

21/22 Eden Hazard

Relentlessly barracked by Parisian locals and relentlessly marked by home players. Came in for rough treatment and not one of his best showings. 6

22/22 Diego Costa

First appearance in three weeks for the Spaniard and enjoyed muscular battle with Thiago. A little rusty in decision-making and minor scuffle with Luiz. 6
There is a precision to Chelsea's tactical formation in away games in the Champions League that even the best teams can find themselves confronted by a thousand dead-ends. They were at their obstinate best before half-time tonight even on the occasions when Ibrahimovic pinned Gary Cahill behind him and tried to get PSG's attacks going.
The Swedish striker is a very hard man to control all of the time, even for a defence as accomplished as Chelsea's with Cahill back in the side in place of Kurt Zouma. But what they did manage was to limit the damage he could do and when there was no other alternative, Courtois came to the rescue.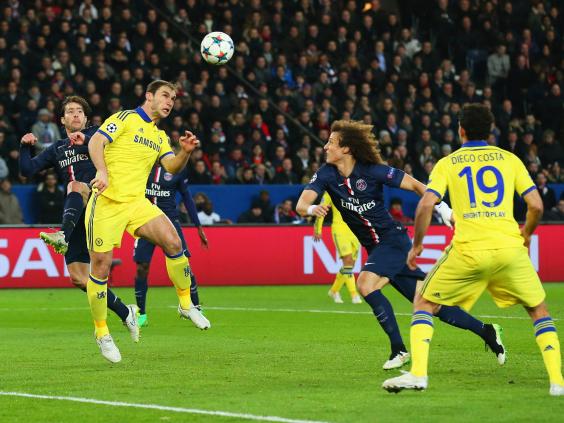 The Belgian was back in the team after Petr Cech's return against Everton and three times in the first half he made important saves. On 11 minutes, Blaise Matuidi and then Ibrahimovic had headers in quick succession which Courtois left himself as much time as possible to read and succeeded in pushing both away.
That was one of PSG's best spells in the first half, when they managed to get some traction down the wing and did not find themselves wondering lost into that triangle of pain between Nemanja Matic, John Terry and Cahill.  They had found it hard going otherwise and their only other good chance at goal was Cavani's near post header from Ezequiel Lavezzi's corner that Courtois thrust a fist at and saved.
Otherwise you always felt that Chelsea were shaping the first half according to their own expectations. Ramires and Matic took care of whatever PSG tried to work through the middle. Eden Hazard found himself fouled, as per usual, most times he had the ball at his feet. It was more frustrating for Diego Costa, but then he knew what he was signing up for as the lone forward in a Mourinho team.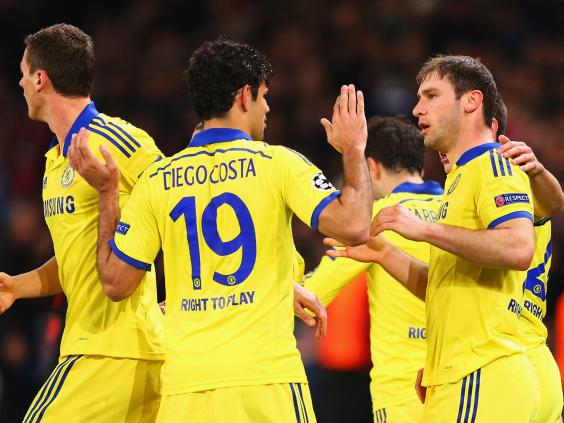 The goal came from yet another free-kick won by Hazard, for which the likes of Terry and Cahill pushed up to contest. The ball came back to Matic and it was his low ball out to the left that found Terry. There was nothing much in the cross that was waist-high and unpromising until Cahill flicked out a heel and changed pace, direction and trajectory. The PSG defence failed to react and Ivanovic nodded the ball past a stranded Salvatore Sirigu.  
This was the classic Chelsea European sucker punch, one that they have made a habit of landing on an opponent's jaw more than once. They committed their defenders to set-pieces and while on this occasion a goal did not result directly, it was the reason that all three of the central protagonists found themselves in the PSG third together.
It was a dismal outcome for PSG whose efforts had dwindled before the break. They came out for the second half with a lot more impetus and equalised within ten minutes, with only Cavani's fourth goal since the start of December. The attack had been begun by David Luiz, occupying a deep-lying midfield position against his former club and from him had gone to Matuidi who had crossed for Cavani to head in.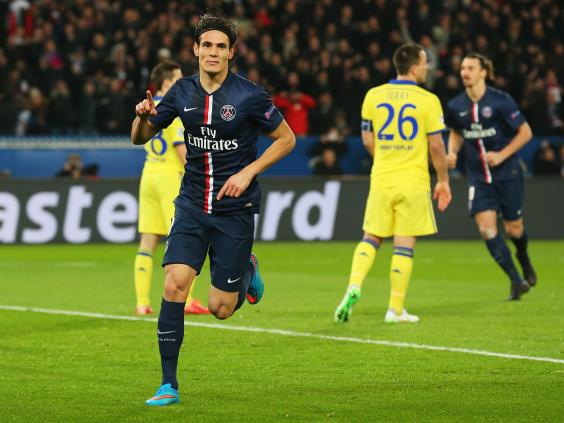 The cross from Matuidi had dropped just over the head of the unfortunate Cahill which opened up the angle for Cavani to direct it low and into the corner past Courtois. Chelsea's defenders are fastidious about the positions they take up in the area – always zonal, never man-for-man – and occasionally there is a cross that is liable to drop beyond both their spheres of influence.
As for Luiz, he had played a familiar game for PSG – strident passing but not much moving off the ball to open up the space for the return. The goal aside, there was a lack of briskness about his and PSG's passing that permitted Mourinho's well-drilled men to re-organise and re-form behind the ball.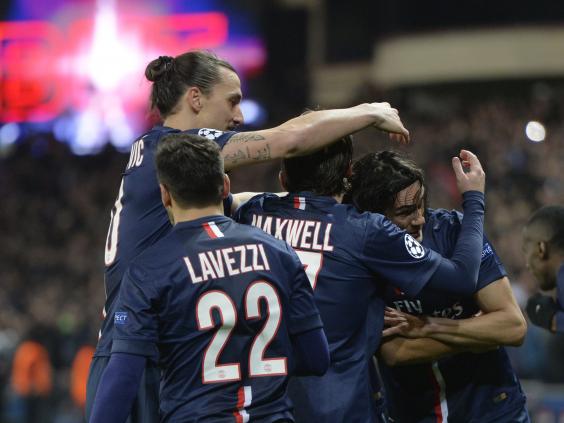 Luiz got a shove from Cesc Fabregas, back in the team, after one challenge, and then another from Costa later on. He is a good player, but not a great midfielder and you can see why Mourinho would prefer a player with a greater economy of touches in that position.
In the last ten minutes, there was a growing panic among PSG that they would be taking less to London in three weeks' time than they did one year ago. Cavani opened up some space in the right channel and his shot beat Courtois but was outside the far post. Ibrahimovic had a late header which, Courtois did well to get down to and push over the bar.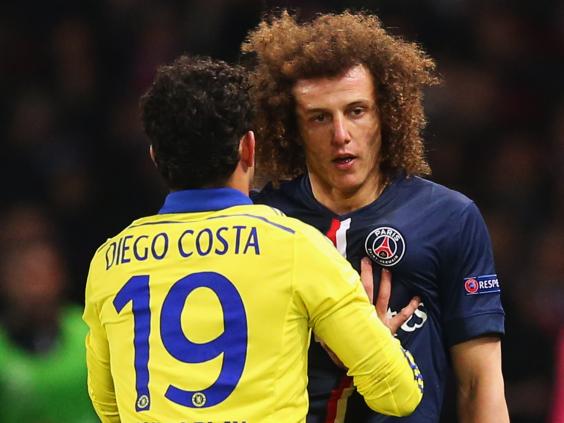 The final whistle was greeted with grim resignation by the home crowd. PSG had thrown their best at Courtois and Chelsea in the closing stages, and you wonder how much more they can offer in London.
Reuse content