For all the controversy about referees and decisions at the Bernabeu on Tuesday, there weren't too many conciliatory words from the Real Madrid camp, nor even the sense in the dressing room that they had got away with it in any way.
It was actually the complete opposite. Zinedine Zidane and his squad all felt that they completely deserved their 6-3 aggregate victory over Bayern Munich, and that the performance was again enough proof that they are back where they belong.
The latter is one thing increasingly difficult to dispute, even if it remains possible to dispute how exactly they got there.
Real Madrid 4 Bayern 2 player ratings
Real Madrid 4 Bayern 2 player ratings
1/22 Keylor Navas – 6 out of 10

Found wanting when called upon. Should have done better to prevent Ramos' own goal.

2/22 Dani Carvajal – 7 out of 10

His early effort from range may not have gone in but it set the tone for Madrid to have the better of the first half.

3/22 Nacho – 7 out of 10

More solid than his defensive partner, and looks to be benefitting from gaining Zinedine Zidane's confidence.

4/22 Sergio Ramos – 6 out of 10

Unfortunate to divert the ball into his own net, but it could have been avoided with a little more communication.

5/22 Marcelo – 9 out of 10

Excellent. Superbly blocked Thiago's effort early on, then produced a brilliant goal-line clearance after the break to deny Robben. Impressed going forward too, setting up Ronaldo in extra time.

6/22 Luka Modric – 7 out of 10

Key to Madrid's excellent spells of first half build-up. Ronaldo should have rewarded one particularly special pass with the goal it deserved.

7/22 Casemiro – 7 out of 10

Careless in his challenge on Robben for the penalty. Otherwise, a solid presence disrupting Bayern's forays forward.

8/22 Toni Kroos – 5 out of 10

Struggled to match the influence of his fellow midfielder Modric.

9/22 Isco – 6 out of 10

Failed to build on Saturday's excellent showing at Sporting.

10/22 Karim Benzema – 5 out of 10

Offered very little before being hauled off for the more impactful Asensio.

11/22 Cristiano Ronaldo – 8 out of 10

A quiet start but then came another 'clutch' goal, just like his two in Bavaria. Two more followed thanks to poor officiating, but this was still a reminder that you should never write Ronaldo off.

12/22 Manuel Neuer – 6 out of 10

Will be disappointed to have conceded six over the two legs, but was outdone by some poor officiating here.

13/22 Philip Lahm – 6 out of 10

Struggled to cope with Marcelo, who got the better of him too often. We have come to expect more.

14/22 Jerome Boateng – 7 out of 10

Heroic block on the line stopped Ramos from putting the hosts in front in the first half.

15/22 Mats Hummels – 8 out of 10

Another defender who put his body on the line when it counted. Spectacularly blocked Kroos' shot in the first half.

16/22 David Alaba – 5 out of 10

His poor crossing let his teammates down when they were making headway early on.

17/22 Xabi Alonso – 5 out of 10

Surprisingly poor in possession during his last Champions League appearance, with several wayward passes. Replaced by Thomas Muller deep into the second half.

18/22 Arjen Robben – 8 out of 10

Made things tick in Bayern's attack. Questionable role in the penalty, maybe, but his side's stand-out performer still.

19/22 Arturo Vidal – 4 out of 10

His tackle was fair and should not have resulted in a red, but still, too often a liability. Should also have done better when slipped in by Robben soon after Bayern's first goal.

20/22 Thiago – 5 out of 10

Off the pace in the opening stages and failed to grow into the game.

21/22 Franck Ribery – 5 out of 10

A fading force, unfortunately. Simply did not trouble Madrid's backline with the regularity of Robben. Withdrawn for Diego Costa.

22/22 Robert Lewandowski – 6 out of 10

Not his best night, despite cooly converting the penalty.
Real have now reached the Champions League semi-finals for the seventh successive season, emphasising how routine this is for them, but also fully overtaking Barcelona's previous record of six consecutive last-four appearances between 2005 and 2013.
In doing so, it is also now fair to say that they have retaken their status from their great rivals as the competition's dominant club. They are once again becoming the side most identifiable with the Champions League, just as they used to be with the old European Cup.
That will be inarguable if they again go the full distance this season, and thereby complete a long-elusive feat that would appropriately echo the kind of supremacy they enjoyed in first establishing their incomparable continental legacy.
Real became the European Cup's stand-out club for claiming the trophy in each of its first five seasons, a run that has never come close to being matched. If they were to win it this year, they would most glitteringly become the first side to retain it since Arrigo Sacchi's great AC Milan in 1990, but also claim it for the third time in four years. The latter is a level of domination that has not been seen for even longer than the much-strived-for success of successive victories, since you really have to go back to Liverpool lifting four European Cups in eight seasons between 1976 and 1984. Even Barcelona 'only' won it four times in 10 years between 2005 and 2015.
And yet, there would appear to be a great contradiction between these grand proclamations and, well, many rather underwhelming performances. Real are bizarrely a side that rarely collectively convince given their individual quality. What's more, if they do finally win the Spanish title this season, it would be their first in five years and just their second in nine.
That may sound like the kind of record out of sync with what would be a truly historic reputation on retaining the European Cup, and the legacy of their five-star team of the 1950s, but it is actually perfectly in-keeping with what they did then. At the same time that Alfredo Di Stefano and Francisco Gento were dominating the continent between 1955 and 1960, they were having much more difficulty in Spain, since they actually only won two domestic titles in those five years. It was much the same in their other major Champions League era. Between 1997 and 2002, Real won three European Cups to just two Spanish titles, even finishing third or lower twice.
These records reflect an intangible spirit for the competition that the club's teams can clearly draw on, and that 1998 winner Santiago Canizares touched upon in rather evocative terms on Wednesday morning.
"I won the Champions League with Madrid in a year when we trained horrifically," the goalkeeper said. "But it was like there was a 'psychological doping' when we played in the Champions League. The whole world gave in.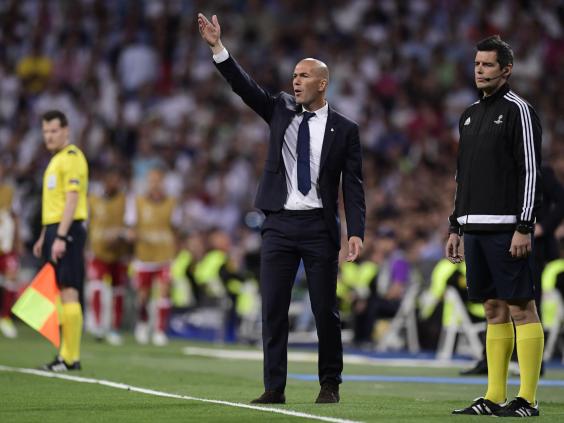 "Later [in 2000], I lost with Valencia against Real Madrid in a season when they were again horrible, when they finished the league awfully, when it was said they had problems in the dressing room. And then they get to Paris [for the final], they start to play and play us off the pitch [3-0].
"It's a club that always competes for the Champions League, every year, and that comes with an experience that is essential in elite competition."
This Real obviously exemplify that in so many individual games, especially with how they ruthlessly maximised the fortunate moments that did go their way against Bayern. It's also likely that they exemplify something even more macro about the modern competition.
There are many around the club who talk about how Zidane genuinely seems to lack an overall football idea, and isn't exactly imposing a grand vision on the team in the manner of some of Europe's best managers. And yet here he is, on the brink of matching Sacchi, a manager who was the ultimate tactical visionary.
Ronaldo's Champions League century
Ronaldo's Champions League century
1/21 Ronaldo's Champions League century

Against Bayern Munich, Cristiano Ronaldo became the first ever man to score 100 goals in the Uefa Champions League. Here we recount some of his most memorable.

Getty Images

2/21 Goal 1

Ronaldo opened his century of Champions League goals against Debreceni in the third round of qualifying for the competition. He netted a precise tap in off a Wayne Rooney cross off the right flank.

AFP/Getty

3/21 Goal 9

An injury time free-kick from 20-yards out against former club Sporting secured a 2-1 win for Manchester united in the 2007 Champions League group stages.

Man Utd via Getty

4/21 Goal 12

A towering 26th minute header in the 2008 final gave Manchester United a vital early lead. The Reds went on to beat Chelsea 6-5 in penalties.

Getty Images

5/21 Goal 15

Still to this day one of the finest goals in Champions League history. A 35-yard screamer from open play against Porto gave Manchester United the a 3-2 aggregate win in the quarter-finals.

Getty Images

6/21 Goal 40

Ronaldo's 90th-minute strike won an engrossing game as the nine-time champions scored twice in the last four minutes to snatch a 3-2 victory.

Getty Images

7/21 Goal 43

A cheeky chip over goalkeeper Kenneth Vemeer gave Ronaldo his first Champions league hatrick as Real Madrid thumped Ajax 3-1 in the second group stage match in 2012.

Getty Images

8/21 Goal 44

A second chip in two matches- this time Ronaldo latched on to a long ball in the box before sneakily flicking over Borussia Dortmund keeper Roman Widenfeller for the equaliser.

AFP/Getty Images

9/21 Goal 50

50 up in style! Six minutes into the 2012/13 Champions League quarter-finals first leg against Galatasaray, Ronaldo found himself in space to convert Karim Benzema's cross, putting Madrid one step closer to what was a record 24th European semi-final.

AFP/Getty Images

10/21 Goal 54

Ronaldo and Real Madrid ran riot against Galatasaray in the 2013 group stages. A jaw dropping dribble weaved through the Turkish defence and a low blast past the outstretched hands of Fernando Musrela brought up Ronaldo's second European hatrick and helped them to a 6-1 win.

Getty

11/21 Goal 62

This time Schalke were at the other end of the Ronaldo and Madrid show. He strormed down the centre field, split the defence in two, dribbled the keeper and scored his second of the night. Simple.

Bongarts/Getty Images

12/21 Goal 64

The second leg of the 2013 Champions league round of 16 against Schalke brought about another Ronaldo double. A 30-yard run down the right wing and a shot from the edge of the box gave the keeper no chance. Madrid completed a 9-2 aggregate win over the Germans.

Getty Images

13/21 Goal 68

The night Ronaldo won the Champions League for Real Madrid. He lined up for the 120th minute penalty and made no mistake. Real Madrid scored 4 goals in extra time to break Atletico hearts.

Getty Images

14/21 Goal 73

Ronaldo's 73rd European goal came at Liverpool. Despite not being as instantly brilliant as some of his others, it was voted the second-best goal in the competition that season and set Real on their way to a comfortable 3-0 win at Anfield.

AFP/Getty Images

15/21 Goal 80

A classic Ronaldo penalty brought up the personal milestone of 80 European goals and helped but was not enough to send Real through to the finals of the Champions League.

Getty Images

16/21 Goal 83

After Marcelo's shot was saved by the keeper, Ronaldo was in the perfect spot for a rebound and in the process brought up his third European hat-trick vs Shaktar in the 2015 Champions League group stages.

Getty Images

17/21 Goal 90

An 8 goal drubbing of Malmo gave Ronaldo his fourth European hat-trick. The third goal from the three came in the 59th minute from a low blast through the keepers legs.

Getty Images

18/21 Goal 91

With his fourth goal of the match against Malmo, Ronaldo broke the record for the most goals in the group stages of the Champions League (11).

Getty Images

19/21 Goal 92

A game later against Roma, Ronaldo ventured down the left leaving the defence trailing. One quick cut in and a curved right foot shot later and he had his 92nd European goal.

Getty Images

20/21

Ronaldo's fifth European hat-trick came against Wolfsburg in the 2016 quarter-finals. The Germans had won the first leg 2-0. He completed the stunning comeback with a sublime chipped free kick that sent the Madrid fans into delirium.

Bongarts/Getty Images

21/21 Goal 100

The Real Madrid superstar scored five of his team's six goals in the quarter-final tie against Bayern Munich, moving him to a century of goals as he tapped home Marcelo's cross in the second period of extra time.

Getty Images
It's got to the point, however, where Real almost defy all of the usual rules because of their sheer size and scope. Look at the ample squad they have assembled. It is not only filled with bona fide world stars, but bolstered by exceptional replacements. The Bayern game was a case in point. Gareth Bale was missing, but they still had Isco to hit so many fine passes. In fact, Bale's absence was barely even noticed, a remarkable thought. Karim Benzema went off, and Marco Asensio came in to offer a different a type of quality, and more control. Their second team is superior to most on the continent, and that is still something you cannot say about any of the other "super clubs", especially not Barcelona.
In that, they are the ultimate modern super-club. They have a critical mass of quality that means they will always be someway competitive because of the level they start at. From that position, in a knock-out competition where you are already wealthier than most, it means you literally always have a massive chance. So it has proved.
It also means that they are counter-intuitively the kind of squad that many of the game's best coaches would actually struggle with. It's difficult to imagine Antonio Conte, Mauricio Pochettino or Pep Guardiola, for example, imposing their hugely demanding principles on such a collection of different egos and personalities. As such, Real seem to require specific types of men in charge who have had specific types of careers, just to facilitate their ability. This, after all, is a group who had some players laugh at Rafa Benitez when he tried to give them technical advice.
In that context, Zidane is almost perfect, even though Real still look very far from a perfect side.
They could still come together for what is considered the perfect Champions League victory.
They have already reclaimed their status as the stand-out Champions League club.
Reuse content