Working on Suarez's autobiography, Crossing The Line, during the past five months I've seen the player's love for his profession at first hand.
He retains that kid-like enthusiasm for a training ground five-a-side that some players lose once their passion becomes their job. The blanket-ban crushed him.
He was reduced to working out in a 10m-square gym with a personal trainer trying to strengthen the left knee that never really had the sufficient healing time as he rushed back from an operation on the meniscus to be fit to face England at the World Cup.
"The first two months were the worst," Suarez says of the four-month ban imposed by Fifa for biting Italy defender Giorgio Chiellini at the World Cup, which his Barcelona coach Luis Enrique will bring to an end during El Clasico. "Once the ban on all football activity was lifted I could at least feel like a footballer again."
He wanted to get as close as possible to the same fitness level as his team-mates who he was finally able to join up with once the Court of Arbitration lifted the ban on him training at Barça's Joan Gamper Sports City. As hard as he tried, that was not possible.
His team-mates noticed that despite his best efforts in the gym and on the roads that snake up towards the Pyrenees, Suarez was still a long way from the rest of the group. "You could see that he needed to train because he was dead after 10 minutes of work," says Gerard Pique. "I would turn around and look at him and say: 'what happened to you, man?'" But the Barcelona players have seen him catch everyone else up since then and two friendlies for Uruguay have moved him closer to full match sharpness.
"He will be fit. I don't know if for 90 minutes, and I don't know if he will be fit to start but he will be fit to play," says Pique about Enrique's selection dilemma for the match at the Bernabeu today.
Pique, chief joker in the Barça dressing room, led the inevitable teasing – all part of being back in the fold. There is no nickname yet but the defender admits to saying "don't bite me" when the two get close in set-piece drills with one marking the other. "He just smiles," says Pique.
The long days as an outcast from the football community were spent rearranging his life off the pitch. Suarez went back to Liverpool for a final adios with Steven Gerrard at Melwood. He wanted the Liverpool captain to present him with the Golden Boot at Anfield – in the end neither special guest, nor venue, were possible.
There was also an emotional clearing-out of the house he had originally taken over from Fernando Torres when he joined the Anfield club. It currently awaits its next famous footballing tenant. He moved his family briefly into his wife's parents' house in the Barcelona coastal town of Castelldefels and then to nearby Gava where Enrique and team-mate Javier Mascherano also live.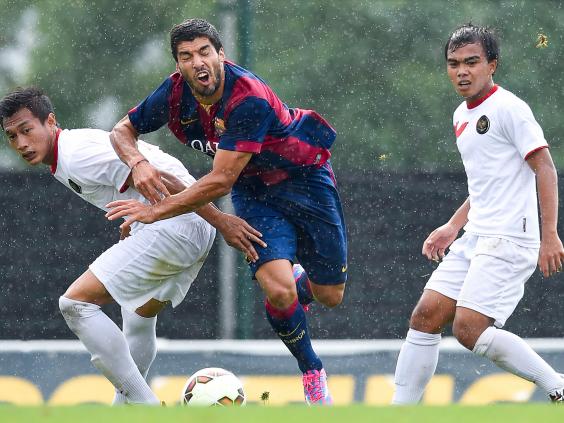 Both Mascherano and Lionel Messi have become his drinking buddies. All three enjoy the traditional bitter green herb, maté, sucked from a metal straw. And the dressing room has organised a couple of team lunches to welcome him and show him the city's best restaurants although, with in-laws who have lived in Catalonia for the last 10 years, he has a natural advantage. Andres Iniesta was a good friend before Suarez signed and has helped him find his way around the training ground once he was finally allowed to step foot in his new place of work.
There was more teasing of a less friendly nature after he played in a specially arranged friendly with the B-team against an Indonesian Under-19 XI a month ago. He was described as "overweight" and looking like "an ex-footballer" by Madrid-based television station La Sexta. "They are already running scared of him" was the Barcelona media's response.
He scored twice in that game and passed up on the chance to complete his hat-trick from the spot so that the B-team's pre-designated penalty-taker could score. Those details don't go unnoticed among senior team-mates – as did Mario Balotelli asking if he could become Liverpool's penalty-taker when signing his contract at Anfield this summer.
Suarez has won the respect of a group of players who will have wondered who exactly the club were signing. Some even believe that a little nastiness is exactly what the fallen kings of European football need to get back to the top. "At least now I'm not the only bad cop here," said Dani Alves after Suarez's presentation.
And Pique adds: "He is a different style of player for us. We have Andres Iniesta and Xavi and they are sweet players who you can enjoy watching on the ball.  It's not so easy on the eye with Suarez. He is fighting and scrapping for the ball until finally he gets the goal."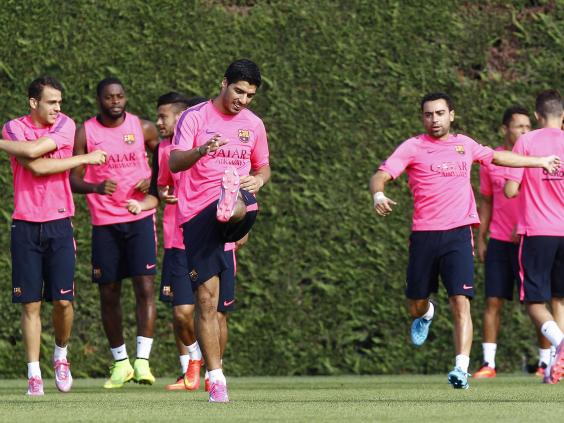 Suarez also comes with invaluable Premier League experience behind him. "You can kick him and he just never goes down. You pull his shirt and he still goes towards the goal," says Pique.
There are parallels with Ronaldo who became a better player in England and then used the extended armoury to wreak havoc on the defences of La Liga. Suarez matched the Portuguese's goal haul last season and if he is to become the Samuel Eto'o of Barcelona's front three, bringing the same goals and intensity, then Barcelona fans will be more than happy. Many feel since Eto'o's departure they have lacked that aggression in the front three.
They will not mind about past misdemeanours either and neither does Pique. "I don't care if he's bitten before," says Pique. "He's knows it's not the correct way but as a player he is in the top three or five strikers in the world. So I am really happy to have him in my team."
Enrique has prepared for today's game with Suarez in his line-up this week but he has also experimented with a midfield four that includes Xavi and that option would see Suarez coming off the bench for the last half an hour. Either way the Uruguayan striker will make his long-awaited debut after four months out of the game.
The Barça legend Johann Cruyff knows a thing or to about having to wait to make one's Barcelona debut. His own first game in the famous shirt was set back two months in 1973 after a £500,000 move from Ajax hit bureaucratic problems causing league registration to be delayed.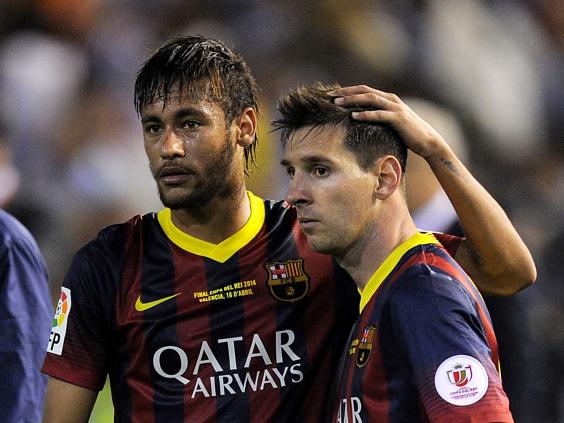 That Cruyff debut ended in a 4-0 win for Barcelona over Granada with the Dutchman scoring twice. Suarez will content himself with just a win but if previous debuts are anything to go by he can emulate the Dutchman. He scored on both home and league debuts for Ajax and scored against Stoke on his Liverpool bow.
He also does comebacks quite well, as England's defence found out in Sao Paulo on 19 June. Real Madrid, you have been warned.
Reuse content