There's a glint in Gerard Pique's eye when I ask him if he thought things went a little bit too far between Real Madrid and Barcelona during the Jose Mourinho-Pep Guardiola years.
"To be fair, I really kind of enjoyed it," the Barcelona centre-half says. "It is true that maybe sometimes they [Madrid] crossed the line. And we crossed the line. Maybe both. It is just a game. But if you know how to control your emotions and everything on the pitch stays on the pitch, then after the game you still have the same friendships and it's OK."
Pique's winning smile was a feature of these heated Clasicos, as was his famous raised-hand salute to the Nou Camp showing five fingers – one for every goal his team had scored in a 5-0 win that ruined Mourinho's first Clasico back in 2010.
That image ended up plastered all over Real Madrid's Valdebebas training ground to motivate the beaten Madrid players. Some found it impossible not to let ill feeling caused by the heated clashes fester.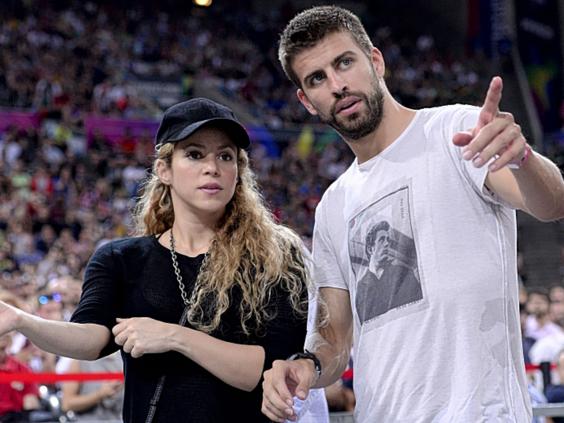 Pique says: "The players would meet weeks later in the national team but if you can keep your relationships as they were before then it's OK. Maybe we all crossed the line a little bit and that was not right but I enjoyed the competitive part of those matches."
With Luis Enrique and Carlo Ancelotti in the technical areas, the match should be a more placid affair but the rivalry remains intense. And the presence of Luis Suarez will only add to the occasion.
"You have big games in England but you don't have the Clasico," Pique says. "I've been in England and I know that Manchester United and Liverpool is a great fixture but this is different. The country stands still. I think Luis [Suarez] will enjoy it. And I think now the attacking talent on both sides is the best it's been. Years ago Barcelona had [the Brazilian] Ronaldo and Madrid had Raul but now it has gone to another level."
The fixture has gained Suarez but lost one of Pique's closest friends, Cesc Fabregas, and one of his old foes, Xabi Alonso. The fact the former now plies his trade for Mourinho at Chelsea, and the latter for Guardiola at Bayern Munich, underlines Pique's point.
"It's football. One day you say you hate someone and the next day you're playing for them," he says. "You have to make the best of your career. I think Cesc went to Arsenal first and they said, 'We have [Mesut] Özil' so he loves London and he went to Chelsea. Mourinho was there and Mourinho likes Cesc so he said: 'OK, I will play there'.
"And he loves Mo…" he adds, stopping short of finishing a sentence that still seems to jar a little after all that happened between the two clubs when Mourinho led one side and Guardiola the other.
"Well, I don't know if he loves Mourinho," he smiles. "But I think he does because he's putting him in the team all the time and here at Barcelona it was more difficult for him. You can see after just two or three months there that he made the right decision. At Barcelona he had a difficult time and maybe he wasn't always treated as he should have been by supporters and in the media."
Pique knows all about the criticism Fabregas suffered because he has also carried a disproportionate amount of the blame for Barcelona's recent slide, with them winning nothing last season. "When you win titles the stars are the strikers and when you don't win titles it's because of the keeper or the defenders," he says.
The great Barça teams he was part of were hard to score against. But much of that was down to the way they defended from the front. "It's about pressing as a team and about everyone knowing what they are doing on the pitch," he says. "To take another team as an example: Atletico Madrid know exactly what they should all be doing on the pitch. When they don't have the ball the entire team defends regardless of who they are or what their position is. Suarez will definitely help us with this."
One of the reasons Guardiola dislikes that phrase "tiki-taka" is that it made Barça's style seem all about tippy-tappy passing and glossed over the extraordinary work rate and the tireless pressing that underpinned the incredible possession statistics.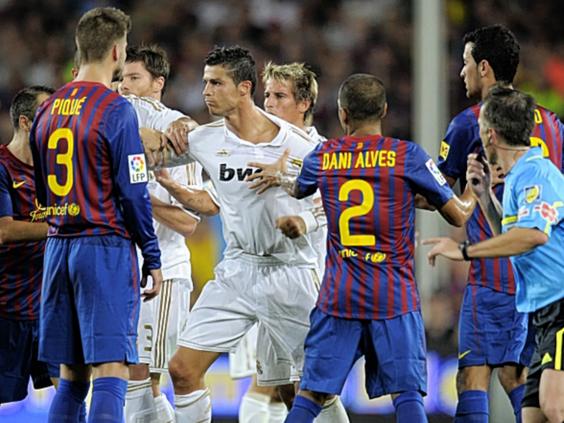 "The first three or four years with Pep I think we played the best football I can remember," Pique says. "We took that into the games against Real Madrid but in the last two or three years it's a little bit more difficult for us. We are not playing as well as we were then just because it is so difficult to keep that level.
"But now we have changed the mentality with Luis Enrique and we are pressing very high again and have gone back to trying to make sure the opposition suffer a lot more especially in those first three seconds when they have the ball."
Pique, like Barcelona, has suffered from having set the bar so high. Back in 2010 when Barça were European Champions he was also a World Cup winner with Spain, and all at the age of 23. In terms of peaking so early, has it not been a "strange" career?
"It's not a strange career it's a very good career," he laughs. "I am really happy to have this career. And now I have a real challenge in front of me." That "real" challenge is to get back into a team most people thought he would never be out of at least until he hit his thirties.
He is expected to start at the Bernabeu but has watched much of the action from the sidelines so far this season; that hasn't happened since his days at Manchester United and then there were two very good reasons.
"I had [Nemanja] Vidic and Rio [Ferdinand] and they never got injured. Hell, not even a red card! Now at Barcelona it is the first time that I am not playing as much as I want to. It's a big challenge."
Pique has an industrious life away from the pitch that has sometimes given critics extra ammunition. He is often seen at red-carpet events with his partner, the Colombian singer Shakira, and he heads up a small company, Kerad Games, which has recently extended its Golden Manager online football game to mobile platforms. Asked which three forwards make the front three in his Golden Manager team, he says: "Leo and Cristiano, for sure. And I had [Wayne] Rooney before but now it would be Suarez. Rooney is on the bench. It's this new idea of rotation; the players don't much like it but that's too bad."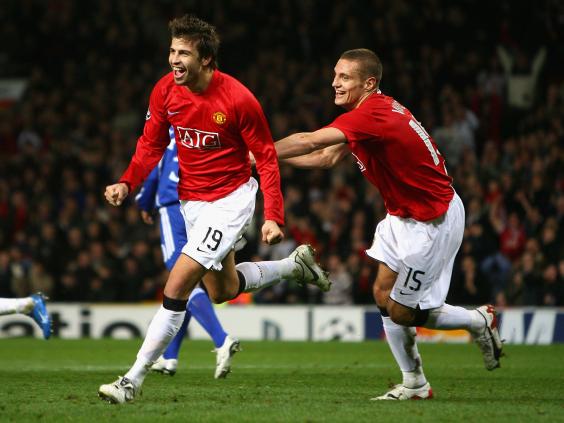 It's that word rotation again – time will tell if after today's game Pique continues to be the cornerstone of Luis Enrique's new Barça. There would be no shortage of suitors if it were not the case, but he is adamant that a move away is not what he wants.
"I left a lot of friends at United and I was really happy there, even though I did not play as much as I wanted to. But I always said that I want to retire here and if it is possible I want to stay here all my career.
"At this moment I am not thinking about leaving. If it is true that Manchester United want me then that pleases me but I want to stay, I am a Barcelona fan since I was a kid and all I want to do is to have success here."
Few understand the club and its most important fixture better. Today he goes back into the Bernabeu breach once more marking Ronaldo, who will turn 30 next February and whose last three years have been his best. That will also serve to remind Pique, aged 27, that his already brilliant career need not be anything close to over just yet.
Sky Sports is showing more of the games that matter in an autumn of sport that includes Real Madrid v Barcelona and Man Utd v Chelsea this weekend.
Gerard Pique also appears in FinalKick.
--
Nov 2010: Barcelona 5-0 Real
After a humiliating thumping at the hands of the champions, for whom David Villa scored twice, Sergio Ramos took out some frustration on Lionel Messi, earning a 90th-minute red card.
April 2011: Real 1-1 Barcelona
Before kick-off Real manager Jose Mourinho joked his team had already practised playing with 10 men because his players always got sent off against Barcelona; on 51 minutes Raul Albiol saw red for a foul on Villa.
April 2011: Real 0-2 Barcelona
In a fractious game littered with fouls both sides lost control at half-time. Barça's sub keeper Jose Pinto was shown red during a touchline brawl; Madrid's Pepe was dismissed for a high tackle on Dani Alves.
Aug 2011: Barcelona 3-2 Real
A horror scissor-tackle on Cesc Fabregas by Marcelo sparked a touchline brawl that saw three red cards and coach Mourinho tweak the ear of a Barcelona coach during the melee.
Mar 2013: Real 2-1 Barcelona
Victor Valdes was handed a four -match ban after aggressively protesting against a red card. The Barça keeper had to be restrained by team-mates and staff as he continued to argue down the tunnel.
Reuse content