Roma's Alessandro Florenzi picked up one of the most bizarre bookings ever witnessed on Sunday - for running into the stands and hugging his grandmother after he scored in the 2-0 victory over Cagliari. And it gets worse for the striker, he will also be fined by his club for the celebration.
It was his Nonna's first visit to the Stadio Olmpico after all.
Florenzi had also made an assist for the first goal of the game, when Chelsea target Mattia Destro put away his low cross in the 10th minute.
Just three minutes later, Florenzi ran onto Gervinho's pass and powered his shot past Alessio Cragno in the Cagliari goal.
He then rushed to the stands to embrace his grandmother, who was crying tears of joy. But the curmudgeon of a referee, Sebastiano Peruzzo, did not enjoy the heart-warming view, and promptly gave the 23-year-old a yellow card.
"My gran's fantastic," Florenzi told Sky Italia. "It was her first time here. She never came to watch me play even when I was a kid and it would have been easy. This time she's come all this way at the age of 82.
Top 10 most expensive players ever
Top 10 most expensive players ever
1/10 Gareth Bale - £86million

Tottenham to Real Madrid (2013) - Bale became the world's most expensive player ever when he made the switch from Spurs to Spain.

GETTY IMAGES

2/10 Cristiano Ronaldo - £80m

Manchester United to Real Madrid (2009) - Ronaldo smashed the record transfer fee when he left Old Trafford.

GETTY IMAGES

3/10 Luis Suarez - £75m

Liverpool to Barcelona (2014) - The Reds cut ties with Suarez after the 2014 World Cup making a £50m profit.

Barcelona FC

4/10 Neymar - £71.5m

Santos to Barcelona (2013) - The Brazilian finally completed his long awaited move to Europe after a complex deal.

Getty Images

5/10 James Rodriguez - £63m

Monaco to Real Madrid (2014) - After a superb World Cup showing, the Colombian became Real's latest big money signing.

6/10 Zlatan Ibrahimovic - £59m

Inter Milan to Barcelona (2009) - The Swed only spent two seasons at the Nou Camp despite his mammoth price-tag.

GETTY IMAGES

7/10 Kaka - £56m

AC Milan to Real Madrid (2009) - The Brazilian joined in the same summer as Ronaldo but failed to make a real impact at the Bernabeu.

GETTY IMAGES

8/10 Edinson Cavani - £55m

Napoli to PSG (2013) - The Uruguayan's deal made him the most expensive player ever purchased by a French team.

Getty Images

9/10 Zinedine Zidane - £53m

Juventus to Real Madrid (2001) - Became the world's most expensive player when he moved to the Bernabeu and more than paid it back, particularly with his spectacular goal in the 2002 Champions League final against Bayer Leverkusen.

10/10 Radamel Falcao - £51m

Atletico Madrid to Monaco (2013) - The newly funded Monaco signalled their intent by signing the Colombian.

Getty Images
"She told me after I missed that chance for the national team that she would come to the stadium just to see me, but that I had to go and say 'hi' to her."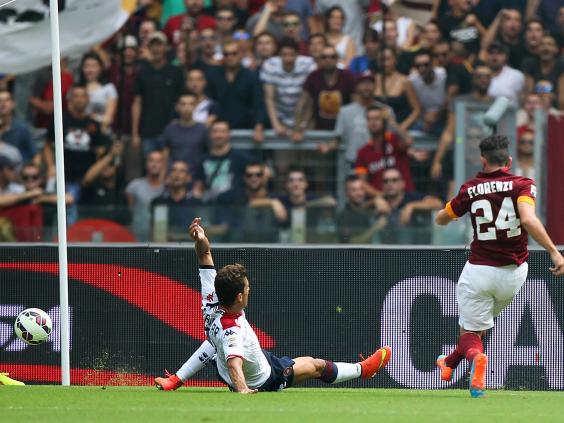 Roma coach Rudi Garcia confirmed afterwards that he will be fined by the club for breaking their strict code of conduct, which includes punishment for picking up avoidable bookings.
"He's going to pay a fine," Rudi Garcia said. "But he will be happy to pay it.
"It was a beautiful image, to see his grandmother so delighted and moved. I love to see moments like this."