This was Burton upon Trent but for Ivan Rakitic day one of his new club's pre-season camp definitely carried the stamp of Barcelona. There he was stuck in the middle as the circle of players around him sent the ball whizzing this way and that. It was the rondo, the training ground exercise with which Barcelona players begin every day, and as Rakitic discovered the man in the middle gets a good workout. "When they get you, they really do get you," said  the new midfield signing  from Seville.
Rondos are as much part of the fabric of Barcelona as their red-and-blue jerseys but as the Catalans embark on a new era under Luis Enrique, 44, with a five-day camp at St George's Park, HQ of England's football teams, it is already apparent that change is in the air. The old guard of Xavi Hernandez, Andres Iniesta and Gerard Pique were in one of two pink-shirted circles for today's rondos – with newer, younger players like Rakitic in the other – but the prevailing mood is that everybody is equal in the eyes of the new "Mister", Luis Enrique.
Xavi, the old pass master, may have just confirmed that he will be staying with Barcelona this coming campaign yet the 34-year-old is no longer guaranteed a starting place and he is not alone in that. As one club insider put it, past reputations will count for nothing as the Blaugrana look to reclaim their lost supremacy in Spain and Europe; indeed, Luis Enrique has the track record to prove it, having dropped Francesco Totti during his time in charge of Roma in 2011-12.
The Barcelona that will start to take shape in Burton this week is a team who will both train and play with a greater intensity than seen in recent seasons. Luis Enrique, Pep Guardiola's old team-mate and a man who turned to triathlons and ultramarathons after retiring, will demand nothing less. They have chosen St George's Park partly for the cooler English weather, enabling Luis Enrique to work his players hard, and Rakitic for one already knows what is expected: "You have to win all the time."
If Spain's World Cup dismantling by the Netherlands gave the sense of an era ending, for Barcelona this had already happened. Last season under Gerardo Martino was their first without a trophy since 2008 and thus players such as Croatia playmaker Rakitic and Sergi Roberto, who played under Luis Enrique for Barça B, have as much chance as Xavi and Iniesta of starting in a side whose style is likely to be more direct than in their tiki-taka heyday.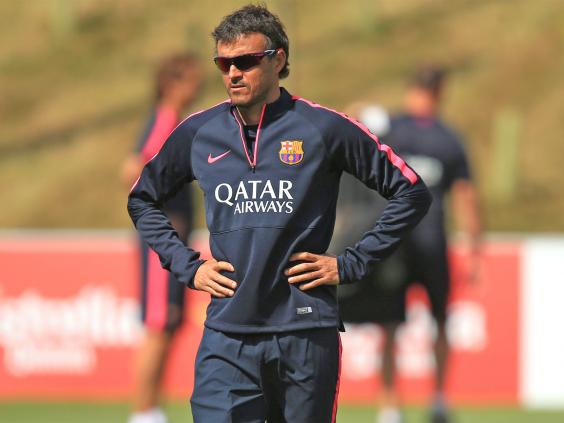 While Rakitic and Jérémy Mathieu, the first centre-back signed by the club since 2009, faced the press, the most intrigue surrounds three players absent from St George's Park: star forwards Lionel Messi, Neymar and Luis Suarez. "These three players are maybe the best players in the world," said Rakitic and it will be intriguing to see how the trio combine together.
The consensus among the Catalan press is that Messi, back from his post-World Cup holidays next week, will operate behind Neymar and Suarez, whose appeal to the Court of Arbitration for Sport (CAS) against his four-month ban for biting Italy's Giorgio Chiellini at the World Cup will be heard next month. Rakitic added: "I wish that he [Suarez] could be here today with us but this is something I don't need to speak about. I expect he can start soon and hope he will do the same things in Barcelona like in Liverpool."
For the Football Association, Barcelona's presence in Burton is a further illustration of just how highly regarded its £120m training base is viewed around Europe. Barcelona's stay is sandwiched by visits from Mainz 05 from the Bundesliga and FC Porto. Rakitic described it as "the perfect place to work. I have to say that for English football they have something unbelievable and, for me as a Croatian player, I would like to have something like this in Croatia".
The security around St George's Park was tighter than when England's men's team are here, with a guard at the gate checking every car. Inside, players from England women's team stopped Iniesta for a photo, while a group of A Licence students popped out to watched those rondos. Barcelona are rebuilding but their glamour is still very much intact.