Bruno de Carvalho is outspoken, confrontational, unpredictable and abrasive. He is a hero to his supporters but is accused of demeaning his prestigious office by those who look down their noses at him. He is either a brash populist standing up for his people or an unseemly loudmouth with deep psychological issues, depending on who you believe.
De Carvalho is the Donald Trump of Portuguese football, the president of Sporting Lisbon who is trying to make his club great again. On Saturday he is facing re-election and an opponent in Pedro Madeira Rodrigues determined to undo what De Carvalho has done in office.
But De Carvalho is expected to win comfortably, giving him the licence to keep running the club the way he wants. It may not be popular with everyone but he can fairly point to the awful state of the club when he took over in March 2013, four years ago. Sporting had been run into the ground, were in hundreds of millions of euros of debt and had stopped competing on the pitch too. In 2012-13 they finished seventh, the worst season in their history.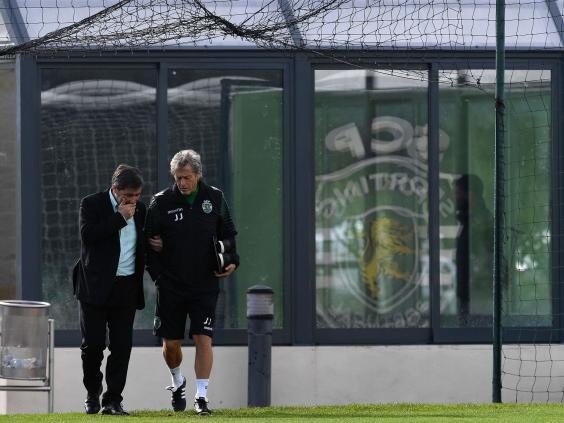 De Carvalho believed that Sporting's problems owed to their proximity to some of football's most powerful agents, not least Jorge Mendes, and promised to drain the swamp. It is a brave man who tries to run a Portuguese football club without Mendes' help but that is what De Carvalho has tried to do.
The president declared war on Mendes, making him persona non grata at Sporting, flatly refusing to deal with him. Mendes might say that he refused to deal with De Carvalho too. William Carvalho, the jewel in Sporting's crown, could not sign a new deal until he split with Mendes, as he did in February 2016, and he is now represented by Pere Guardiola instead. Adrien Silva and Joao Mario, now of Inter, had to leave the Mendes stable too. "I did great business last summer without Mendes' help," De Carvalho boasted last November.

De Carvalho has a noble goal of not wanting to see clubs walked over by big agents. Sporting have one of Europe's finest academies and De Carvalho sees himself as a spokesman for the clubs who produce players rather than just buy them. He wants Uefa to do more to support and protect producing clubs, even if his own brand of diplomacy is not exactly geared towards making friends.
To reinvigorate the team on the pitch, in 2014 De Carvalho recruited a 36-year-old Marco Silva, who had just worked a miracle at Estoril, taking them from near-bankruptcy in the second tier up to the Europa League. Silva did very well at Sporting, taking them to the Portuguese Cup in 2014, their first trophy in seven years, but De Carvalho fell out with him. Those sympathetic to Silva said that De Carvalho was jealous of the new man's popularity. De Carvalho thought that, for all the progress, Sporting could do better.
Fifa FifPro World XI 2016
Fifa FifPro World XI 2016
1/11 Manuel Neuer (Germany, Bayern Munich)

Getty

2/11 Gerard Pique (Spain, Barcelona)

Getty

3/11 Daniel Alves (Brazil, Barcelona and Juventus)

Getty

4/11 Sergio Ramos (Spain, Real Madrid)

Getty

5/11 Marcelo (Brazil, Real Madrid)

Getty

6/11 Luka Modric (Croatia, Real Madrid)

Getty

7/11 Toni Kroos (Germany, Real Madrid)

Getty

8/11 Andres Iniesta (Spain, Barcelona)

Getty

9/11 Lionel Messi (Argentina, Barcelona)

Getty

10/11 Luis Suarez (Uruguay, Barcelona)

Getty

11/11 Cristiano Ronaldo (Portugal, Real Madrid)

Getty
So De Carvalho agreed a secret deal with Jorge Jesus, coach of hated rivals Benfica, to cross Lisbon to coach Sporting instead, with a €6m salary offer, far more than Silva was paid. Jesus said yes and so days after winning the cup, Silva was sacked on the ludicrous grounds of failing to wear a club suit at official events. Benfica wanted Silva to replace Jesus, but De Carvalho put a clause in his severance pricing him out of working for another Portuguese club for the near future. Vasco Lourenco, former Sporting advisor, said that De Carvalho was a "psychiatric case" for sacking Silva, which made him ashamed of the club.
The appointment of Jesus was one of the most controversial moves in recent Portuguese football history. De Carvalho's presidential rival, Rodrigues, has committed to replacing him with former Tottenham manager Juande Ramos in the unlikely event that he wins.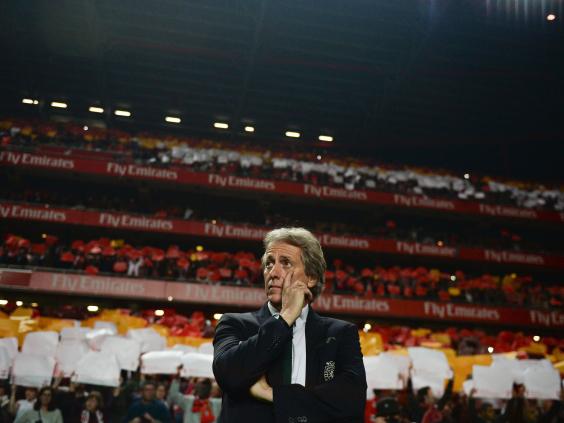 Jesus, it must be said, has not made Sporting great again quite yet. They are third in the Primeira Liga, 10 points behind leaders Benfica, having finished a close second last season. But De Carvalho is still a hero to the claques in the stands at the Estadio Jose Alvalade, not least because he acts like he is a fan who has found his way into the boardroom. He has even found his way down into the dugout at times this season, when he feels the need to make his presence felt.
At many places that would be over-stepping the mark but few men are as powerful or dominant in a big European club as De Carvalho is at Sporting. The blustering, arguing, constantly-vaping 45-year-old is certainly not to everyone's taste, but he has imposed himself and his huge personality on the club in a way that few men manage to do. And he is not going anywhere soon.
Reuse content