John Terry came in for a lot of criticism when he stepped onto the pitch in 2012 in Munich after watching his Chelsea team-mates win the Champions League.
Decked out in a full kit - with shinpads, so the story goes - Terry wildly celebrated the win despite being suspended for the final because of a red card in the semi.
Thomas Vermaelen probably topped Terry's celebrations on Sunday night.
Although he wasn't quite in the shorts and shinpads, preferring to wear jeans, the former Arsenal captain was wearing his Barcelona shirt as Luis Enrique's team celebrated winning La Liga.
Having played zero minutes since joining the club it was the first time that Vermaelen had been seen on a football pitch alongside Lionel Messi and the rest.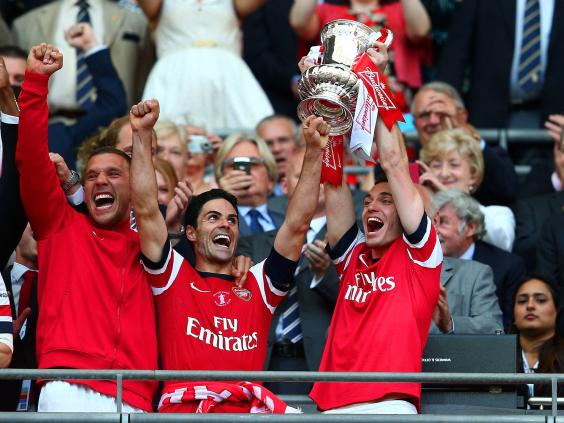 The Belgian obviously doesn't mind, having lost his place to Laurent Koscielny mid-way through last season, Vermaelen was an unused substitute for the FA Cup final win against Hull.
That didn't stop him lifting the trophy alongside Mikel Arteta at Wembley.
Arsenal are set to get another bonus from the defender with a clause in his deal meaning Barcelona have to pay another £3m for the centre-back.
Here are a few of the best Tweets about Vermaelen:
Thomas Vermaelen, the Barcelona don. pic.twitter.com/hZSbicecoC

— FootyHumour (@FootyHumour) May 17, 2015
What a year for #FCB's Thomas Vermaelen. Here's his season in pictures... pic.twitter.com/gayer7GB6G

— NOW TV Sport (@NOWTVSport) May 18, 2015
When you realize you have the same amount of La Liga titles as Thomas Vermaelen, who played 0 minutes this season. pic.twitter.com/HMvAqjXeOB

— BarcaHD (@Barcelona_HD) May 17, 2015
The Camp Nou Cat has still spent more time on the pitch than Thomas Vermaelen pic.twitter.com/rLdLuCzWzV

— Soccer Memes (@SoccerMemes) May 16, 2015
Thomas Vermaelen gets paid £70,000 a week and has now won the FA Cup & La Liga without playing a game over 2 seasons. #LifeGoals

— Chris (@chrismd10) May 17, 2015
Reuse content