Tottenham's manager, Andre Villas-Boas, believes his players are ready to take on Manchester United after a disappointing display in northern Norway – and says the Premier League champions could be the perfect opponents for his side.
The Portuguese has been under huge pressure following Sunday's 6-0 defeat to Manchester City and would have wanted rather more than a low-key Europa League display some 217 miles inside the Arctic Circle. An own goal from Adnan Causevic opened the scoring and Mousa Dembélé made it two to ensure Spurs, who had already qualified for the knockout rounds, will finish on top of Group K, but attention immediately turned to White Hart Lane and High Noon on Sunday.
Indeed, Villas-Boas had to deal with an interview given by the former Spurs chairman Sir Alan Sugar, in which he claimed that Villas-Boas should be replaced by the now retired Sir Alex Ferguson – "I think it is pretty fair with the record he has, he will be a pretty good manager in every club in the world," smiled the Portuguese.
But he knows that his side will have to improve significantly, particularly after United won 5-0 at Bayer Leverkusen on Wednesday.
"I watched their game last night. It was a good performance but has no bearing on Sunday," added Villas-Boas.
"It is important to recognise that we play the champions and they are on a good run that changed their fortunes.
"With such an impressive performance it can only be good for them. We don't expect an easy match.
"I suppose that they are the best to play after City but that is what the calendar says. Whoever we play we have to bounce back. The players will be mentally ready."
Yet it was a surprise that he backed his team quite so resolutely after a tricky night in the capital of the Arctic.
"I am very happy for the players to have bounced back from the defeat against Manchester City," he said.
"Obviously, the opponent we have on Sunday is the biggest that we can have, but in preparation for that game with this one it was important to get back to winning ways and in a fashion where we looked solid and created lots of chances. I am extremely happy for the performance and result."
That was not quite the way many inside this picturesque ground saw it, with Tottenham struggling on what was an artificial pitch that had to be cleared of snow both before the game and again at half-time.
Zdenek Ondrasek could have given Tromso the lead after just 33 seconds – Spurs conceded to City after only 14 – but from then on  the visitors took charge without ever looking ready to strike a decisive blow.
Nacer Chadli fired over when well placed and Etienne Capoue's shot was deflected just wide, but the performance of £26m man Roberto Soldado will again worry Tottenham.
The Spaniard did not have a single shot and his frustration was clear when he picked up a booking early in the second half for a poor tackle.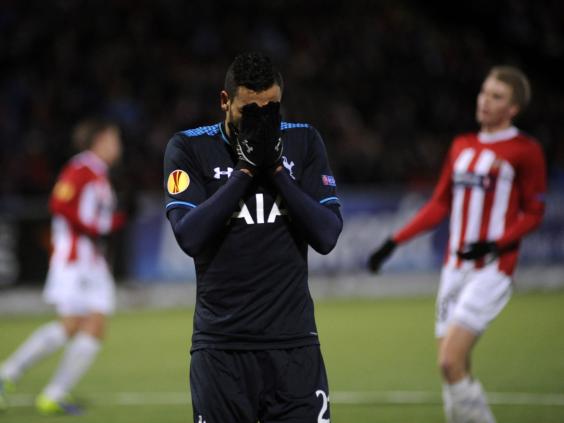 That £26m fee could cover Tromso's budget for the next five years, but against a side 157 places below Tottenham in Uefa's rankings he failed to make an impression.
Yet Villas-Boas defended his man and insisted the goals – Spurs have scored just nine in 12 Premier League games, although they have scored 11 in five Europa League group matches – will come.
"At the moment it is not happening for him but he is trying," said the manager. "We spoke before the game and he understands that for his confidence it is important to get the ball in the back of the net.
"He is already on a good goal tally for the game. He needs more, particularly from open play. We are very patient. I think he needs just one goal. It can happen to any striker. They live off the confidence of goals.
"I will remind you that Tottenham are up there in terms of creating chances. If not first we are second or third. Obviously, the goals have not arrived yet and that is the worrying part for us."
It seemed for more than  an hour that they would not arrive at all here. But Tottenham got a slice of luck as Vlad Chiriches and Causevic slid in to meet Gylfi Sigurdsson's free-kick, the ball bouncing into the net off the latter for an own goal.
It was two shortly after when Dembélé finished well from the impressive Sigurdsson's through ball, and the Belgian should have had a third when he hit the post and fired the rebound wide.
Tromso were gallant yet limited opponents – as demonstrated by the fact they have just been relegated from the Norwegian top flight – and the visitors should have scored far more.
Two did the job, though, as they secured top spot in the group, but a huge improvement is required if they are to get a result on Sunday.
Reuse content