It was a pity that an FA Cup tie of this quality should have a referee's error at the heart of the outcome, and not just any error but a mistake from Howard Webb that got no easier to explain on the third, fourth or fifth viewing.
With Liverpool chasing the tie on 65 minutes and Luis Suarez running into the left channel of the area, his legs were taken away from underneath him by Alex Oxlade-Chamberlain with the ball far enough beyond both of them for there to be no question about it being involved. In defence of Oxlade-Chamberlain it was not sneaky or malicious or even particularly cynical – it was just a plain old dumb foul that screamed penalty.
Asked about it later, the Arsenal man, who scored his side's first goal, showed the politician's sleight of hand in avoiding the question of the legitimacy of whether it was a foul or not, pointing out that he only worried about the decisions that were given against him. He had not tried to con the referee and one suspects that, had Webb pointed to the spot, there would have been a resigned trudge to the edge of the area rather than an animated protest.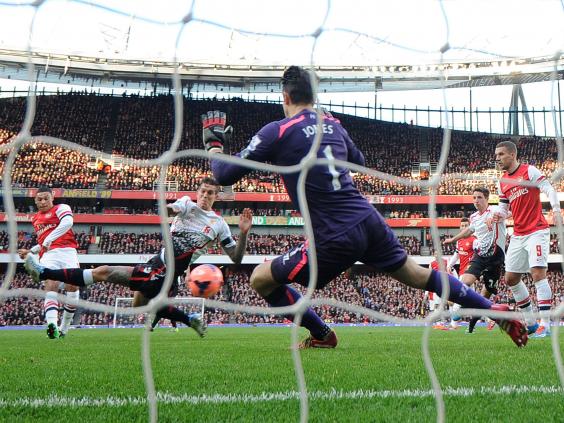 Webb had already given Liverpool one penalty by that point, when Lukas Podolski clipped Suarez's leg in the area and the striker went down. Steven Gerrard dispatched Lukasz Fabianski to one side of his goal with the power of a glance in that direction, slotted his penalty into the other and his team were back in the tie with enough time for another goal.
Whether it was Suarez's past reputation for simulation that crossed the World Cup referee's mind, as he made that later split-second decision, is debatable. More likely it was that he had given a penalty just seven minutes earlier that he may not have been completely convinced of and was in no frame of mind to do it again. Rodgers, to his credit, did not excoriate the referee after the game, simply saying that Suarez should be given legitimate penalties, regardless of his reputation.
A clue to Webb's thinking came later when Gerrard, already booked, fouled Oxlade-Chamberlain as he prepared to cross from the right wing and was not given a second yellow card. Although the referee had also avoided booking Podolski on a number of occasions, one got the strong sense that having realised he got the second penalty call wrong, Webb was subconsciously opting out of big decisions from there on.
In so many aspects of the game, Liverpool were the better side, and even behind within 16 minutes, it felt like a matter of time before they would eventually punish Arsenal but the goals never came. When it felt like they would overwhelm Arsenal, especially in the excellent performance of Raheem Sterling, they began the second half by being carved open for Podolski's goal.
As for Arsenal, they rediscovered their confidence following the thumping at Anfield and the failure to beat Manchester United at home. Wenger made seven changes to his team, including a debut for Yaya Sanogo, which looked brave at the time. He later justified it by saying that many of his changes were a question of fitness. Jack Wilshere has a back issue, while Santi Cazorla and Kieran Gibbs, both second half substitutes, were ill and not fully fit, respectively. Bacary Sagna was "tired".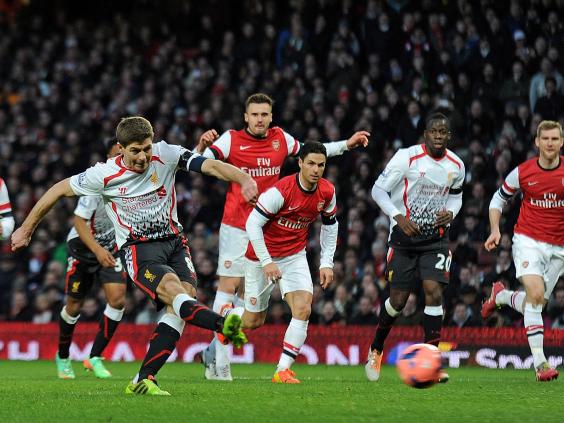 Sanogo played a role in the goal for Oxlade-Chamberlain, and despite a willing shift was raw at best. He was in the team in place of Olivier Giroud who saw fit before the game to tweet his apologies about having been less than truthful over an extra-marital relationship, the details of which have unfolded in the pages of a Sunday newspaper. Such are the demands made upon the modern footballer.
In his absence, there was a much better performance from Mesut Ozil and Oxlade-Chamberlain. The old defensive double-act of Per Mertesacker and Laurent Koscielny, for the most part, did their job and, when he was called upon, Fabianski had a good game. Especially two saves from Daniel Sturridge, the first of which was in the initial five minutes.
At the end of the game, Sturridge, who had missed three decent chances, looked like he was doing his best to express his sorrow with a prolonged bout of reflective sitting-down on the pitch at the final whistle. Then he walked, hang-dog, to the away fans to hand over his shirt as an act of penance. "He's a wonderful player," Rodgers said of Sturridge, "we can't hold it against him."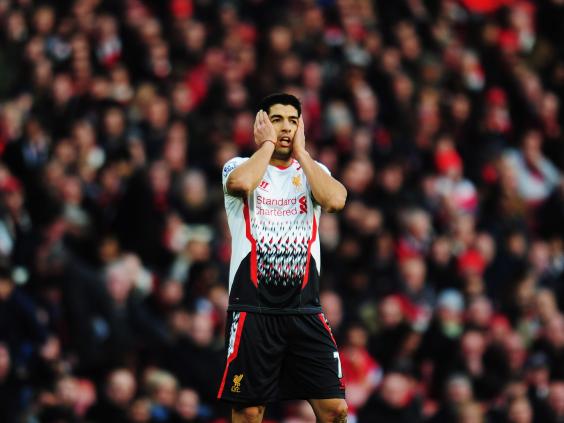 An early blitz by Liverpool had seen Gerrard pick out Sturridge with a throughball and Fabianski save, all in the first three minutes. Shortly afterwards, Suarez picked out his strike partner and Sturridge went round Fabianski but hit the side-netting with his shot. Oxlade-Chamberlain scored on 16 minutes. Ozil recycled a free kick from Arteta, Gerrard blocked Sanogo's shot and the young Englishman followed up.Towards the end of the half, Sterling got stronger, accelerating around Carl Jenkinson at one point before stumbling over his cross. His response to Webb in the aftermath was a concern, with Gerrard called over to placate his young team-mate.
Arsenal's second, after half-time, was excellent. Sterling lost the ball on the left and from Ozil to Oxlade-Chamberlain it was worked to Podolski to finish. Arsenal's confidence grew and after the hour Rodgers made a major tactical change, bringing off Aly Cissokho for Jordan Henderson, switching John Flanagan to left-back and moving Sterling to cover most of the right side. He pushed his full-backs on and left the defending to his centre-halves. 
It was an anxious finale for Arsenal, especially when Fabianski came for a cross and got nowhere near to it. Luckily for him, Daniel Agger's header was off target. In the end it came back to the penalty that had not been given at a time when Suarez was the key player in the game for Liverpool.  In Rodgers' view, his side had "virtually dominated most of the game".
That might be putting it a bit strongly, but certainly they came in the mood to win the game and had the chances to do so. But Arsenal held them off to earn a quarter-final tie against Everton, and the team-change gamble worked for Wenger, who retains an interest in a trophy that, whatever happens to Arsenal in the league, would make for a nice end to his season.
FA Cup sixth round draw details
Favourites Manchester City have an opportunity to avenge last year's final defeat to Wigan after Manuel Pellegrini's team were handed a home tie against the Championship side in yesterday's draw.
Arsenal again welcome Merseyside opposition in Everton, while there could be a Sheffield derby at Bramall Lane as United await the winners of the rearranged tie between Wednesday and Charlton. Sunderland, with a Capital One Cup final to come, travel to meet the winners of tonight's match between Brighton and Hull.
Arsenal v Everton
Brighton or Hull v Sunderland
Sheffield United v Sheffield Wednesday or Charlton
Manchester City v Wigan
Ties to take place 8-9 March
Match facts
Arsenal (4-2-3-1): Fabianski 6; Jenkinson 5, Mertesacker 7, Koscielny 6, Monreal 5; Arteta 6, Flamini 6; Chamberlain 7 (Gibbs, 77), Ozil 7, Podolski 6 (Cazorla 6, 69); Sanogo 5 (Giroud, 88).
Substitutes not used: Sagna, Wilshere, Gnabry, Viviano (gk).
Liverpool (4-2-3-1):  Jones 6; Flanagan 6, Skrtel 7, Agger 6, Cissokho 6 (Henderson 6, 61); Coutinho 7, Gerrard 7, Allen 6; Sterling 8, Suarez 7, Sturridge 6.
Substitutes not used: Toure, Aspas, Moses, Mignolet (gk), Kelly, Teixeira.
Goals: Arsenal 2: Oxlade-Chamberlain 16, Podoloski 47; Liverpool 1: Gerrard (pen) 58
Referee: H Webb (South Yorkshire)
Booked: Arsenal Monreal, Flamini Liverpool Flanagan, Coutinho, Gerrard
Man of the match: Sterling
Rating: 8