There is a stubbornness about Arsene Wenger. It is one of his greatest qualities, enabling him to stay true to his principles even when all appears to be falling apart around him, but it may have become his greatest weakness. He acknowledged that the 5-0 FA Cup victory over Lincoln City had been essential for restoring morale but remained adamant that the 5-1 defeat to Bayern Munich had not been an embarrassment.
"We were a bit nervous," Wenger said. "Confidence always drops when you don't have results. The team was unjustly criticised for the game against Bayern, but we had to get a bit of perspective. I've watched this game three times now. We were killed by the referee. We played an excellent game."
The response to that claim was sceptical but Wenger was persistent. "I would like to watch the game again with you," he said, "and you would see that the players didn't let me down. They put in an outstanding performance. I think we got two different five-goal [defeats]. The first one against Bayern I accept we collapsed but when you are down to 10 men against a team of that quality and concede a penalty and have four goals to score it's not a game anymore."
That seemed a non-intuitive interpretation of events, but Wenger did at least admit there was a chance of confidence disintegrating after a run of five defeats in seven games. "Of course I didn't want to gamble today," he said. "I wanted to win the game and I felt as well that the team had performed well against Bayer. I wanted to give them a chance to get their confidence back, that's why I retained 90 per cent of players from the starting line-up. It's always dangerous because confidence can drop quickly."
Maintaining confidence after letting in five against a superior side is now the task facing the Lincoln manager Danny Cowley, although he at least was able to admit that his side had been comprehensively outplayed after half-time – as is natural given they were playing a team four divisions above them. "It was like he had 15 players on the pitch in the second half," he said. "And that big clock definitely stopped at some point – that was a hell of a long 45 minutes.
"I think we have to take a lot from our first-half performance," he went on. "I thought we restricted Arsenal to limited chances and we had a good one of our own." That was the opportunity Nathan Arnold created for himself cutting in of the right flank only to be denied by a fine save from Petr Cech. "That goes in in the National League," the garrulous Cowley said.
Arsenal 5 Lincoln 0 player ratings
Arsenal 5 Lincoln 0 player ratings
1/22 Petr Cech – 5 out of 10

Had very little to do throughout, aside from one strike from Arnold.

AFP/Getty

2/22 Kieran Gibbs – 6 out of 10

Impressed going forward and his deliveries opened up the Lincoln back four.

Getty Images

3/22 Laurent Koscielny – 7 out of 10

Held the shape well at the back, did his job and made light work of the Lincoln attacks.

Getty Images

4/22 Shkodran Mustafi – 5 out of 10

Struggled with the strength of Rhead – was simply not physical enough for him.

Getty Images

5/22 Hector Bellerin – 6 out of 10

Impressed going forward and played with with confidence, both on and off the ball.

AFP/Getty Images

6/22 Granit Xhaka – 6 out of 10

Battled relentlessly throughout and managed to keep the Lincoln midfield quiet.

Getty Images

7/22 Aaron Ramsey – 6 out of 10

Scored the fourth following a clever Sanchez cross. Worked well going forwards.

Getty Images

8/22 Alex Oxlade-Chamberlain – 5 out of 10

Was subbed in the early stages of the game due to injury.

AFP/Getty Images

9/22 Theo Walcott – 7 out of 10

He looked clinical today and managed to open the scoring with a strike inside the box.

Getty Images

10/22 Olivier Giroud – 5 out of 10

Got himself on the scoresheet, but it was a quiet display overall.

Getty Images

11/22 Alexis Sanchez – 7 out of 10

His late goal was an example of how he can make a goal out of nothing.

Getty Images

12/22 Paul Farman – 5 out of 10

Made a handful of important saves, but it's never good to concede five.

Getty Images

13/22 Bradley Wood – 5 out of 10

Defended aggressively, but fairly. Was not afraid to put his body on the line.

Getty Images

14/22 Sean Raggett – 6 out of 10

Was well positioned and managed to defend a number of Arsenal crosses.

AFP/Getty Images

15/22 Luke Waterfall - 6 out of 10

He led by example at the back, but it just was not enough. Unlucky with the own goal.

Getty Images

16/22 Sam Habergham – 5 out of 10

He was outclassed – struggled to keep up with The Gunners pace going forward.

AFP/Getty Images

17/22 Nathan Arnold – 6 out of 10

Came close to scoring the opener, only to be denied by the finger tips of Cech.

Getty Images

18/22 Alex Woodyard – 6 out of 10

The energetic midfielder showed a good understanding of the game, but could have assisted his strikers more.

Getty Images

19/22 Alan Power – 5 out of 10

Drifted in and out of the action. Quite simply he looked outclassed.

Getty Images

20/22 Terry Hawkridge – 5 out of 10

Defensively he tracked back well, but he failed to provide an outlet going forward.

Getty Images

21/22 Matt Rhead – 6 out of 10

Bullied the Arsenal defenders at times. Made it hard work at the back.

Getty Images

22/22 Jack Muldoon – 6 out of 10

Chased every over the top ball, but it just was not enough to make a real impact.

Getty Images
"We knew we couldn't press them all game," he explained, "but we did well to press them from restarts but even when you do that Cech just clips that one out to the left full-back and they get out."
Getting out was part of Lincoln's problem as their two centre-forwards, Matt Rhead and Jack Muldoon, dropped too deep as they sought to regain possession. "It was like a boxer being on the ropes," Cowley said. "You get your Dukes up but sooner or later you're going to get hit."
The FA Cup experience has been wearying – "I'll be glad to be fish and chip paper," Cowley said – but his pride in what he had achieved in making his side the first from outside the league to reach the Cup quarter-final in 103 years was obvious. "We have to be inspired and learn from this journey," he said. "People criticise Arsene Wenger but anyone who really knows football, you see the way they move, their understanding of each other's space, tactically how intelligent they are and you know he's a very good coach. It was a football education."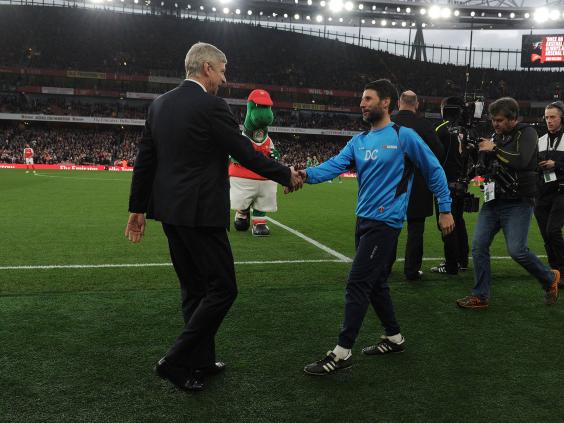 Given one is 67 and has won three league titles and the other is 38 and has never managed in the league, perhaps the comparison is unfair, but it was impossible not to see the contrast between his attitude and Wenger's. "It's an impossible job to keep everybody quiet," Wenger said. "Ideally I would love to but practically it's very difficult."
And that, perhaps, is the price of stubbornness.
Reuse content