Shortly after Arsène Wenger first sparked Friday's furore, and a few hours before Jose Mourinho dramatically escalated it all, the Arsenal manager was asked a more elementary question. His response now feels so much richer, because of what transpired and the specific choice of word used. It was almost prescient, serving as a perfect pre-emptive rebuttal.
Given that he has not properly challenged for a trophy since 2011, does Wenger subscribe to the view a side has to go close to victory before finally achieving it?
"You learn from failure, that is for sure," Wenger smiled. "Especially intelligent people. Some stupid [people] never [learn]. The definition of stupidity, they make always the same mistakes."
The comment brought a chuckle at the time. Little was Wenger to know the controversy that exact same word would cause later that day, with Mourinho describing him as a "specialist in failure". Wenger could at least jokingly point to some benefits of that.
Beyond that superficial pantomime, however, the issue of learning from failure and always making the same mistakes does have deeper relevance for today's FA Cup tie at the Emirates. It may be decisive.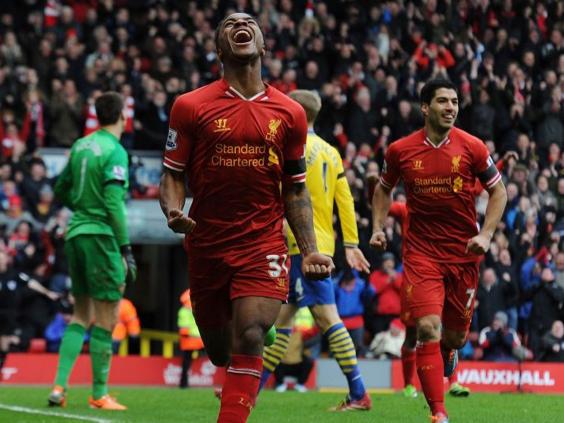 While it would be ludicrous to describe a man as bright as Wenger as "stupid", stubbornness is another problem altogether. Last week's 5-1 evisceration at Anfield almost seemed a case study in not acting on mistakes, even if some were those made by others. Despite repeated warnings from Liverpool's wins over Everton and Tottenham Hotspur, and despite Luis Suarez and the rest of that attack scoring so freely, Wenger still felt his team could largely impose their own game to win.
It has been one of the Arsenal manager's main flaws over the past few years. He generally refuses to re-adjust his team to cater for the opposition, other than making cosmetic changes. It badly cost him last week at Anfield. Leaving Liverpool that kind of space in behind proved disastrous as Arsenal's possession played into Brendan Rodgers's hands.
Whether Wenger has learned from that for today will be telling. It may also have a significant say in how his team's campaign eventually plays out.
Although this afternoon's FA Cup tie is notionally the least significant "big game" in this long run of difficult fixtures, it could prove the most meaningful. A number of elements imbue it with greater importance.
For one, there is the timing. Arsenal got this testing period off to the worst possible start with that woeful defeat at Anfield, and then a fearful failure to beat Manchester United. FA Cup elimination would perpetuate an ominous tone, especially with Wednesday's daunting match against Bayern Munich to come, and a replay could be even more problematic.
Secondly, there is the unique opportunity this competition offers to a side that have gone so long without a trophy. After this round, two of the Premier League's current top four will have been knocked out, along with United and Tottenham Hotspur. It presents a genuine chance to even go close, and earn that experience that Wenger acknowledged as so important.
What sort of message would it send to squander that opportunity? It would seem like same old, same old, with Arsenal making the same mistakes and suffering the same type of season.
Victory, by the same token, could change everything. In that, these are four days which could determine their campaign.
"Part of it," Wenger accepted. "It's like the guy who goes to the Olympic Games and after four years he prepares his one race that will decide his success, that's it. I think we have done quality until now and that we have just to continue to focus on the quality and expect that the quality of our game will decide the results."
Whatever he says about building up to this point of the race, Wenger disputes the idea that it is this stage of the season which sees his team fall away, regardless of what happened in 2008 or 2011.
"We are very much more mature than we were at the time but you know people say we collapsed, we crumbled – we never collapsed. We had some disappointments but if you collapse you finish 10th in the League... we never crumbled, we always finished strong."
Whether that happens this season may well depend on the strength of team Wenger puts out today. With those kind of stakes, it would again seem stubbornly mistaken to save the highest quality for a Bayern tie with a far higher chance of defeat.
Here, Santi Cazorla's illness may force Wenger's hand, with the manager admitting Mesut Özil could be involved. When asked whether the German could put last week's individual horror show behind him, Wenger was defiant. "He will."
He couldn't fail to say it.
Mertesacker means business
Per Mertesacker has called for focus during Arsenal's run of high-profile matches. "There is no special way to do more or less, when you behave like a professional you have to continue what do you do through the whole season so you are ready for these big clashes," the German said in the Arsenal matchday programme.
"If there are four big games coming up, you have to isolate each game and take one at a time. You have to switch on quickly and try to switch off for maybe 24 hours and then [get] switched on again.
"We have shown that through the season we have the ability to make these games special for us."
Arsenal's big games
Played: 14
Won: 5
Drawn: 3
Lost: 6
Scored: 14
Conceded: 19
Arsenal 1-0 Tottenham Hotspur
Premier League
Arsenal 2-0 Napoli
Champions' League
Arsenal 1-2 Borussia Dortmund
Champions' League
Arsenal 0-2 Chelsea
League Cup
Arsenal 2-0 Liverpool
Premier League
Borussia Dortmund 0-1 Arsenal
Champions' League
Manchester United 1-0 Arsenal
Premier League
Arsenal 1-1 Everton
Premier League
Napoli 2-0 Arsenal
Champions' League
Manchester City 6-3 Arsenal
Premier League
Arsenal 0-0 Chelsea
Premier League
Arsenal 2-0 Tottenham Hotspur
FA Cup
Liverpool 5-1 Arsenal
Premier League
Arsenal 0-0 Manchester United
Premier League
Arsenal v Liverpool is on BT Sport 1 today, kick-off 4pm
Reuse content