Jürgen Klopp has admitted that it will be difficult calming expectations of Ben Woodburn after the 17-year-old became the youngest goalscorer in Liverpool's history.
Woodburn, who was introduced as a substitute for Kevin Stewart in Liverpool's League Cup quarter final with Leeds United at Anfield, took 14 minutes to confirm his team's place in the semis and in turn, write his name into the record books.
Woodburn breaks Michael Owen's record having made his competitive debut for Liverpool on Saturday against Sunderland. He is yet to start a game, though, and Klopp believes he will need to drip feed the teenager with drops of experience in order to reduce the hype around him while maintaining that he is unafraid of using him if the moment calls for it.
Klopp, who before the game expressed that Woodburn was close to selection because he was "mentally" ready to play first team games for Liverpool, thinks the striker has the temprament to deal with what might follow.
"We know what Ben is capable of," Klopp said. "My first job is to help these boys be the best. There is a lot of things to do, especially to keep the public away and that is a difficult to do. But we needed him and we have to allow him to score goals. I'll always prefer that!"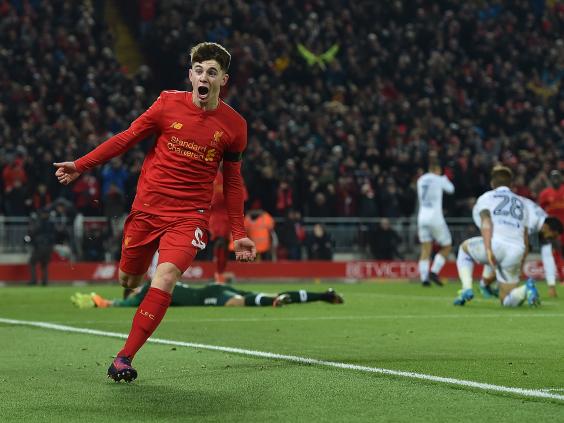 Klopp revealed his conversation with Woodburn in the changing room after the final whistle.
"I don't think it makes sense that I say the obvious things," he continued. "So first of all, I said 'Well done, but it was not too difficult! I would have scored too if I would have been in the situation!'
"Nothing we say here is important enough that it would help Ben Woodburn or myself. It's all good. We know how to handle the situation and I know I can say to you whatever I want, [but] if he scores goals then it's quite difficult to stay cool from your side. No problem.
First of all, I said 'Well done, but it was not too difficult! I would have scored too if I would have been in the situation!'
"Tonight it was very important that we could have him on the bench and could bring him into the game, because of our situation in the offensive department. [He was] a very important player for us today and he scored a goal, which makes it more enjoyable."
Woodburn's strike came after Divock Origi scored the opening goal for Liverpool following a cross from 18-year-old Trent Alexander-Arnold. Liverpool's victory means a second League Cup semi-final appearance in as many years under Klopp's management.
Reuse content