Bersant Celina wants to be a pioneer. That is why he has chosen to play for Kosovo, the country of his birth, over Norway, where he grew up. Kosovo have never even played a competitive match, but Celina still dreams of captaining them in a World Cup. And why not?
That is just part of his ambitious vision. The slight 19-year-old is on the brink of another more immediate breakthrough. Tomorrow he is likely to make his first senior start for Manchester City, in the FA Cup fifth round tie against Chelsea at Stamford Bridge. Manuel Pellegrini will play a young side, given City's long Champions League trip to Kiev next week.
Kelechi Iheanacho, who is also 19, already has nine first-team goals this season, and now Celina is next in line for promotion. He has been training with Pellegrini's first-team squad for almost 18 months and has just made his first three first-team appearances from the bench. Two weeks ago he came on in the final minutes of the league defeat to Leicester City. Within minutes he had set up Sergio Aguero's consolation goal with a perfect cross.
"It was a proud moment for me, but it doesn't mean anything, because we lost," Celina says in Manchester's Lowry Hotel, not far from his city-centre flat. This is his first major interview with a British newspaper, but having been here almost four years now, his English is perfect.
Celina's generation of City youngsters has been recruited from all over the world, but they have grown up together in Manchester. Last April they faced Chelsea in the FA Youth Cup final, and lost 5-2. 
"It was our last year to win the FA Youth Cup, and we worked really hard," Celina reflects. "The best team won, but it was a really disappointing evening." 
Tomorrow some of that City team will go back to Stamford Bridge, not as youngsters, but as seniors. Is revenge on his mind? 
"If we are talking about revenge, I have already revenged myself. We beat Chelsea 2-0 in the Under-21 League." Celina, playing in attacking midfield, scored one brilliant free-kick and set up the other goal for Thierry Ambrose. "This is different, this is bigger."
I hope to be a role model. I want to help them build a good team
Celina believes he is ready to step up. He is considered at City to be the hardest working of all their youngsters and has personally impressed Pellegrini. There was serious interest from Celtic, Middlesbrough and Derby County for a loan move last month, but Pellegrini vetoed it. With Samir Nasri and Kevin de Bruyne injured, his side needs creative midfielders. City are now trying to tie Celina to a new five-and-a-half year deal.
Pellegrini will only be in charge at the City of Manchester Stadium for another three months, but Celina feels a debt of gratitude to him, praising his manager without prompting. 
"I am very thankful," he says. "I really like him and I have a feeling that he likes me as well. He tells me I don't need to show my skills, it doesn't make me a better player. He says to keep everything simple, and not to lose the ball."
David Silva is the perfect example. "I learn just by looking at Silva," Celina says, "the way he plays, the way he passes the ball, how he takes care of it and doesn't lose it. All the details in his game."
Celina is working on the details in his, and admits that he still has to improve his defensive side. Technically, he is as good as anyone at the club. "I don't lose the ball a lot. I have good technique," he says, with an admirable lack of false humility. "I know what I can do with the ball. And if I make the right decisions, defenders can't come near me."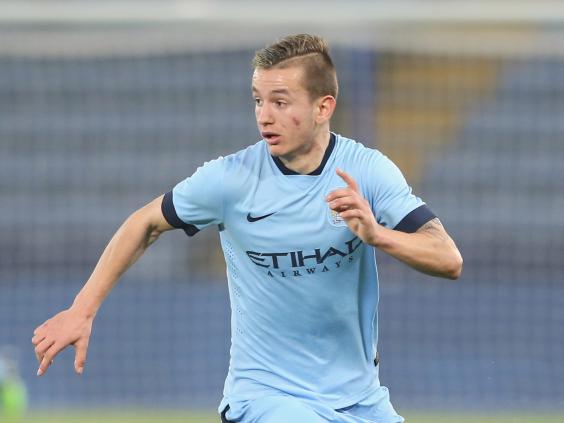 The biggest decision Celina has made away from the pitch concerns his international future. His is a typical story for a modern footballer, but with an atypical ending. He was born in September 1996 in Prizren in Kosovo, 20 minutes from the Albanian border. With war imminent in 1998, his mother Mimoza took the infant Bersant – he does not remember this – and older brother Behajdin to Norway. They settled in Drammen, in a large Kosovan immigrant community, where they were joined by young Bersant's father Eduar two months later. Many of his cousins stayed at home.
Celina grew up speaking Norwegian at school and Albanian at home, playing football for "five or six hours" every evening with the other Kosovan boys nearby. He loved watching Premier League football on television and always wanted to play here.
Celina was a good player, signed with Stromsgodset as a schoolboy and started to play for Norwegian national age-group teams. 
"I grew up in Norway and always wanted to play for Norway," he says. It was when he was playing for Norway Under-16s that City first saw him. He still feels Norwegian, and speaks it with his agent, Freddie Akehurst, of Impact Sports Management. 
But in 2008 Kosovo declared its independence from Serbia. In 2012 Xherdan Shaqiri, Valon Behrami and Granit Xhaka, all Kosovans playing for Switzerland, wrote to Fifa arguing that Kosovo should be allowed to play international matches. Fifa eventually agreed. So, in March 2014 the new nation played its first officially sanctioned friendly, against Haiti in Mitrovice. A new opportunity opened for the 17-year-old Celina, one that he had not anticipated. For that first game, he was on the bench.
"I wanted to play for them so I can help to build a country, build a reputation, build a good team," Celina says. "Every country should have a national team. I know the country is supporting us."
Celina continued to play for Norway Under-21s even after he scored his first goal for Kosovo, in an emotional friendly against Albania in Prishtina last November, with the whole crowd cheering both sides. But this year he had to choose. 
Kosovo are close to being accepted as full members of Uefa and Fifa, at their annual congresses in May. If they are, they can play competitive games and will be part of the qualification process for the 2018 World Cup. 
Celina thought hard about it, and chose to play now for his homeland, rather than for a Norway team that is likelier to reach a tournament soon. "That is where my heart is," says Celina. "When I go back to Kosovo, I feel like I am going home."
The team will improve, too, with access to more funds if they are accepted by Fifa in May. 
"The pitches are not the best," Celina says, "but obviously we hope that will get better if Fifa recognises us, and we can invest money to build a new stadium. But it doesn't matter, because the atmosphere is unbelievable."
Most of the Kosovo team is like Celina, brought up in Norway, Sweden or Switzerland. Not many of them are as good as Celina is, though, with much Kosovan talent still being lost to other countries. The Manchester United winger Adnan Januzaj, whose parents are Kosovan, declared for Belgium in 2014, just before Kosovo's first game.
If Celina succeeds, all of this can change. 
"I want to be a role model, an inspiration," he says, hoping that his example will attract more players to the Kosovan side. "I want to help them build a good team, and hopefully one day I will be captain. That is what I want."
Courtesy Impact Sports Management
Reuse content