Adam Johnson has won the Premier League, and the FA Cup. This is not to be sniffed at for any English player.
He did them both with Manchester City. Then he left, because, as he admits, the richest club in the world could not guarantee him the possibility of one start in every four games.
An English player can be bought in 2014 to fulfil quotas but Johnson was never that. A throwback, inventive winger, the kind the junior game is now implored to find, he was the most feted youngster of his generation in the north-east. Its three main clubs wanted him. He has played for all three. Tomorrow he is Sunderland's best hope at Wembley.
"I was at Newcastle when I was 10 until 12 and I first went there as a ball boy," he says. "And I liked watching [David] Ginola play but I also liked [Ryan] Giggs, but my whole family has always been  Sunderland.
"My first game as a young kid was for Sunderland. It was always the first result I looked out for as a kid growing up. Everyone presumed I was a Newcastle fan because I was there. Then I went to Middlesbrough and everyone presumed that because I had played for Newcastle, I was a fan. But I wasn't really. My family were Sunderland fans."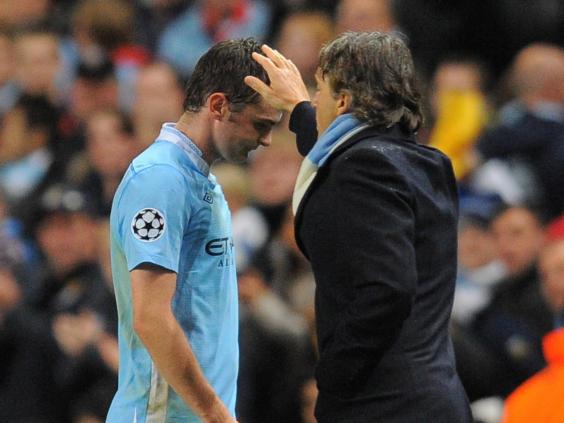 The decision to leave Boro and join Manchester City was an easy one to make in the January transfer window of 2010, with their promise of wealth and trophies. But it did not pan out perfectly under Roberto Mancini, although Johnson cannot fault the reaction of the club's supporters.
"I think the fans at every club I've been involved with have loved me, it's more the managers having the trust in me playing. It wasn't always there. I just wanted to play a fair amount of games and have a manager who had trust in me to play a lot of games."
He cites the arrival of Gus Poyet at Sunderland in October as the factor behind his rediscovery of his best form, Johnson having scored seven goals since the turn of the year, rather than anything he is doing differently. "I think now the gaffer's come in and he's tweaked the way we're playing. I get the ball maybe a bit more and it seems to work. But there haven't been major changes to my game, nothing at all."
There has, however, been a problem ever since he made that decision to go from top to bottom. A £10m sale from Manchester City was nothing. A £10m move to Sunderland was huge, as is the level of expectation. This was the Premier League at work. Somewhere inside it was the hunger of a North-east footballer who, deep down, did not accept that his dreams ended in the North-west.
"Ups and downs I suppose," he says of his career. "Now we're definitely more stable, we're going in the right direction. It's been difficult for everyone. No one wants to be in a relegation battle every year. We've not been playing well at home, and getting beaten when we should have won games. They've been difficult times.
"It's credit to the lads now and the gaffer. We were seven or eight points adrift in the Premier League a couple of months back so to be right in the mix with a couple of games in hand is great credit to us. It's definitely the best it's been in my nearly two years.
"In May this could turn out to be one of the best seasons in Sunderland's history. At the beginning it could have been one of the worst. Now, with a cup final and a chance to play in the semi-final of the FA Cup and a better chance of escaping relegation, it could turn out to be a great year."
Of course it is City they face. Of course it is the team he joined to become successful and left when Mancini overlooked him once too often. In the week leading up to Wembley he has played golf with his former team-mates. James Milner won. There never feels like regret when Johnson talks of his time at City but, as you would expect, he misses the size of a club where drivers warm up your cars after training.
"I loved it there to be honest," he says. "It's a great club and but for the circumstances, I would still be there now. I think looking back, you want to win medals and I did that there. I would not change anything. Looking back, I would still have signed and would do it again.
"Yes, I was disappointed the way it ended. I wanted to go and play more games. At City I was not asking to play every week – I knew I couldn't – I just asked to play one in four. It was as simple as that. I did not mind playing once every couple of weeks. It just wasn't a fair share. I was not expecting to play every minute of every game and I always knew that. It was just more the fact that it wasn't getting shared around enough. I wanted to play somewhere I could play week in, week out and feel more loved. With a different manager, who knows? I just wanted a little bit more game time. All I wanted was for everyone to be treated the same."
On the possibility of Sunderland causing an upset at Wembley tomorrow Johnson, says: "City have the best squad in the league by far so it is going to be difficult for us but we have beaten them once already this season and in recent years, we've had quite a good record against them. Hopefully, it will be like that again, although we all know it is a massive, massive task. This is a cup final and we've seen so many times over the years that it is not always as simple as how everyone expects it to go.
"If we win, it will probably be my best achievement [outranking his Premier League winners' medal] especially the way the season has gone. Beating City would be the highlight of my career at Sunderland. When I was at City, we won trophies. It was half-expected, but here, no one really gave us a chance to win anything. To bring the cup back to Sunderland would be massive."