Carlisle's FA Cup fourth round clash with Everton was marred by allegations against a section of fans who were accused of racist chanting after Arouna Kone's opening goal.
A sold-out Brunton Park saw Everton striker Kone score in just the second minute as the Premier League side took the lead. But while the 32-year-old Ivory Coast forward celebrated with his team-mate, a section of fans appeared to racially abuse the goalscorers.
Superintendent Justin Bibby of North Cumbria Police confirmed: "Nothing has been witnessed by Police or stewards but I have urged [the] person that tweeted to report so we can investigate.
Superintendent Bibby later added: "We are investigating a report and will be working with the club to ascertain what happened."
The official Twitter account of Cumbria Police retweeted journalist Jon Colman, who is at the game and had said: "There has just been a very pointed Tannoy announcement warning that racist and abusive language won't be tolerated."
Broadcasters BT Sport said that an incident had occurred after the goal, which saw Everton manager Roberto Martinez, Carlisle manager Keith Curle and fourth official Sebastian Stockbridge come together to discuss something that had happened in the crowd. Martinez was visibly displeased, although the game continued as expected.
It was added on BT Sport that an allegation of racial chanting had been reported to referee Lee Mason.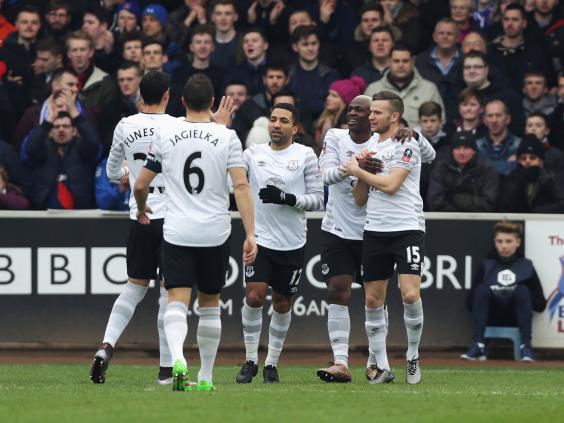 When contacted by the Independent, Carlisle said they were unaware of any incident other than a couple of smoke bombs that had not caused any crowd trouble.
Speaking after the match, Curle confirmed that the incident was reported to Mason immediately after the opening goal, and he revealed that it was the referee who instructed the tannoy message to be played to try and prevent any further incidents.
"It was Kone and Lennon – the referee came over after the first goal and said some comments were made and some of the payers heard some comments," Carlisle manager Curle said afterwards. "I spoke to the fourth official. An announcement was made to say it's not tolerated within the boundaries of any football  club and not accepted within the stadium.
"Yes, it's not what we want inside our club, inside football or inside society. The club will make all the efforts - I know they've got stewards and CCTV. The football club will not stop to identify who it was,
"[It was the] ref's decision to do the tannoy announcement, to highlight it and make sure it doesn't happen again. If you heard or say anything please step forward and identify who was responsible."
Meanwhile, Martinez admitted afterwards that he was pleased with the way Mason and his team of officials dealt with the incident. "I thought it was dealt with in a very good manner," Martinez told BT Sport.
Earlier this month, Everton raised over £8,000 for Carlisle to help aid their clean-up of Brunton Park after it was severely damaged during Storm Desmond.
Reuse content