It's got to the point with the irrepressible N'Golo Kante that he is seen as a unique force in European football, but Antonio Conte doesn't quite think he's incomparable. The Chelsea manager can think of a similar player: himself. Conte used to love to run just as much as Kante.
Smiling as he said it, the Italian admitted Kante is "stronger" amid a few differences, and that he hasn't yet had to treat the French midfielder in the same way one of his old managers did with him. Conte tells the story of when he was at Juventus under the great Giovanni Trapattoni between 1991 and 1994.
"In my career, I remember Trapattoni tried to stop me [running] during training, telling me to go into the changing room because I had to run during the game.
"I wasn't happy about this! I wanted to stay with my teammates. He's a great player and he always puts 100% in the game, but also in training.
"I don't want to stop him."
Part of that is undoubtedly because Conte personally understands Kante's willingness, and also because is it is so key to the manager's game.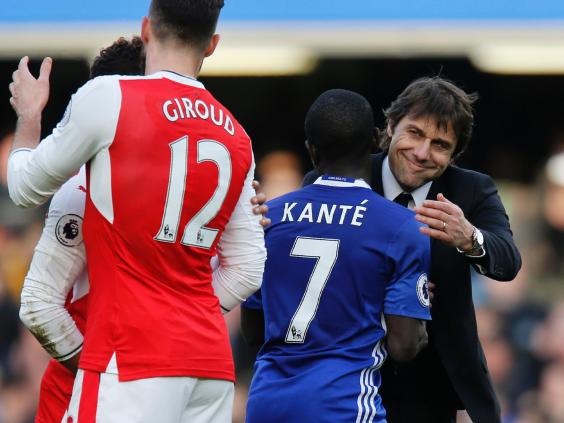 "I like a lot these type of players. I was this type of player. And I always appreciated this type of player, with great generosity, great ability to work for the team. I think it's important to have this type of player if we want to win. Not only great talent, but players who run a lot during a game.
"He's an example. N'Golo is a fantastic guy, fantastic player, great commitment, great behaviour. A great example."
Asked whether that made him Conte mark two - sharing much more than just a similarity in their surname - the Chelsea manager wouldn't quite go that far. A physical force who used to set the pace for his side's running, the former Italian international generally got further forward.
West Ham vs Chelsea player ratings
West Ham vs Chelsea player ratings
1/22 Darren Randolph – 7 out of 10

Not at fault for either of Chelsea's two goals. Made a superb reaction save in the second-half to deny Diego Costa from point blank range.

Getty Images

2/22 Cheikhou Kouyate – 4 out of 10

Shifted into defence so as to accommodate Noble. He committed more fouls in the first-half than Chelsea did as an entire team, which rather sums his performance up.

AFP/Getty Images

3/22 Winston Reid – 6 out of 10

Made two crucial first-half interceptions and proved more solid than the decidedly erratic Jose Fonte.

Getty Images

4/22 Jose Fonte – 4 out of 10

The winter signing struggled against Chelsea's pace and made two first-half howlers: first doing too much on the ball and dribbling into trouble, then suffering the indignity of an air-kick as he went to boot the ball away from Pedro. Spurned two good goal-scoring opportunities in the second-half.

West Ham United via Getty Images

5/22 Aaron Cresswell – 6 out of 10

One of West Ham's better players and overlapped nicely with Snodgrass down the left. Their partnership shows promise. Put some good balls into the box for Carroll to contest but exposed defensively by Hazard. .

Getty Images

6/22 Mark Noble – 5 out of 10

Struggled. The West Ham captain is too frequently overran in the big games. Lacked the pace to compete with Chelsea's scampering midfield and offered little going forward.

West Ham United via Getty Images

7/22 Pedro Obiang – 6 out of 10

One of West Ham's better players but he won't want to see Chelsea's second goal again: a Cesc Fabregas corner skimming off the top of his head and into the path of Diego Costa for the easiest of close-range finishes.

AFP/Getty Images

8/22 Sofiane Feghouli – 6 out of 10

Started the game impressively and initially looked to have Alonso's number, showing promise in the final third. But faded as the game went on.

West Ham United via Getty Images

9/22 Manuel Lanzini – 7 out of 10

Took his late goal very well, firing past Courtois after being played in by Ayew. A talented, but ultimately limited to a role on the periphery tonight.

West Ham United via Getty Images

10/22 Robert Snodgrass – 6 out of 10

Made some impressive darting runs behind Victor Moses and worked nicely with Cresswell but will be disappointed he didn't stretch the Chelsea defence more.

West Ham United via Getty Images

11/22 Andy Carroll – 6 out of 10

A hard-working performance but Carroll, rushed back from injury for this game, never looked a threat unless the ball was in the air. Even then, he was well dealt with by Cahill and David Luiz.

West Ham United via Getty Images

12/22 Thibaut Courtois – 7 out of 10

Rarely called into action but did well against the aerial threat of Andy Carroll. Made a fine save to keep Jose Fonte out.

Getty Images

13/22 Cesar Azpilicueta – 6 out of 10

The Spaniard had been identified as a potential weak link before the match but was rarely troubled.

West Ham United via Getty Images

14/22 Gary Cahill – 7 out of 10

Another solid performance from Chelsea's skipper. Won an impressive 5 aerial battles and made two significant interceptions.

West Ham United via Getty Images

15/22 David Luiz – 7 out of 10

Looked confident playing alongside Cahill and also dealt with Carroll well, frequently drifting into Azpilicueta's territory to ensure the forward didn't isolate his smaller team-mate.

West Ham United via Getty Images

16/22 Victor Moses – 6 out of 10

The wing-back — a revelation this season — has looked a little tired in recent weeks and was again below-par for the league leaders. It may be time for Antonio Conte to give him a brief rest.

Getty Images

17/22 N'Golo Kante – 7 out of 10

Not the Frenchman's finest performance but he was still a menace in the middle of the park, winning four tackles and joining the counter attack whenever possible.

West Ham United via Getty Images

18/22 Cesc Fabregas – 7 out of 10

Another encouraging performance from the midfielder which suggests he has truly revolutionised his game under Antonio Conte. No player ran further and his through-balls proved a constant threat.

West Ham United via Getty Images

19/22 Marcos Alonso – 7 out of 10

Restricted to just the one barnstorming run forward this week. Feghouli made a bright start down his flank but Alonso quickly recovered and kept him quiet for the rest of the evening.

Getty Images

20/22 Pedro – 7 out of 10

Looked very dangerous on the counter-attack and combined well with Eden Hazard. Should have done better with a first-half chance though, which was deflected clear by Obiang.

Getty Images

21/22 Eden Hazard – 9 out of 10

Brilliant against Swansea last week and tonight he was once again Chelsea's most dangerous player. Took his goal with confidence and was a frequent menace on the counter-attack.

West Ham United via Getty Images

22/22 Diego Costa – 7 out of 10

An almost anonymous first-half during which he only touched the ball 24 times, but what does that matter when he got his name onto the scoresheet? A poacher's finish but they all count.

AFP/Getty Images
"He's stronger than me," Conte conceded. "I think I was stronger than him to score goals but, in the other aspects, there is no contest. He is stronger than me."
The signing of Kante has been seen as one of the key differences between the sensation of this season's Chelsea title surge and the shambles of last season's title defence, especially with the way champions Leicester City have gone in the opposite direction, but it would obviously be hugely unfair on Conte to portray it as the main difference.
A huge element in the Italian's management has been looking to work with players on the training ground and improve their game, and he has done exactly the same with Kante. He hasn't been someone who has just seen a force of nature and let it be. He has tried to hone it, add more to it, and specifically look to enhance the 25-year-old's passing.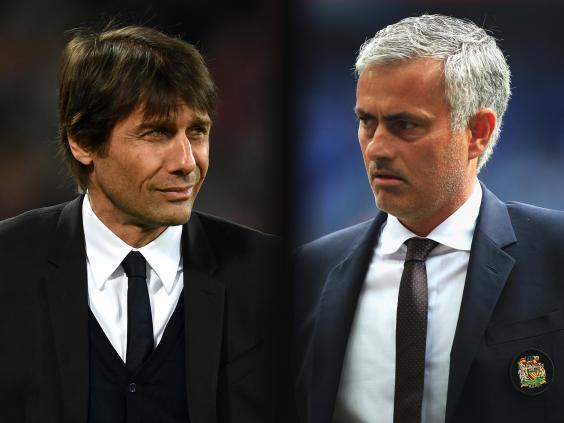 "I think he has a lot of room to improve in the pass, and to look for the first pass forward," Conte said. "He can improve on these aspects.
"My own work is always to try and improve my players, and I want to improve my players through work. To work very hard to try and improve them. We are talking about great players. He played very well in the past, last season, with Leicester.
"He's playing very well also this season with us. We are working on some aspects to try and improve him, to make him a more complete players. But we are playing about a great player already."
On Monday at Stamford Bridge in the FA Cup sixth-round tie against Manchester United, Kante will directly come up against a player seen as potentially great at Old Trafford, but who is still finding his feet there. Paul Pogba was much more expensive than his French international teammate, but hasn't yet had anything close to the same impact in the Premier League.
Conte oversaw some supreme Pogba performances in Serie A, having been the manager to bring him to Juventus in 2012 and initially bring the midfielder's game, and has no issue diplomatically talking him up in similar terms.
"We are talking about a top player. A top player in all situations. Also in his commitment in training, trying to improve him, good technique, physically strong, great stamina. We are talking about a top, top player."
Rostov vs Manchester United player ratings
Rostov vs Manchester United player ratings
1/11 Sergio Romero - 5 out of 10

Could have stood much taller against Aleksandr Bukharov and perhaps prevented the goal.

2/11 Chris Smalling - 4 out of 10

Almost as culpable as Jones for the goal. Some simple communication between the pair would have prevented Rostov's goal.

3/11 Phil Jones - 4 out of 10

Cost his side when he failed to track Bukharov's run over his shoulder. Too easily beaten by the long ball out the back.

4/11 Marcos Rojo – 6 out of 10

United's best defender, though that is not saying much. Produced an important, last-ditch tackle to deny Rostov on the break late on.

5/11 Ashley Young - 6 out of 10

Showed purpose from wing-back in the first-half but ultimately lacked a telling end-product.

6/11 Daley Blind - 5 out of 10

Left with too much responsibility as a lone man on the left flank. Struggled to offer United the width they required to penetrate.

7/11 Marouane Fellaini - 7 out of 10

One player who suited the adverse conditions underfoot and repeated balls over the top. Combined his physicality with a rare bit of technique in the build-up to Henrikh Mkhitaryan's goal.

8/11 Ander Herrera – 5 out of 10

Game for the rough tackling that defined the first half hour but offered little more.

9/11 Paul Pogba – 4 out of 10

Failed to impose himself on a game once again. Jose Mourinho is trying to play him into form but he remains some way off.

10/11 Henrikh Mkhitaryan – 7 out of 10

A promising return to the side, curtailed by his second-half substitution. There at the right place at the right time to put away the opener.

11/11 Zlatan Ibrahimovic – 6 out of 10

A sublime assist for the opener, then too quiet after it, but rarely received service in the right areas.
How the two French players face off could have a big say on how Monday goes. A growing feeling around United is that Pogba needs that first truly complete statement performance and, with Zlatan Ibrahimovic out suspended as Jose Mourinho goes back to his league-leading old club, Stamford Bridge might well be the stage.
It will be up to Kante to cancel him out, then, to suppress that supreme passing ability with his running; to move fast so Pogba can't move the ball fast; to be the yin to his young.
He is certainly Pogba's opposite in terms of personality. Whereas the younger United midfielder is so charismatic with hair often as loud as his character, Kante is the quiet man of the Chelsea dressing room.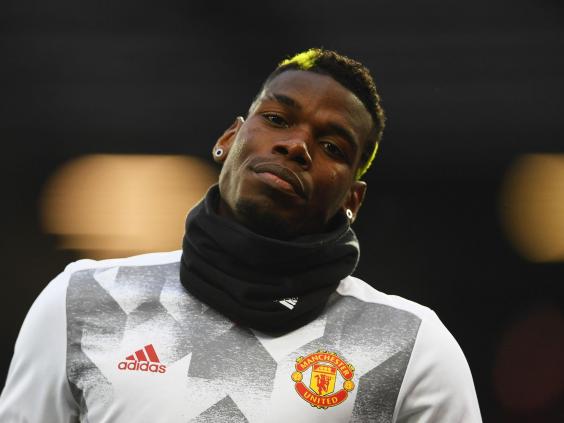 "Yeah, but he's a really good guy," Conte said. "He has always a smile on his face. He's fantastic, this. You try to talk with him and he's always smiling. During training sessions he works a lot, but always with a smile. To see this, it's great for the other players, the staff, for me, the people who work at Chelsea."
A smiling assassin then?
"No, no. It's a good smile. Not an assassin's smile. It's the smile of a good guy, and he is a really good guy."
As good as Conte as a player? The manager will willingly concede that, but wants to make him better. He certainly doesn't want to suppress that energy.