Pink roses from the manager Emma Hayes' Muswell Hill garden, just seven miles from Wembley, together with a slightly amended Rudyard Kipling poem, were the inspiration for Chelsea's FA Women's Cup victory at the national stadium on Saturday.
"I gave all of the players a pink rose because it symbolises calm, and I gave them a poem about how to become wise women," said Hayes, who had changed the final line of Kipling's "If" from "you'll be a Man, my son," to "you'll be a woman with wisdom.".
"I asked them to read it on the bus on the way to Wembley," she added. "I wanted to put them in a calm space and said to them, 'If you achieve all of these things you'll become wise women, and what a great thing to look forward to in your life.'
"My young players were like, 'The gaffer's off her head', but my senior players were like, 'What a lovely gesture'. I grew the flowers in my garden, that was my gift to them, and their gift to me was what they did."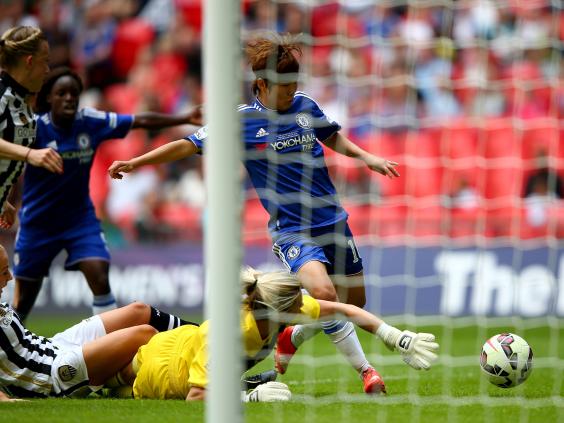 What Hayes' players did was win the first ever piece of silverware for Chelsea Ladies with a performance that was deserving of a wider margin of victory than the one given them by the Korean striker Ji So-yun's 37th-minute goal.
Either side of what proved the decisive strike several chances were wasted, with the right-winger Gemma Davison and the central defender Gilly Flaherty the main culprits, while at the other end a Leanne Crichton header – Notts County's only effort on target – was cleared off the line.
In front of a record crowd for a Women's FA Cup final of 30,710 and for the first to be played at Wembley, the game was not the best of spectacles. But Hayes noted: "I'm not in the entertainment business, I'm in the business of winning. I could hear our fans screaming throughout the game, calling out the names of an Eni Aluko or a Katie Chapman, and at the end they [the fans] were happy."
Chelsea's joy was County's despair with a couple of players in particular, the captain Laura Bassett and the Canadian midfielder Desiree Scott, suffering a second heartbreaking end to a big match just weeks after their respective Women's World Cup disasters in Canada.
The former Chelsea defender Bassett, whose desperately unlucky stoppage time own goal in the semi-final handed victory to Japan, admitted that the experience was "still quite raw for me" ahead of the trip to Wembley.
There was to be no redemption for either Bassett herself or Scott, who was in the Canada team who lost to England in their World Cup quarter-final in front of 55,000 of the home nation's supporters.
"Looking around the stadium at the end and seeing the fans' faces was gut-wrenching," said Scott as she recalled that fateful day in Vancouver.
After another unhappy afternoon "The Destroyer", as Scott is nicknamed for her combative style of play, said: "I was so proud to step on to that [Wembley] pitch. You could feel the energy in the crowd, it was awesome to be out there.
"But it went from pure excitement to bitter disappointment. We wanted to raise that Cup, but we've got to be proud that we made it to the final. It's a massive achievement and we have to take the positives out of it. We've got to learn and build from this."
While the Lady Pies look to bounce back, the Blues are setting their sights high after their maiden trophy success. "You have to get the first [trophy], that is so massive," said Hayes, "now we want to win everything."
Hayes saw her team agonisingly miss out on the Women's Super League title on the final day of last year's campaign, though a runner-up finish gave them a place in the coming season's Champions League.
They currently sit third in the WSL, a point below the leaders Sunderland, and Hayes added: "The [Super] League is our first priority. To qualify for the Champions League [for the 2016-17 season] we've got to finish in the top two, but we want to win the league – and then win the Champions League."
Reuse content