Manchester United have two cup ties this week. One is a glamour occasion in the FA Cup against Jose Mourinho's former club on the ground where he celebrated three league titles with Chelsea. The other is a run-of-the-mill Europa League fixture against a nondescript Russian side.
If Mourinho's heart yearns for a victory in Monday's FA Cup quarter-final at Stamford Bridge, his head recognises Thursday night against Rostov is more important.
"For me it is a game that comes at the wrong moment for us," Mourinho said of his return to Chelsea. "The Europa League is a competition that can give us a Champions League spot and the FA Cup isn't so the Europa League is more important than the FA Cup for us."
And yet, Mourinho is not a man who plays weakened sides even in the League Cup. Manchester City's tactics of sending a virtual reserve team to an FA Cup tie at Stamford Bridge so they could prioritise a Champions League fixture in Kiev is anathema to him.
There is the memory of the 4-0 thrashing inflicted on him by Chelsea in October - a game which he said contained: "incredible defensive mistakes" - to avenge. Manchester United have lost only one match in all competitions since. Mourinho, incidentally, does not count the 2-1 defeat at Hull in the second leg of the League Cup semi-final because United won the tie on aggregate.
Thursday night was turning into Friday morning when Mourinho's players boarded their plane at Rostov's small airport for the near 2,000-mile flight to Manchester. On Sunday they travelled down to London to prepare for Chelsea. They will face Rostov again on Thursday and then play Middlesbrough on Sunday at 12.15pm on Teesside. Chelsea, the club he returned to in 2013, the club who sacked him seven months after he brought the Premier League trophy back to Stamford Bridge, are cruising towards the title.
"I am not asking for any credit," Mourinho said when asked if his role at Chelsea second time around had been downplayed. "I know the work I did there, I know what I did but I am the kind of guy who moves and has no regrets and I am not looking for bad feelings at all.
"I have some friends there so before the game it's great, after the game it's great but during the game it's just another game for me. Am I sadder to lose against Chelsea than another team? No. Am I happier to win against Chelsea than another team? No."
Rostov vs Manchester United player ratings
Rostov vs Manchester United player ratings
1/11 Sergio Romero - 5 out of 10

Could have stood much taller against Aleksandr Bukharov and perhaps prevented the goal.

2/11 Chris Smalling - 4 out of 10

Almost as culpable as Jones for the goal. Some simple communication between the pair would have prevented Rostov's goal.

3/11 Phil Jones - 4 out of 10

Cost his side when he failed to track Bukharov's run over his shoulder. Too easily beaten by the long ball out the back.

4/11 Marcos Rojo – 6 out of 10

United's best defender, though that is not saying much. Produced an important, last-ditch tackle to deny Rostov on the break late on.

5/11 Ashley Young - 6 out of 10

Showed purpose from wing-back in the first-half but ultimately lacked a telling end-product.

6/11 Daley Blind - 5 out of 10

Left with too much responsibility as a lone man on the left flank. Struggled to offer United the width they required to penetrate.

7/11 Marouane Fellaini - 7 out of 10

One player who suited the adverse conditions underfoot and repeated balls over the top. Combined his physicality with a rare bit of technique in the build-up to Henrikh Mkhitaryan's goal.

8/11 Ander Herrera – 5 out of 10

Game for the rough tackling that defined the first half hour but offered little more.

9/11 Paul Pogba – 4 out of 10

Failed to impose himself on a game once again. Jose Mourinho is trying to play him into form but he remains some way off.

10/11 Henrikh Mkhitaryan – 7 out of 10

A promising return to the side, curtailed by his second-half substitution. There at the right place at the right time to put away the opener.

11/11 Zlatan Ibrahimovic – 6 out of 10

A sublime assist for the opener, then too quiet after it, but rarely received service in the right areas.
There is, however, a streak of envy when Mourinho talks about Antonio Conte, who like Carlo Ancelotti and Mourinho, is likely to win the Premier League in his first season at Stamford Bridge.
"The most difficult thing is to have time to work and they have time to work," he said. "I know he (Conte) said a couple of days ago or a couple of weeks ago that it is not his fault they are not in European competitions.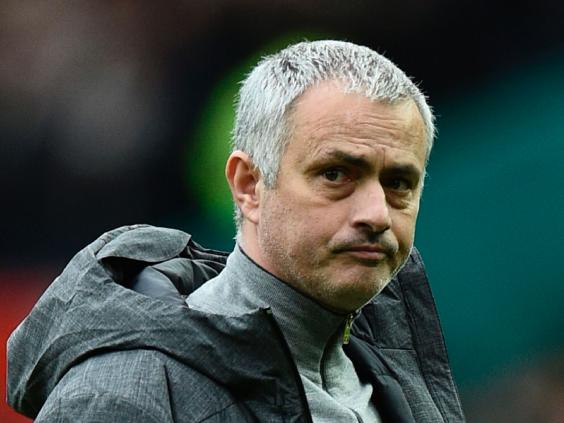 "It is my fault and the Chelsea players' fault but the reality is that he got his hands on a situation where they have time to work, time to rest, time to relax, time to disconnect, time to travel, time to have holidays, time to go to America and enjoy America for a couple of days.
"They have time for all these things so they are in a position of privilege, the same privilege Liverpool had a couple of years ago when they almost won the Premier League.
"I don't want to say that Chelsea don't deserve credit for it. They choose a certain style of play that I think is very well adapted to the qualities of their players. They defend a lot and they defend well. They counter attack and kill opponents on the counter attack in a similar way to my Chelsea.
"The difference is that they play five at the back and I played four at the back but with the same criteria – a very strong defensive team that kills on the counter-attack. They are doing it very, very well and that is why they are going to be champions easily."
Reuse content