For a 23-year-old who has never played at Wembley, Christian Eriksen is remarkably relaxed about Sunday's final. He has only played in England for 18 months, this will be by far his biggest game and yet when he is asked if the stage might intimidate him he just smiles and shrugs, "no, not at all".
From other players it might seem like bluster but Tottenham's Eriksen is different. He has always lived with pressure, from when he used to lock himself in his bedroom as a boy to escape the constructive criticism of his father Thomas. As a teenager Eriksen lived with comparisons to Michael Laudrup and when he was 18 he made his debut for the Denmark national team, played twice at the 2010 World Cup and became a first-team regular for Ajax, playing most weeks in front of 55,000 people.
All this means that Eriksen speaks softly with the assurance of a man who is used to attention, pressure and expectation. If he spent his first year at Tottenham adjusting, this year he has been decisive, winning games by himself. Now Eriksen is heading to a final, with the chance to win his first trophy in England. He intends to take it.
"That is what we want to do," Eriksen says, in his own low-key way. "We have a really young team and everyone wants to show off and win something. That should be a good start."
Didier Drogba's stunning record in cup finals
Didier Drogba's stunning record in cup finals
1/8 2005 Carling Cup Final - Liverpool 2 Chelsea 3 (aet)

Drogba put Chelsea ahead in extra-time as the Blues won their first trophy under Jose Mourinho.

Getty

2/8 2007 Carling Cup final - Arsenal 1 Chelsea 2

Drogba scored both goals, including the winner six minutes from time, as Chelsea came from behind to beat Arsenal.

Getty

3/8 2007 FA Cup final - Chelsea 1 Manchester United 0

Drogba scored the winner with just four minutes of extra-time remaining after playing a one-two with Frank Lampard.

Getty

4/8 2008 Carling Cup final - Chelsea 1 Tottenham 2

Drogba became the first player to score in three League Cup finals when he put Chelsea ahead with a free-kick.

Getty

5/8 2009 FA Cup final - Chelsea 2 Everton 1

Drogba's equaliser set Chelsea on the road to victory after Louis Saha had put Everton ahead with the quickest FA Cup final goal.

Getty

6/8 2010 FA Cup final - Chelsea 1 Portsmouth 0

Drogba's 59th-minute free-kick clinched Chelsea their first league and cup double.

Getty

7/8 2012 FA Cup final - Chelsea 2 Liverpool 1

Drogba became the first player to score in four FA Cup finals as Chelsea lifted the trophy for a fourth time in six years.

Getty

8/8 2012 Champions League final - Bayern Munich 1 Chelsea 1 (Chelsea won 4-3 on penalties)

Drogba's 88th-minute header took the final into extra-time and, fittingly, it was the Ivorian who struck the winning penalty in the shoot-out in the final appearance of his first spell.

Getty
Playing as a No 10 for Ajax, Denmark and Spurs, Eriksen has always been expected to decide games and co-ordinate play, delivering goals and assists simultaneously. So pressure of the sort he faces now, at the serious end of the season, does not bother him.
"I always had it, so I think I've learned to live with it," Eriksen says. "Of course, every player has a different style of play, has a different talent, so people look differently at you. But from the position I played, you need to have a bit of pressure, and I've always been used to it."
He found the Laudrup tag slightly intimidating four years ago but does not any more.  "A lot of players who start young always get the comparison from other people," he says, at a Tottenham Foundation event. "With the Danish newspapers with Laudrup [comparisons], that started early. So they started to put a bit of pressure on, but I've been used to it from when I started playing."
The pressure, in fact, started long before Eriksen's professional debut, which came when he was just 17. It began back in Denmark, when his career in junior football was driven by his father, who would push Eriksen to the limit. "My father was a coach for me from seven to 13," Eriksen reveals. "He stayed as a coach on the sideline until I moved to Ajax. He was a footballer as well, so he knew a lot of things and he knew what he wanted. There were some times when I had a bad game, he would tell me to do better."
Sometimes it was difficult, although Eriksen quickly realised he had to get used to it. He remembers slamming his bedroom door and locking himself in if the advice ever got too much. "And then the day after, it's a new day and nothing happens. It's football."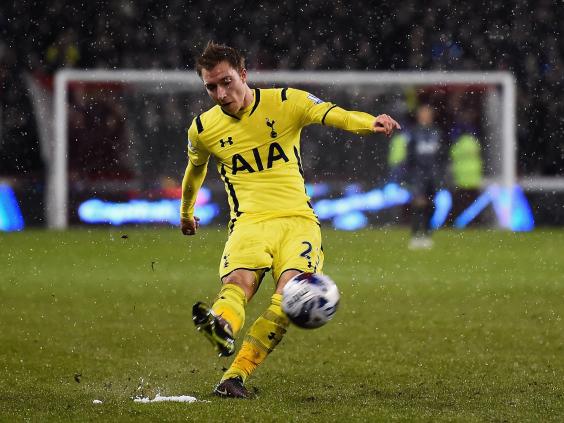 So when Eriksen was criticised by national team coach Morten Olsen in October, and told to take more responsibility, he knew how to take it. "It didn't hurt," he says. "I'm used to it, luckily. I have grown up with that. We are a bit aggressive in that way, so I have heard it before." Eriksen knows how to turn all this attention into mere background noise.
Christian Eriksen was speaking at a Tottenham Hotspur Foundation event highlighting the Education and Football Development Centre programme. For more info, visit tottenhamhotspur.com/foundation
Reuse content