It is the beauty of the FA Cup writ large, the stuff of all those David v Goliath clichés. In one corner a Sunderland side fresh from a dramatic Capital One Cup semi-final triumph at Manchester United, with its madcap final reel of goals flying in and penalties flying wide. And in the other, Kidderminster Harriers, a team whose own midweek assignment brought a 2-1 home defeat by Dartford, the club second-bottom of the Conference, in front of 1,580 spectators.
In theory, Kidderminster, who are sixth in the Conference and 79 places below Sunderland on the football ladder, do not stand a chance. But fortunately the Midlands club can call on the advice of a manager who knows plenty about slaying giants – Andy Thorn, who was a member of the Wimbledon side that shocked Liverpool in the 1988 FA Cup final.
It was the final dubbed the "Culture Club versus the Crazy Gang" and it provided Thorn with a valuable lesson in upsetting the odds as a Wimbledon team famed for an uncompromising approach denied the league champions the Double. "The biggest thing is you don't fear the opposition," he said. "You pay Sunderland the respect they are due, but you cannot be in awe or in fear of them."
It is a message that Thorn will doubtless repeat to his players before Saturday's fourth-round tie at the Stadium of Light, though he will steer clear of some of the more eccentric methods employed by his old Wimbledon side.
Kidderminster's players will certainly not have spent Friday night in a pub – as Bobby Gould's men did on the eve of the 1988 final. "At dinner it was really quiet and it wasn't like us," Thorn remembered. "Gouldy came and put some money in the middle of the table and said, 'Get yourselves round the corner, there's a little pub there'. We did, we had a couple of beers. The landlord couldn't believe it."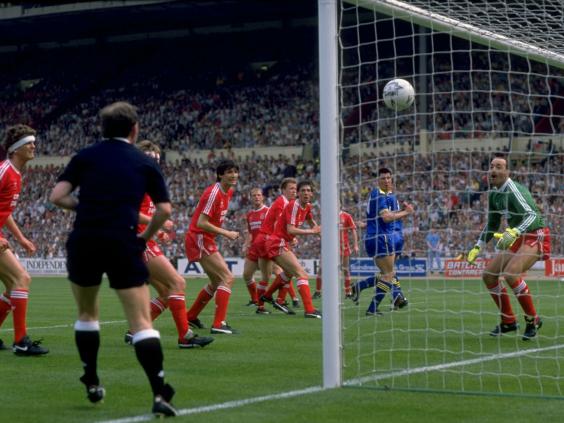 Nor will his players be seeking a psychological edge in the tunnel: Gould deliberately kept Liverpool waiting by delaying his team's departure from the dressing room – and when they did turn up, they unleashed a cacophony of noise. "I don't think they [Liverpool] had ever seen it before," said Thorn. "We got around each other and made sure everyone was wound up and ready to go."
It was a final settled by Lawrie Sanchez's first-half header and Dave Beasant's penalty save from John Aldridge, and Thorn laughs as he remembers the backs-to-the-wall effort in the second half. "Bobby had told us not to start trying to run the clock down too soon. I remember they had a corner and we got it and Vinnie [Jones] came and just smashed it up the pitch and out for a throw. I looked at the clock and it had 47 minutes on it. I was thinking, 'Well, we tried for two minutes anyway'."
Wimbledon had only been a league club for 11 years but their team was full of strong characters like John Fashanu, Dennis Wise and Alan Cork. "We were very streetwise," Thorn said. "Not necessarily very good technical players – though we had some good players – but we knew how to win matches. We knew when to kill the game and when to speed it up. I don't think too many teams know how to do that these days. They all know systems and shapes but that is something we need to draw on as well."
According to Thorn there is "an unwritten rule" about not spilling the beans on old Dons team-mates, though he did shed light on one of the Crazy Gang's more eccentric members, his central defensive partner Eric Young. "I'd say, 'Youngy, that striker reckons you're shit, you go and mark him'. I'd watch the striker, and Youngy would just go and head everything that moved. We didn't know anything about him – we used to drop him off on the M25 under the Slough Bridge and he'd walk under it and disappear, and that was it."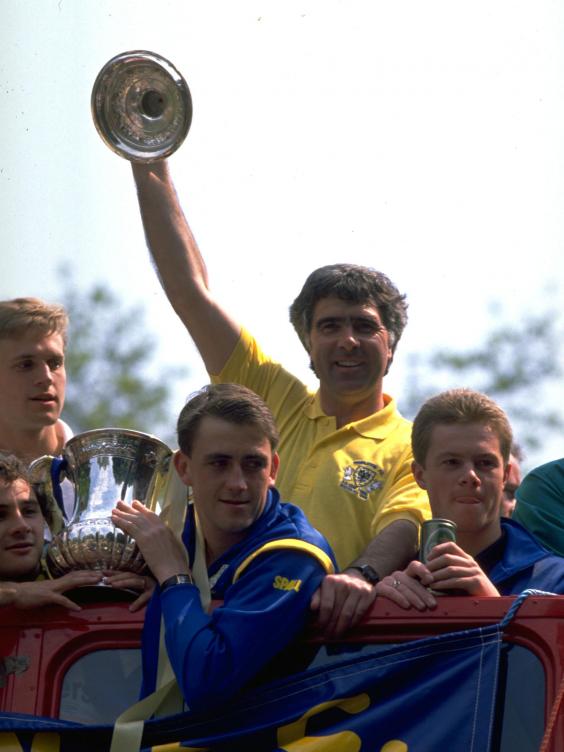 Thorn went on to appear in a second Cup final with Crystal Palace in 1990, losing to Manchester United in a replay following a 3-3 draw, and the 47-year-old has rekindled his love affair with the old pot this season.
It was only in his second game after replacing the sacked Steve Burr that he oversaw Kidderminster's 3-2 third-round replay victory at League One side Peterborough United. "The thing I have been really impressed with the players since I have been here is the information they have been able to take on board, especially during the Peterborough game," he explained. "They carried it out to the letter."
With that victory, he effectively relaunched a managerial career which had stalled after his dismissal by Coventry City in August 2012 despite a four-game unbeaten start to the season. Coventry had been relegated the previous May but only after the sale of Thorn's leading scorer, Lukas Jutkiewicz. "It took me a while to get over it," he admitted. "I lost my mum during that time as well. It was hard."
Thorn was speaking at Harriers' Aggborough stadium in a suite overlooking a pitch reminiscent of the old Baseball Ground in its mud-heap heyday. It was a reminder of the gulf between last season's Conference runners-up and Sunderland – as is the fact that their estimated £100,000 share of today's gate receipts is not far off their annual £125,000 income from season-ticket sales.
"It's a massive game for a club like us," said chairman Mark Serrell, who came in three years ago with Kidderminster just hours away from administration and helped clear debts of over £350,000.
Their financial position is all the rosier today for the £250,000 sale to Huddersfield Town of Joe Lolley, their matchwinner at Peterborough. In his absence, Sunderland's defenders will have to watch striker Michael Gash, once an upholsterer, who was voted the FA's Player of the Round after two goals in the 4-2 second-round success over League Two side Newport County.
Sunderland manager Gus Poyet, meanwhile, should know plenty about Santiago Aloi, Harriers' new Argentine midfielder, given that he nearly signed him when he was in charge at Brighton.
Kidderminster, who are taking 3,700 fans north, have been to the fifth round once, in 1994, and Thorn only hopes that Sunderland had a scout at the Dartford "horror show" on Tuesday. "At half-time I was thinking, 'I hope there is someone from Sunderland watching it'. It wasn't what we are about. It has happened so many times when you have a massive game coming up. It certainly won't happen again, that is for sure."
As for the impact of Sunderland's exploits at Old Trafford, there was a mischievous glint in Thorn's eye as he replied: "The only thing that would make my life easier would be if there had been a flu epidemic on the coach going back, a two-hour contraflow and it had been 120-118 on penalties." That Crazy Gang spirit evidently never dies.
The Crazy Gang: Where are Thorn's 1988 team-mates now?
Andy Thorn was part of the Wimbledon 'Crazy Gang' who upset the odds at Wembley 26 years ago - but what has become of the other heroes from our front-page picture?
1. Lawrie Sanchez
Final hero furthered his name in competition when he led Wycombe to 2001 semi-finals. Also led Northern Ireland and now head coach of Greek side Apollon Smyrni.
2. Carlton Fairweather
Missed final with a broken leg and left club in 1993. Spells in Hong Kong and US preceded coaching role at Sunderland.
3. Alan Cork
Father of Southampton's Jack, went on to manage Swansea and Cardiff.
4. Andy Thorn
Former Coventry manager now in charge at Kidderminster.
5. Laurie Cunningham
First black player to be capped by England was killed in Madrid car crash in 1989.
6. John Scales
Moved to Liverpool and Spurs and capped by England. Now in event management.
7. Vinnie Jones
Welsh international moved into acting in 1998 and is still working in the film industry.
8. John Fashanu
Also made move into screen, hosted Gladiators and now fronts Deal or No Deal Nigeria.
9. Clive Goodyear
Ended career in Hong Kong and is now running his own physiotherapy business.
10. Eric Young
Playing days ended in non-league before he moved into a career in accountancy.
11. Terry Gibson
Currently working as a pundit on Spanish football for Sky.
12. Terry Phelan
Finished career in US and New Zealand, before setting up an academy in Manchester.
13 Dave Beasant
Capped by England and played for 13 more clubs. Came out of retirement at 54 to play for North Greenford.
14. Dennis Wise
Led Millwall to 2004 FA Cup final but less success as manager in recent years.
15. Bobby Gould
Spent four years as manager of Wales in late 1990s. Now retired.
JOCHAN EMBLEY
Reuse content