Arsene Wenger's longstanding love affair with the FA Cup is well known. The Frenchman has fond memories from his childhood when he paid the equivalent of £1 to watch the Wembley finals on a shared black and white television in Duttlenheim, the French village where he grew up. It was a simpler time.
Indeed, the 67-year-old now stands just two wins away from cementing his place as the most successful manager in the history of the cup. Alongside Aston Villa's George Ramsay, Wenger has lifted the FA Cup a total of six times throughout his career – and is now in reaching distance of a seventh momentous title.
It is a competition that, as he himself has said, is something he "takes seriously". The glitz and glamour of the cup may have faded in recent decades, with the perennial struggle for a top-four finish and Premier League success now dominating the footballing landscape, but Wenger remains very much drawn to its "prestige".
Middlesbrough vs Arsenal player ratings
Middlesbrough vs Arsenal player ratings
1/22 Brad Guzan – 6 out of 10

Dealt with most that Arsenal threw at him but should have done much better with Sanchez's free-kick.

Getty

2/22 Antonio Barragán - 6

Solid if unspectacular night on the right side of defence.

Getty

3/22 Ben Gibson – 7

Marshalled Giroud well and handled the Frenchman's physicality without too much trouble.

Getty

4/22 Daniel Ayala -7

Capable in defence but should've done better with second-half header.

Getty

5/22 George Friend - 6

Exposed by Oxlade-Chamberlain at times but solid enough in relief of the injured Fabio.

Getty

6/22 Adam Clayton – 5

Typically workmanlike in defence but a poor challenge cost Boro dearly from the resulting Sanchez free-kick.

Getty

7/22 Marten de Roon – 6

Failed to really assert himself on the game.

Getty

8/22 Grant Leadbitter – 6

Ugly first-half tackle on Ozil could've earned him more than just a yellow but showed well in attack.

Getty

9/22 Stewart Downing - 7

Rolled back the years with an inch-perfect ball for Negredo's goal.

Getty

10/22 Alvaro Negredo – 7

Quiet night as the home side's focal point but took his goal with a poacher's instinct.

Getty

11/22 Gaston Ramírez – 7

Boro's brightest attacking threat and looked the home side's most likely to break the Gunners back line down.

Getty

12/22 Petr Cech - 6

Not tested a great deal and deserved better from his defence for Negredo's goal.

Getty

13/22 Gabriel – 6

Always on the edge of an utter calamity the Brazilian managed to avoid any tonight and looked better in a three.

Getty

14/22 Laurent Koscielny – 7

Arsenal's best defender but will have wanted to do better with Negredo's goal.

Getty

15/22 Rob Holding – 7

Definitely a player for the future if not right now.

Getty

16/22 Alex Oxlade-Chamberlain – 7

Pushed on well down the right flank and offered positional discipline going the other way too.

Getty

17/22 Aaron Ramsey – 7

Neat and tidy as ever and added a dash of quality with a deliciously composed chested knock down for Ozil's goal.

Getty

18/22 Granit Xhaka – 7

Doesn't know whether he's coming or going but plenty of energy if not so much discipline from the Swiss.

Getty

19/22 Nacho Monreal – 7

Added some good balance on the left and thrived with the added attacking responsibility. Still a little clumsy in the defence.

Getty

20/22 Mesut Özil – 7

Took his goal with the composure required and added the class when the Gunners needed it most.

Getty

21/22 Alexis Sánchez – 8

Not one of the Chilean's best games yet was still the outstanding performer scoring one and creating another.

Getty

22/22 Olivier Giroud – 7

Didn't threaten as much as he would've liked but added the focal point that Arsenal lack with Sanchez up top.

Getty
Why, though? "The fact that you have a trophy at the end of the game," he said this week. "The Championship is more of a marathon and this is more condensed and quicker rewarded. It is a result of in one game let's go for it and see who is the best today. So, it is more instant.
"I thought always the cup is something special. In fact I won the cup in every country I have worked. So it is always something that is special." A romantic through and through, Wenger is sincere when he says the cup, for him, is "special". There's an insatiable hunger to the Frenchman that drives him forward in the pursuit of success, regardless of what form it takes. 
In spite of Arsenal's limited achievements in recent years, and the vociferous in-house opposition that comes with it, it's easy to see, then, why Wenger continues to rage against the dying of the light. "I will not retire," he asserted earlier this month. "Retiring is for young people. For old people, retirement is dying. Of course I'm as hungry. I carry a bit more pressure on my shoulders than 20 years ago but the hunger is exactly the same."
Wenger's attachment to the FA Cup derives not just from his "special" adoration for the competition but from the simple "hunger" for success which underpins his managerial philosophy.
Nonetheless, there's no denying the competition has a unique relationship with Arsenal alone. In truth, the FA Cup has come to offer a means of redemption for the Frenchman. In light of the club's struggles in the league and in Europe, England's oldest competition has repeatedly handed Wenger a temporarily lifeline with which to haul himself from the turbulent waters.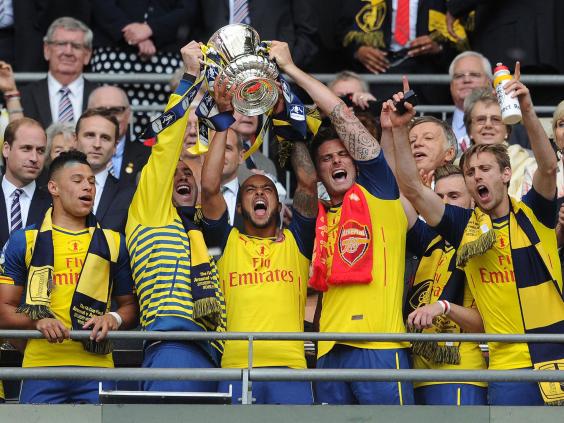 In 2014, the knives had been sharpened for some time as Arsenal headed into the FA Cup final following another season of underachievement. Despite falling 2-0 down in a game that Wenger describes as "a nightmare", Arsenal eventually went on to lift the trophy after a remarkable comeback. It was a result that briefly muffled the calls for Wenger's head.
"It was a special pressure," Wenger conceded on Thursday. "It was difficult for us - 2014 was special pressure.
"We had not won a trophy for a long time. And that people wanted to us to win a trophy or questioned us about winning a trophy. Overall, yes, the pressure was big."
One year later, Arsenal's elevation to the most successful club in FA Cup history, after they beat Aston Villa 4-0 at Wembley, again papered over the cracks after Wenger's side had finished 12 points behind league winners Chelsea. Against such cycles of inconsistency, the FA Cup has served as a much-needed shot into the arm for a manager struggling to silence his critics.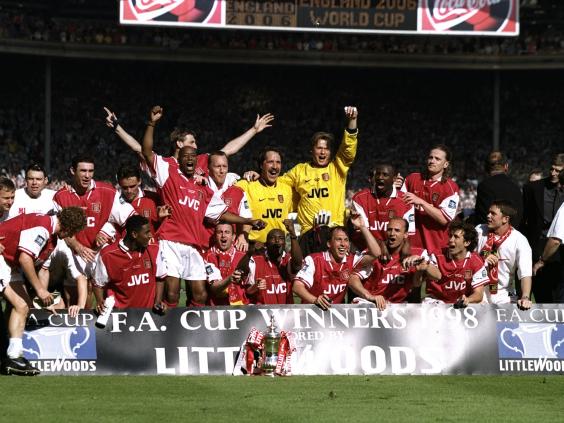 This time round, though, it may not be enough. With Arsenal caught in the throes of a crippling mental paralysis, that has stripped the side of form and confidence, Wenger has faced unprecedented calls to step down. The volatile atmosphere at the Emirates continues to rest on a knife's edge, poised to plunge into outright civil war, all the while Wenger refuses to confirm whether he will stay or go. As Arsenal prepare to take on Manchester City, then, there's a creeping sense that even victory on Sunday – and a possible seventh trophy that could well follow – won't reendow Wenger with that aura of invincibility which has seemingly marked his presence at the Emirates.
As expected, the Frenchman remains defiant and points to his record in the cup. "I'm very proud of that because you have many strong managers in England for many periods," he argued. "The guy who won it six times was not today, it was early century. It's not easy.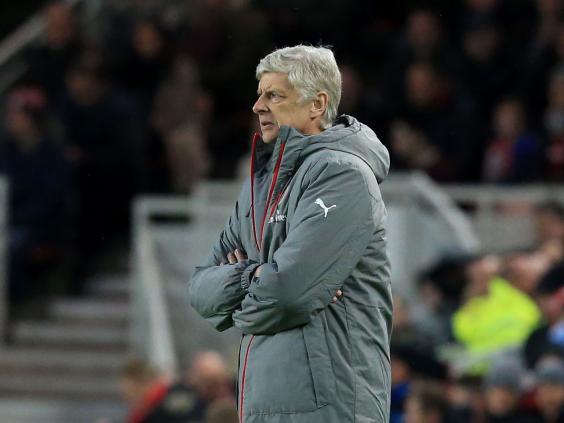 "When you have negative results like we [have] had it can divide or unite. At some stage you have to show you can fight together."
But, yet, even the Frenchman seems unsure what the future now holds. When asked what Sunday's result could mean for Arsenal's season, he replied: "I don't know. We have to win the game and see for the rest of the season. At the end of the season we will judge that." A telling admission, perhaps, that even the FA Cup won't be enough to salvage Wenger's fading cause should Arsenal emerge triumphant at Wembley once again.
Reuse content