Arsène Wenger has launched an impassioned defence of his position as European football's longest-serving manager, ahead of Arsenal's FA Cup replay at Hull City.
After fielding questions about the pressure he might be under following a series of indifferent results, and about speculation surrounding who might replace him, even though he has more than a year left on his contract at Arsenal, his veil of civility slipped.
"Look, I have worked here for 19, 20 years and I'm always sitting here having to justify that I'm good enough to do the job," Wenger said. 
"I have no problem to cope with everything but I find that a bit boring in the end. I always have to convince you that I am good enough. I worked for 35 years at the  top level."
Wenger is chasing a third consecutive Cup triumph and, after seeing his 10 men battle back to draw the north London derby against Spurs on Saturday, insists the title is still achievable, even though Arsenal have fallen eight points behind Premier League leaders Leicester City.
However, neither detail has stilled the disquiet among some Arsenal fans, who question the viability of Wenger as manager following a run in which they have earned just one point in the league since beating Leicester four matches ago and have lost at home to Barcelona in the Champions League.  
Tottenham 2 Arsenal 2 player ratings
Tottenham 2 Arsenal 2 player ratings
1/24 TOTTENHAM HOTSPUR: Hugo Lloris - 7 out of 10

Difficult to fault for either of Arsenal's goals, made a couple of smart saves and was quick off his line to sweep up the danger on several occasions.

2015 Getty Images

2/24 Kyle Walker - 7 out of 10

Good performance defensively from the full-back to help combat Sanchez whilst posing a constant threat down the Spurs right.

2016 Getty Images

3/24 Toby Alderweireld - 7 out of 10

Dragged out of position for the opening goal but redeemed himself with a superb finish for the equaliser.

2016 Getty Images

4/24 Kevin Wimmer - 4 out of 10

Given the run around by Welbeck at points in the first-half, was regularly exposed by pace and movement of Arsenal in final 3rd. Did make a crucial tackle late on to deny Ramsey.

2016 Getty Images

5/24 Danny Rose - 5 out of 10

Fairly solid defensively, however, end product very poor at the other end.

2016 Getty Images

6/24 Eric Dier - 4 out of 10

Regularly bypassed in midfield and gave possession away several times inside his own half, disappointing derby for the 22-year-old.

2016 Getty Images

7/24 Mousa Dembele - 8 out of 10

Very composed performance from the Belgian, regularly helped recycle possession for Spurs and brought a much needed cool-head to the derby.

8/24 Erik Lamema - 5 out of 10

Disappointing performance from the Argentine, missed a guilt-edged first-half chance and was replaced on the 67th minute.

2016 Getty Images

9/24 Dele Alli - 7 out of 10

Hard-working display from the Englishman, superb work in the assist for Kane's goal.

2016 Getty Images

10/24 Christian Eriksen - 4 out of 10

The pace of the derby didn't suit the Dane, looked slow and produced a number of wayward passes.

Getty

11/24 Harry Kane - 9 out of 10

Sensational performance from Kane, his hard- work forced a silly challenge and a red card for Coquelin before producing a moment of magic to give Spurs a short-lived lead.

12/24 From the bench: Ryan Mason - 5 out of 10

Brought on at 2-1 to sit in front of the back four, he allowed Ramsey to break free for Sanchez's goal.

2015 Getty Images

13/24 ARSENAL: David Ospina - 9 out of 10

Made a couple of wonderful saves to earn his team the point, couldn't fault the Colombian for either of Spurs goal.

14/24 Hector Bellerin: 6 out of 10

Good assist for Ramsey's goal, didn't offer his usual threat going forward for the Gunners.

15/24 Gabreil Paulista - 7 out of 10

Fairly solid performance from the Brazilian, difficult afternoon whilst others around him were regularly exposed.

Getty Images

16/24 Per Mertesacker: 3 out of 10

Routinely caught out of position and made to look out of his depth by the hard work of Kane, at fault for Tottenham's second 'If in doubt, get it out'.

2016 Getty Images

17/24 Kieran Gibbs - 6 out of 10

Decent performance from Gibbs, coming in to start only his second Premier League game of the season

18/24 Francis Coquelin - 1 out of 10

Tackle for the second yellow card was incredibly naive and immediately changed the complexion of a game Arsenal looked to be controlling.

2016 Getty Images

19/24 Mohamed Elneny - 5 out of 10

Tottenham's midfield certainly had the upper-hand in this one, struggled to contain Dembele.

20/24 Aaron Ramsey - 6 out of 10

Clever finish for his goal, worked hard but lacked quality and routinely gave away possession.

21/24 Mesut Ozil - 5 out of 10

Largely innocuous performance in midfield, the German did produce a couple of nice touches but struggled to get any time on the ball.

2016 Getty Images

22/24 Alexis Sanchez - 8 out of 10

Sanchez worked exceptionally hard, making several crucial interventions defensively before producing a wonderful finish to help keep Arsenal's season alive.

2016 Getty Images

23/24 Danny Welbeck - 7 out of 10

Arsenal's front man worked exceptionally hard and gave Spurs' centre back's a tough afternoon, however he struggled in-front of goal and missed a couple of chances.

24/24 From the bench: Olivier Giroud - 7 out of 10

Came on for the final 15 minutes but was a handful for the Spurs defence, easing the pressure and holding the ball up well

2016 Getty Images
Wenger, who is just six months away from celebrating his 20th anniversary in the job, reacted robustly when questioned about the impact supporters might have on his future. "You are the guy who speaks to the fans. It's not me. I am not on Twitter. I don't invite anybody to go out to dinner and be nice with them. I work and work and work and work. If it's not good enough, someone will tell me one day. That's all I can do. 
"I do not worry what you say about me or what fans say about me. I try to do my job in a proper way and with full commitment. After that everybody has the right to have an opinion. You do not make a decision if I continue my job or not. What I find just boring is always sitting here after 19 years to face, 'Do you think you are good enough?' If I am not somebody will tell me.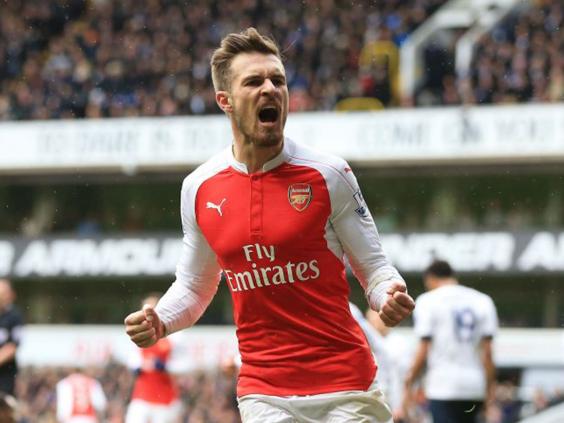 "I cannot influence the behaviour of the fans. How can I do that? The question I got from the guy from the television is, 'After 19 years do you think you are good enough?' I don't know. I am humble enough every day to question myself, to accept my mistakes – and believe me I do that. After that as well there is no coincidence that the people who own the club tell me to be here for 19 years. Do you think they are more stupid than you or me?"
Wenger chose to delay the trip to Hull until today to give his squad more recovery time at home in the middle of a hectic schedule, which involves four matches in the next 11 days. The team will fly straight back after the match tonight to prepare either for a sixth-round FA Cup tie at home to Watford on Saturday or, in the case of defeat, a home Premier League fixture against West Bromwich Albion.  
"It is a bit bizarre. At the moment I try to keep the whole squad on alert and involve everybody. We travel tomorrow morning, we come back tomorrow night, then we prepare for the next one. We don't really know what is the next one, but we cannot complain because we play football games, and that is what we love."
Wenger has promised to rotate his squad again tonight, with concerns in particular about protecting the fitness of Aaron Ramsey, who, the manager claims, is especially vulnerable, given his recent injury record and his non-stop style. "I was concerned about Ramsey before the [Spurs] game because medically, historically, he has such a high level of energy he got injured. He got through the game on Saturday, so that shows that he is maybe through the risk period of repeating games. He doesn't calculate. He just goes and goes and goes, so we have to see if he plays."
Reuse content