If Arsenal fail to end English football's most celebrated trophy drought on Saturday evening then the giggles from west London will drift towards the capital's northern reaches and provide an accompaniment to the clatter of street signs warning of road closures for a Sunday parade being hurriedly returned to storage in a hidden corner of Islington.
Should the roads have to be shut then the celebrations will surely contain a colourful flavouring of messages aimed at Stamford Bridge. Jose Mourinho has no part in this year's FA Cup final – his season has ended in failure to win a trophy – but his ability to get under the skin of others remains without equal. His suggestion on Valentine's Day that Arsène Wenger was a "specialist in failure" has not been forgotten around the Emirates.
"I don't like it when someone criticises any of my teammates, the staff, the manager, the club," says Mikel Arteta, talking at Arsenal's busy training ground this week. "I don't like it because I see what people do every day to look after this club. When they are right, maybe you can accept [it], that everybody makes mistakes. But when [Mourinho] is coming in a certain moment a certain way, I don't like it. If you analyse everything [Wenger] has done for this club, if he is a failure... I have a different opinion."
Arteta is completing his third season with Arsenal since joining in 2011 during a spell of desperate spending by Wenger, the closest he has come to panic buying. Like many in the squad Arteta has gathered relatively few honours in his domestic career, a treble with Rangers aside. Like Per Mertesacker, who arrived at the club at the same time, Arteta had to watch the last domestic cup final he was involved in from the sidelines, injury keeping him out of Everton's 2009 defeat by Chelsea
"We didn't get to those finals very often so it was a big blow," says Arteta. And don't Arsenal know it, too. The nine-year hitch in Wenger's tenure since winning the FA Cup in 2005 hangs over the club. The trophy gap had an effect on their last final, the League Cup defeat by Birmingham in 2011, but the Spaniard suggests the atmosphere in training this week is not one weighed down by anxiety. "I can't sense any fear," he says. "What I sense is a big determination. The players can't wait for Saturday to be on that pitch. If it was different I would say that but it's not the case."
The 20 most shocking moments of the 2013/14 Premier League season
The 20 most shocking moments of the 2013/14 Premier League season
1/13 Michael Jackson removed, only to reappear elsewhere

Just weeks after buying Fulham from Mohamed Al Fayed, new owner Shahid Kahn decided to remove the most famous statue in football, despite threats from his predecessor that his moustache would be cut off if he dared to do so. Few knew the whereabout of the King of Pop after it disappeared from Craven Cottage, until rather bizarrely the National Football Museum revealed Fayed had donated it to their collection. The eccentric Egyptian owner said the removal of the statue had been the reason for Fulham's relegation.

GETTY IMAGES

2/13 Theo Walcott mocks Tottenham fans... twice

Despite being stretchered off with an injury that would rule him out for the rest of the season and the World Cup - Theo Walcott had a big grin on his face as he was carried off the Emirates pitch. That's because he was winding up the visiting Tottenham fans by making a gesture about the 2-0 scoreline. Spurs fans were furious with some pelting Walcott (and those carrying him, even though it turned out some were Tottenham fans) with coins. Despite causing such a furore, Walcott made the same gesture during Arsenal's parade around the pitch after their final home game.

GETTY IMAGES

3/13 Ian Holloway walks away

Managers are rarely short of confidence, despite nearly half of them not being deemed good enough and replaced during the course of the season. So it was rather refreshing when Ian Holloway held his hands up, admitted he didn't feel things were working out with Crystal Palace and left the club. At the time Palace had lost seven of their first eight Premier League games. The decision by Holloway was in retrospect possibly the best of the season from the Eagles' point of view, with Tony Pulis coming in and against the odds guiding the club to safety.

GETTY IMAGES

4/13 Swansea at war

Six Swansea players were reportedly involved in a fight at the club's training ground - an incident made all the worse thanks to chairman Huw Jenkins happening to witness the clash. While training ground bust-ups are nothing unusual, the frequency with which they happened at Swansea over the course of this season has been. In January a 'screaming Chico Flores' was reported to have picked up a brick during a row with Garry Monk, the man who would later replace Michael Laudrup as manager.

Getty Images

5/13 Alan Pardew

Alan Pardew has always been rather animated on the touchline (just ask Arsene Wenger), but the Newcastle manager took it to a bizarre new level when his team played Hull this season. As David Meyler looked to quickly retrieve the ball from Pardew's technical area, he came into contact with the Newcastle boss. That was enough provocation for Pardew to go and head-butt the defender. It led to his club fining him £100,000 and giving him a warning and the FA banning him from stadiums for three games with a further four-match touchline ban. Quite easily the strangest moment of this, or indeed, any season.

Getty Images

6/13 Cardiff employ Kazakh work experience kid

Vincent Tan is something of an unorthodox club owner - from his leather gloves to disregard for Cardiff fans in changing the club colours from blue to 'lucky' red - but his choice of replacement for Iain Moody after the head of recruitment was sacked was even stranger. The man charged with replacing the experienced Moody was Alisher Apsalyamov, a 23-year-old from Kazakhstan who had been at the club on work experience over the summer. Apsalyamov, reportedly a big fan of Fifa and a friend of Tan's son, didn't last long in the role due to problems with his work visa.

GETTY IMAGES

7/13 Chris Hughton sacked

That Chris Hughton was sacked during the season came as little surprise. But that Delia at the Norwich board left it so late was bizarre. There were just five games of the season remaining when it was deemed a change was needed, so out went Hughton and in came youth coach Neil Adams. At the time the Canaries were five points clear of the relegation zone. Before the season was over they were relegated.

PA

8/13 Luis Suarez becomes likeable

Having missed the first six games of the season due to biting an opponent, changing opinions seemed an impossible task for Luis Suarez. But across the season the Liverpool striker has been the best player to watch, hitting the 30 goal barrier in the process. The Uruguyan's redemption was confirmed with the two highest individual honours - the Football Writers' Award and the PFA Players' Player of the year.

Getty Images

9/13 The quenelle

When Nicolas Anelka made a gesture during a match around Christmas time it went largely unnoticed, probably because people were more in shock that he had actually found the back of the net for West Brom. But it turned out the gesture, dubbed the 'quenelle' or an 'inverted nazi salute', is deemed by anti-semitic by some. It led the FA to issue the Frenchman a five-match ban and £80,000 fine. Meanwhile the Baggies sacked him for gross misconduct. Despite Anelka having played for half the teams in England, no-one seemed particularly sorry to see him go.

Getty Images

10/13 Mark Clattenburg upsets Adam Lallana

Mark Clattenburg, something of a moth to the limelight, found himself the centre of attention for what seemed to most an innocuous remark. While officiating a Southampton match, he allegedly told Adam Lallana: 'You are very different now, since you've played for England - you never used to be like this.' It was enough for Saints to lodge an official complaint and suggest that Clattenburg had insulted their player and should not referee their games again. The official was cleared of any wrongdoing.

Getty Images

11/13 Steven Taylor Twitter gaffe

Steven Taylor escaped FA action, but needed to be reminded of his responsibilities after an ill-judged tweet. In response to being mocked by team-mates over his poor French, The Newcastle defender tweeted a picture of Massadio Haïdara along with some 'look-a-likes' - two other black players - Papiss Cissé and Moussa Sissoko - as well as a tribesman. It was accompanied by the words 'it's always good to see you guys smiling'.

GETTY IMAGES

12/13 Tom Huddlestone haircut

Tom Huddlestone's hair was getting out of control. But having vowed not to cut it until he found the back of the net, it just kept getting bigger. So when the Hull midfielder ended his 32-month goal drought in the 6-0 win over Fulham (a game possibly deserving of it's own mention in this countdown) the barber was called in. In front of the photographers in the KC Stadium changing rooms, his unwieldy hair was trimmed and in the process a lot of money was made for charity.

Lynne Cameron/PA Wire

13/13 Arsenal get smashed - again and again

Arsenal were genuine title contenders for much of the season, but defeats to the top sides saw their challenge come undone. Losing to the teams at the top isn't unforgivable, but the manner of many of the defeats was shocking. Over the course of the season, Arsene Wenger's side lost in equally disastrous circumstances to the other three teams in the top four, going down 6-3 to Manchester City, 5-1 to Liverpool and 6-0 to Chelsea.

Getty Images
Arteta – and he is not the only Arsenal player to advance this view – believes having been to Wembley and beaten Wigan after an almighty struggle in the semi-final may stand as a key result for Arsenal.
"We were in a difficult period. We lost at Everton, drew with Swansea at home, so it was a different kind of atmosphere," says Arteta. "The pressure was on. Suddenly they score out of nothing from a penalty, we had opportunities, we couldn't score, the game racked up. After we scored it was a big relief and we won it on penalties which is never easy in these competitions.
"To win anything there are certain moments. We were in trouble and [when] you come out of that situation in a positive way it is very encouraging."
The other widely held belief in north London – and there is surely an element of wishful thinking here – is that one trophy will lead to others. "I hope so. With the history we have over the last nine years without any trophies at all obviously it could be a great turning point," says Arteta. "Comparing the league we have done better than we did last season and two seasons ago. We killed ourselves because we had two or three bad results against big teams away from home, but again in the Cup we have a chance to put it right."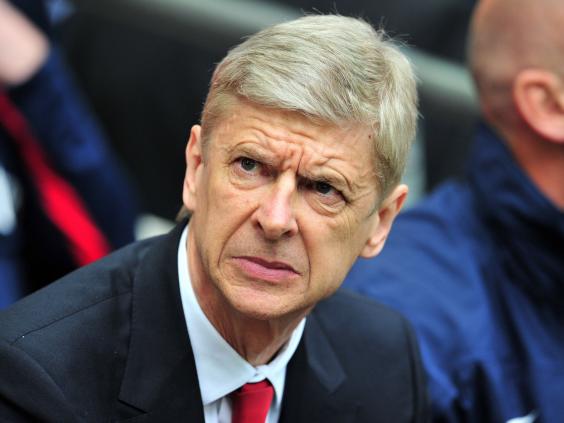 Arteta accepts Wembley will define Arsenal's season. Win and added to fourth place in the league that makes a good campaign. Lose and there will be a hollow feeling. The need to claim a trophy – any trophy – becomes ever more pressing because Arteta sees next season as being an even tougher one with a Champions League place being even harder to come by. He will enter it in the final year of his contract and will turn 33 during its course; playing for a manager who likes to practise football's equivalent of Logan's Run that is a dangerous age. Arteta wants to stay.
"I don't value players by age, whether it is [Tomas] Rosicky or Jack Wilshere," he says. "I analyse many other things before age. For me a much bigger asset is someone who has played over 125 games in three years compared to someone who has played 25 and is 20. I under- stand the club's point of view but I know what I can give."
Reuse content