Steve Bruce recalls that he only went to see Assem Allam out of courtesy when the Hull City chairman contacted him two years ago to ask whether he might like the job of rescuing a team then drifting in the Championship. Once discussions moved on to a potential salary, Bruce found himself with even less reason to take it.
"He offered me the kind of salary I was earning in 1984!" Bruce said this week, as he recounted the sequence of events that led to him taking over at Hull, rejuvenating the club, his own management career and putting him on the brink of the first major trophy the club has won in its 110-year history.
"I have to say, driving up here, there were a few of my mates who rang me and said 'Steve, are you sure you know what you're doing?'" Bruce said. "I said 'Look, I owe them. They've had the courtesy to ring me, so I'm going to go and see what they've got to say'.
"When he [Allam] offered me a salary, I said 'Do you want me to do it for nothing?' I quite liked that about him, that there was a bit of naivety about him, which I thought, 'That's just terrific'. And he thought he was offering me the earth! So his son had to get hold of him and take him into the other room. From that moment on, I liked him. I thought about it and decided, 'Well, why not? It might just be good for you'."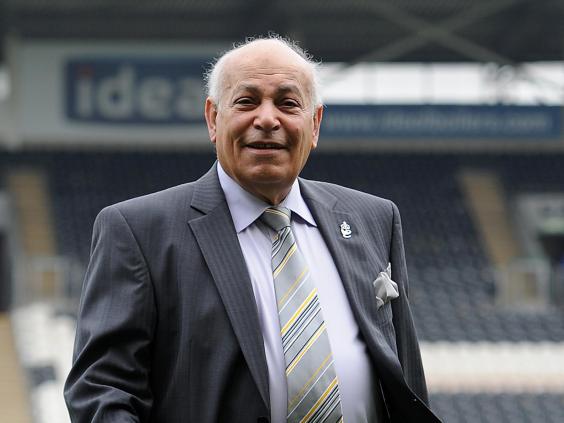 It has been better than good, with promotion from the Championship last season, a 16th-position finish this year and a place as the underdogs in the FA Cup final, eclipsing the club's best showing in the competition, a semi-final place in 1930. Hull are the seventh different club Bruce has managed – and he did two stints at Wigan Athletic – in 16 years in management and this one has its challenges like any other.
Allam's move to change the club's name to Hull Tigers has left Bruce at the centre of a dispute between some fans and the owner that requires a delicate touch. Previously, Bruce's closest chairman-manager relationship was with the bluff Dave Whelan and while his dealings with Allam, Egyptian by birth, are different, there is a fondness there.
"He [Allam] doesn't have a mobile phone. I go and see him every two or three weeks for a cup of coffee," Bruce said. "There is a perception of him that he wants to be different because he's a foreigner. He lives three miles away, he's been here 50 years, he gave the hospital £7m last week, he's given more to the community than I think any other person probably has done. He's a genuinely nice man.
"When he thinks the club should be called Hull Tigers, I'm not saying it is right, but in his mind he thinks 'Well it's a club I bought, for the community, and I think it will benefit us if we are called Hull Tigers'. The perception is he is just one of these foreigners who are on the bandwagon. He really bought the club for the community, I do believe [it]. He is that way inclined. We've had a good two years. But he's been quite easy to work for."
Bruce appreciates the support in signing players, including Jake Livermore and Tom Huddlestone from Tottenham; captain Curtis Davies; goalkeeper Allan McGregor, who should be fit to play, and then Nikica Jelavic and Shane Long, both cup-tied. After his bad experience at Sunderland, he has the chance to become the first English manager to win a domestic trophy since Harry Redknapp lifted the FA Cup in 2008 with Portsmouth.
Bruce almost gave it up after his second job at Huddersfield Town. "I had a wonderful offer from Sky, and I thought long and hard about it. If you look at it now, you've got young coaches going for their A licence, B licence and Pro licence, and after seven years doing all that, you've got an average lifespan of 13 months in the job. We're just not encouraging them to come through and compete with the likes of Mourinho and Wenger or to emerge as another Fergie. That is the danger."
Reuse content