Tottenham Hotspur are having to prepare for the possibility of losing Harry Kane for the majority of the rest of the season, including for the FA Cup semi-final, after the England striker sprained his right ankle against Millwall this afternoon.
Kane twisted his ankle under a tackle from Jake Cooper after just seven minutes of the 6-0 win, forcing him to limp off. He left White Hart Lane in a protective boot and on crutches, to "immobilise the joint", Mauricio Pochettino explained.  Spurs hope that he will be scanned on Monday to assess the extent of the damage.
Back in September Kane damaged right ankle ligaments in the 1-0 win against Sunderland. He ended up missing seven weeks of the season before his return. Pochettino admitted at his post-match press conference that he feared this could be a repeat of that injury, with the same prognosis.
"Kane twisted his ankle, the same ankle that was [injured] before in the game against Sunderland," Pochettino said. "It's difficult. It looks a similar situation to [the injury sustained against] Sunderland, but we'll see. We need to wait and be positive."
Pochettino effectively ruled Kane out of next Sunday's game against Southampton, but ultimately Tottenham will not know how long Kane will be out for until he has the scan. Even that could be delayed if his swelling has not gone down in time. "We need to assess him," Pochettino said. "It is too difficult, today, to give you a real level of how his ankle is. We hope it's not a big issue, but it looks similar. If you watch it on television, it was a similar action."
Tottenham 6 Millwall 0 player ratings
Tottenham 6 Millwall 0 player ratings
1/22 Michel Vorm – 5 out of 10

It was a quiet day at the office for the keeper due to very few attempts from the Millwall forwards.

Getty Images

2/22 Eric Dier – 6 out of 10

Had a relatively straight forward day at the back, with few very Millwall moves causing him an issue.

Getty Images

3/22 Toby Alderweireld – 6 out of 10

A disciplined display from the central defender. Did his job and held his shape at the back.

Getty Images

4/22 Jan Vertonghen – 6 out of 10

Defended bravely and began moves from the back. Read the game well.

Getty Images

5/22 Kieran Trippier – 7 out of 10

His assist for Son's goal was sublime, as were the rest of his deliveries into the danger zones throughout.

Getty Images

6/22 Victor Wanyama – 6 out of 10

Battled throughout and was a key element to Tottenham's moves going forward.

Getty Images

7/22 Harry Winks – 7 out of 10

Oozes confidence for a young lad and it was good to see taking shots on goal.

Tottenham Hotspur FC via Getty I

8/22 Ben Davies – 7 out of 10

Was charging up and down the wings, which provided Spurs with the width that they required.

Tottenham Hotspur FC via Getty I

9/22 Son Heung-min – 9 out of 10

The hat-trick hero was on fire today. His movement, work rate and finishing were all spot on.

Tottenham Hotspur FC via Getty I

10/22 Dele Alli – 7 out of 10

His goal marked his 16th of the season. His positioning was spot on today and he was always making space going forward.

Tottenham Hotspur FC via Getty I

11/22 Harry Kane – N/A

Went off in the early stages of the game after losing his balance and appearing to injure his ankle.

AFP/Getty

12/22 Tom King – 3 out of 10

Made a handful of important saves, but it's never a good day when you concede six.

Tottenham Hotspur FC via Getty I

13/22 Shaun Cummings – 4 out of 10

Defended very narrowly, which allowed Spurs to cause damage in the wide areas.

AFP/Getty Images

14/22 Byron Webster – 5 out of 10

Struggled to cope with Tottenham's pace going forward.

CameraSport via Getty Images

15/22 Jake Cooper – 5 out of 10

Heung min-son made his life very difficult.

AFP/Getty Images

16/22 Tony Craig – 5 out of 10

Defended bravely, but simply failed to contain the Spurs strikers.

Getty Images

17/22 Jed Wallace – 6 out of 10

He tracked back and worked hard defensively, but failed to show any ability going forward.

Getty Images

18/22 Ben Thompson – 5 out of 10

Lost the battle in the midfield and this allowed the opponents to dominate the play.

Getty Images

19/22 Shaun Williams – 6 out of 10

His deliveries up the field were impressive, but they lacked the final product.

Tottenham Hotspur FC via Getty I

20/22 Aiden O'Brien – 5 out of 10

Was forced to drop deep due to the quality of the Spurs defence. He was marked out of the game.

AFP/Getty Images

21/22 Lee Gregory – 6 out of 10

His work rate was faultless, but he did not have enough time on the ball to actually make an impact.

Getty Images

22/22 Steve Morison – 6 out of 10

Looked the most dangerous prospect for Millwall going forward.

Getty Images
If Kane returns seven weeks from now then that would be Sunday 30 April, the day of the historic last ever north London derby at White Hart Lane. He would miss the cup semi-final, the previous weekend, and there would only be another three rounds of Premier League games this season after the Arsenal match.
Such a diagnosis would drastically diminish Spurs. Kane is currently the joint-top scorer in this Premier League season and is aiming for his second straight golden boot trophy. Pochettino would be forced to choose between Heung-Min Son and Vincent Janssen to play up in Kane's absence, although he was buoyed today by good performances from the pair.
Son scored a hat-trick, with two brilliant finishes among them, while Janssen scored his first open-play goal for Spurs after a very frustrating season so far. Pochettino said it was a chance for both players to prove their worth.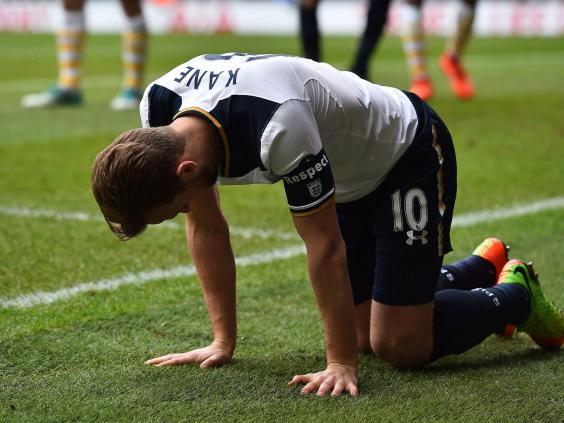 "When you lose a player like Harry Kane, you know you will miss him," Pochettino said. "But it is important for the players who play in his position, Son or Vincent, to find the net and score goals. In the key period, we may miss our main striker. Players like Vincent and Son, who haven't played in the starting eleven in the last few weeks, may now be important for us."
When Kane had his ankle injury in the autumn, Son was more successful as a replacement for him than Janssen. "I was always happy with Sonny, he can play as a striker," Pochettino said. "One of our best performances was against Manchester City here [the 2-0 win on 2 October], and he was the striker when Harry was injured. We have different opportunities to play, use different formations."
Son's qualities are well known now and he adds speed and sharpness to the front line if selected. But Janssen is a different case. He has been dreadfully disappointing since joining last summer but his goal, his first in open play for Tottenham, felt like a genuine turning point. The fans got behind him and he briefly looked like a different player.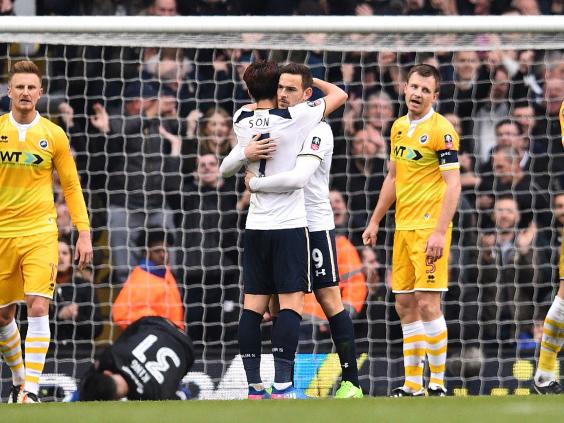 Just last month Pochettino said that Janssen needed to "show more in training" if he wanted to be selected, after leaving him out of the 18 for a Europa League game at KAA Gent. When he was not brought off the bench against Fulham in the last round of the cup, it felt as if his Spurs career could be over already.
But Janssen impressed Pochettino with his response to that criticism, earning himself more time from the bench, culminating in today's triumph.
"I told you that in the last few months he has stepped up and started to work better, and I was happy in the way he was performing in training," Pochettino said. "In football you need to be ready. Sometimes players aren't ready because they're not fit, but with Vincent it was different. He had an opportunity today and scored."
Janssen is more of a conventional target man than Son but he has looked so devoid of confidence in his Spurs career so far that Pochettino has felt unable to use him. But if this goal transforms his confidence then he could be a powerful presence that Spurs have lacked up front in Kane's absence. The decision between Janssen and Son, this weekend and beyond, will not be an easy one.
Reuse content