Reaching the second round of the FA Cup from the seventh tier of the pyramid is difficult. Stourbridge FC first did it in 2011, then they did it again in 2013, as the lowest-ranked team left in the competition. They did it again last year, and this year too. Northampton Town are coming on Sunday, and Stourbridge are once more proud to be the only seventh-tier team in this round of 40. 
When Stourbridge first did it, it might have been called a fairy-tale. But magic doesn't strike four times, Stourbridge have mastered the FA Cup. Four second-round runs in six years makes them the most overachieving club in the competition this decade, all the way from the Evo-Stik Premier Division. For them it is not just a rollercoaster, but a business plan. Every cup run brings in money and all of that money has gone back into the club.
Those windfalls, along with grant money, has transformed Stourbridge. The club was on its knees before current manager Gary Hackett and then chairman Andy Poutney took over, but those two local boys have rebuilt the club from almost nothing. The story of Stourbridge is the story of why, now more than ever, the FA Cup is one of the most important redistributive mechanisms in the English game.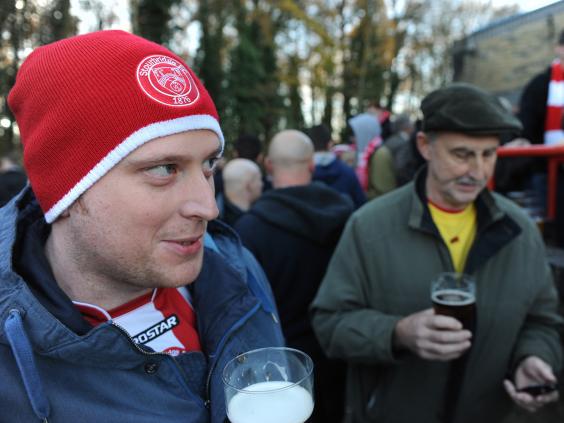 This place will not be overawed on Sunday, it has hosted league teams before. They know where the TV cameras go, the radio commentators, the ambulance, the sponsors' bar. They know that the team-sheets go in 15 minutes earlier for an FA Cup tie. They know that TV trucks cannot drive through the war memorial arch and so have to drive round the back. To see the club gearing up for Sunday's game was to see a well-rehearsed military operation underway.
There is no danger of Stourbridge getting dazzled by the League One side. "People ask me if we'll freeze on the day, we certainly won't," points out Hackett in the clubhouse bar. "We might get beat by a better team. But we won't be phased by it, we won't be scared."
Everyone knows that this is not just about glory, it is about the health of the club. "We never anticipated the cup runs, we never saw them coming," admits Poutney, now in his seventh year as chairman. "We've learned how important they are, so we've purposefully looked towards cup runs as a target. It's addictive."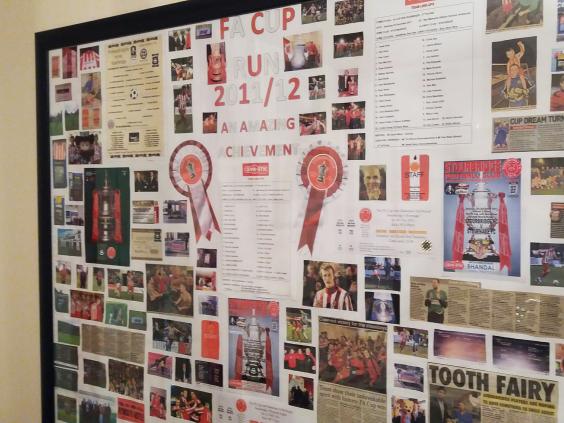 What matters most is money. Stourbridge expect to make at least £50,000 in prize money even if they lose on Sunday. They made £18,000 for beating Whitehawk in the first round, £12,500 for Nantwich Town and £12,500 for Ilkeston. There is broadcast money, too, even though this game will not be shown on television.
Then there is the gate. Stourbridge are expecting a sell-out of 2,600 people. Tickets are priced at £15 for adults and £10 for OAPs and children, up from the usual £10 and £7. The total gate will be close to £35,000. Each team gets 45 per cent (with 10 per cent for the FA), which would mean another £15,000 or so in the bank. Since surging into the second round Stourbridge have doubled their sales of £100 season tickets, from 100 to 200, and their £20 memberships from 60 to 120, bringing another five-figure sum for the club.
Had Stourbridge wanted to, they could have had even more people at the game. When Stevenage came in 2011, the crowd exceeded 3,000, thanks to temporary seating put up on the adjacent cricket field. But Stourbridge FC has a better relationship with Stourbridge CC than they did then. "We ended up damaging their outfield," Poutney admits. "But the last thing we want to do now is fall out with our neighbours."

Still, it will be more than three times bigger than the average home gate, of roughly 800. That itself is more than three times bigger than 250, the average before all these cup runs started. The next target is 1,000 but that should not be beyond them. Because all this money has paid for the transformation of the club and what, higher up the pyramid, is now called the 'matchday experience'.
"The financial side of the FA Cup has been the making of the football club," says Hackett, who has seen the place transformed. "Without the financial input, the ground wouldn't be like it is." 
During Poutney's six years as chairman, he believes the club has spent £250,000 upgrading their facilities. The dressing rooms and toilets were done first, with £50,000 of help from the Football Foundation and Sport England's Inspired Facilities fun. Then the car-park has been re-tarmacked, the pitch was re-laid, the bar was re-roofed, re-carpeted, re-plumbed and re-electrified. 
The ground failed its grading in 2015 and the FA warned Stourbridge were at risk of relegation. So now it has new floodlights, new gates, new stanchions, new steel crash-barriers, new cladding, getting it ready for National League North level. This cost another £200,000: roughly half from the Football Foundation, half from cup runs. "It might not take your breath away," says Hackett, "but people who came here 10 years ago, and come back today, they'd go 'wow'".
More importantly than any of this, the club have spent almost £400,000 on a new training facility for junior players, at the nearby Green Field. Roughly £230,000 of this came from the Football Foundation but it has still been a significant investment, not least because it costs close to the £100,000 per year to run the whole youth operation. But now Stourbridge FC put out 23 teams every weekend, starting from under-6s, including two girls' teams and two ladies' teams.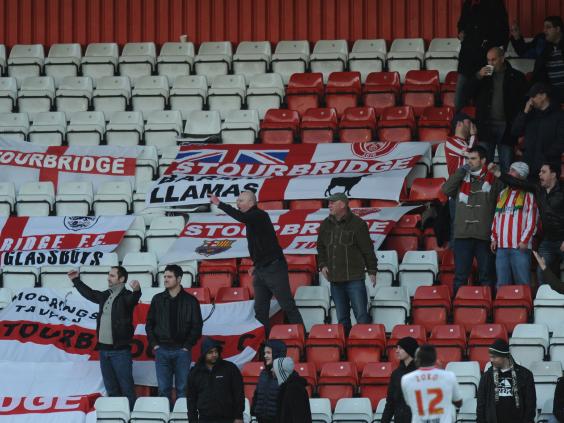 This is the type of community provision that only a well-run football club can do. Hackett and Poutney are both from the town, still live nearby, and are desperate to see it succeed. Poutney knew that giving the club sustainable success was even more important than giving it money. "The whole idea coming it was to create a club that didn't need a sugar daddy," he says, "because the minute he walks away, the whole lot falls down. It has to be self-sufficient."
That is what Stourbridge are, thanks to their almost-annual forays into the serious end of the FA Cup. While they could throw that prize money at new players, they know that some things are more important. Some teams in the Evo-Stik Prem spend up to £9,000 per week on wages, but Stourbridge's bill is closer to £5,000, and that includes their management. Their maximum weekly wage is £300, although some teams in their league would happily pay £800.
"It would have been easy to throw the money at players," Poutney admits. "But the problem is that nobody spent any money on the ground for 50 years. It doesn't matter how good the team are on the pitch, you've got to the facilities right." 
"That money had to go on the ground, and rightly so," says Hackett. "Whatever happens, there will be a legacy left at the club form our FA Cup runs." Even at the club where miracles keep happening, no-one is getting carried away.
Reuse content