The evening began with even less hope than ever that he would finally deliver. Mario Balotelli caught his studs in the turf and felt a twinge in his knee during the substitutes' warm-up, so had to absent himself. But it is a fact that he can make things happen when he arrives on a football pitch. It was he who washed up in the six-yard box when Liverpool's ignominious season seemed to be plumbing new depths and toe-poked home the vital goal.
Brendan Rodgers was expressionless and so was the man whose opportunity this night was supposed to have been. Rickie Lambert had managed to conjure next to nothing in 80 minutes. Balotelli took only seven to pop up in the box, free and available to receive Fabio Borini's cross and score.
Whatever fates befall Balotelli in the weeks to come, Rodgers will know that he owes the Italian for this one because Liverpool were lifeless, listless and heading straight out of the League Cup. His goal, which was his second for Liverpool, kicked them into life. They were helped by the harsh dismissal of Swansea's Federico Fernandez, moments after the goal, and another staging post on the visiting side's short road to disaster in the game's closing stages. Both he and Philippe Coutinho had their feet raised - Coutinho marginally higher - when the Argentine received a red card.
That may have contributed to the South Wales central defence being in a state of chaos when a 94th minute free kick was swung over by Coutinho, looping over defenders and leaving the goalkeeper, Gerhard Tremmel, to flap hopelessly for a ball that Dejan Lovren was able to head home - sending Anfield into delirium and Liverpool into the last eight.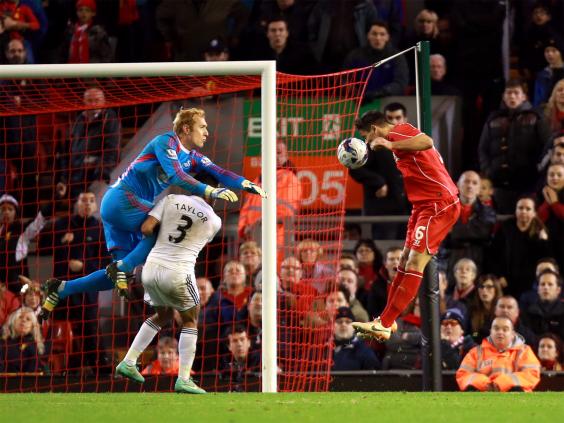 It didn't all happen entirely by chance. Balotelli, whose day began with police announcing there would be no action taken against him in a row with someone photographing his car, has been working with Liverpool on getting into the penalty box and countering his inclination to drift wide. Rodgers' assistant Colin Pascoe wanted to talk about his player's work here. "This is Mario," he said. But we know from the Manchester City experience though that there is another Mario and that these glad moments can be ephemeral. It is if he can deliver with consistency that Rodgers can claim a big result. We must at least reserve judgement.
Liverpool certainly need him more than Manchester City did. This was the fixture which delivered five goals in the first half last spring before Liverpool claimed the Premier League points, with a 4-3 win. Yet here again we saw what happens when you take away the wild abandon of that breathtaking Liverpool attack and add to it the same defensive weakness which was evident back then. An anxiety whips around the Liverpool support when their team has not scored. They know what can happen to that defence of theirs. And so it was, as they headed towards 270 minutes without a goal at Anfield, that a Swansea side who were only just beginning to threaten broke through.
The goal asked new questions of Lovren, the centre half who was immobile when Marvin Emnes ran onto the ball which full back Neil Taylor had taken from Jonjo Shelvey and rolled into his space. Emnes thanked him very much and volleyed home.
The game had not seemed to be destined for this as Liverpool took control of its early stages. There were players on the field with a desperation to prove themselves. None wants to belong more fully to Anfield than Lambert, a son of this city, whose hopes of being Rodgers' target man of choice evaporated when Balotelli arrived and reduced the significance of holding the No 9 jersey to shreds. Lambert's early opportunities were scant. His one moment of promise in a sterile first half came when he turned creator - spinning adroitly off Federico Fernandez and running into the box, with a low cross which no one had arrived to meet. But he could not dominate.
The forward whose Liverpool hopes have reduced far more - Fabio Borini - was the greater attacking threat. His decision to reject a move away to QPR this summer, in the face of Rodgers' wishes, showed that he is not a player to dwell on others' negative perceptions. He certainly had some ice in his veins when his second start of the season came, because it was he who whipped the game into life. He rolled the ball under his studs, swivelled and curled a shot narrowly wide of Tremmels' right post around the half hour mark and within a minute was seizing a loose ball from Shelvey to cut in ten yards from the left.
The Italian's volleyed cross, delivered when he took Jordan Henderson's 30-yard lofted crossfield ball on the full, was also part of the contribution. But though Phillipe Coutinho orchestrated a first half in which Liverpool were dominant and convincing, they could not break through.
Lambert's second half opportunities were equally scant, though his body language told of a man whose dream has given way to nightmare. Fernandez and Ashley Williams are the kind of defenders a Liverpool striker - and the Lambert of Southampton - would take on and dominate. He just could not summon the self-belief. The look on his face when a half chance midway through the second period had been easily collected by Tremmel told the story.
Contrast his demeanour to that of Swansea's Shelvey - a player whose wish to make it here was revealed by his applause for the Kop at the first available opportunity. Balotelli ended the evening in a tussle with Shelvey as they walked off. The Italian always has an unexploded firework in his locker but this time he exploded to positive effect. He dictated the course of the night.
Man of match Coutinho.
Match rating 7/10.
Referee K Stroud (Dorset).
Attendance 42,582.