So, rather than trebles it's doubles, as a single N'Golo Kante goal was enough to subject Jose Mourinho for a second successive defeat at his old club and keep Chelsea en route for both the Premier League and FA Cup.
Antonio Conte's side go into the semi-finals, powered by some of the notable anger of this match in its early stages, and having completely commanded the majority of this FA Cup sixth-round 1-0 win over Manchester United. Mourinho will have the excuse of Ander Herrera's red card from those rancorous opening exchanges and the absence of Zlatan Ibrahimovic but, at this point, it seems there's always an excuse when there's yet another setback.
The game really highlighted a fair few disparities between the squads and why Chelsea are top and United sixth, as the home side could have ended up winning by a lot more against a generally unambitious side, Victor Moses was doing so much more than a relative United counterpart like Matteo Darmian and - most of all - match-winner N'Golo Kante showed Paul Pogba what a real value-for-money performance was. There was also the fact that Herrera's red was probably a consequence of United's primary gameplan in shackling Chelsea's main playmaker, even if they can debate the nature of the second yellow card.
Either way, Chelsea were much the better team by the end.
Chelsea vs Manchester United player ratings
Chelsea vs Manchester United player ratings
1/22 Thibaut Courtois – 7 out of 10

Didn't see much action but when called upon to stop from Rashford he was equal to it.

Getty Images

2/22 Cesar Azpilicueta – 6 out of 10

A fairly quiet evening, especially after the sending off, but did his job perfectly as always.

AFP/Getty Images

3/22 David Luiz – 6 out of 10

Had his hands full with Rashford until the red card but an easier task after that, although did sell himself to the teenager to easily in the second half.

REUTERS

4/22 Gary Cahill – 6 out of 10

Rashford gave him a few problems but nothing he was unable to deal with as Chelsea's defence remained in control.

AFP/Getty Images

5/22 Victor Moses – 6 out of 10

Had a good battle with Young and a few efforts on goal that missed the target.

AFP/Getty Images

6/22 N'Golo Kante – 8 out of 10

Was put under a lot of pressure from the start by United but coped well to keep his metronomic style of play ticking over. Scored a cracking goal from outside the area to give Chelsea the lead.

AFP/Getty Images

7/22 Nemanja Matic – 6 out of 10

Sat back and helped break up any attacks and also on help cover any counter attacks that United looked to launch.

AFP/Getty Images

8/22 Marcos Alonso – 5 out of 10

A quiet game, with most of the action coming down the right-hand side, but backed up Hazard well.

Getty Images

9/22 Willian – 7 out of 10

Made a habit of dragging defenders out of position as he drifted inside and drew a number of fouls in the hotly contested match.

Man Utd via Getty Images

10/22 Eden Hazard – 7 out of 10

Was rarely allowed to get up to speed as United chopped him down at every opportunity. Came close on a number of occasions and brought out a lovely turn to get passed Jones.

Getty Images

11/22 Diego Costa – 5 out of 10

Strangely calm in a game which threatened to boil over during the first half and missed a glorious chance to double Chelsea's lead.

AFP/Getty Images

12/22 David De Gea – 7 out of 10

Made two amazing point-blank saves from Cahill and Hazard in the first half to keep United in it when Chelsea threatened to take a first-half lead.

AFP/Getty Images

13/22 Antonio Valencia – 6 out of 10

Started very brightly offensively but the red card changed his role to aid the defence.

Man Utd via Getty Images

14/22 Phil Jones – 5 out of 10

Made a number of stupid fouls on Hazard and should have been booked in the lead up to Herrera's red.

AFP/Getty Images

15/22 Chris Smalling – 6 out of 10

Marshalled the back four well during a tough time when they came under siege in the first half.

AFP/Getty Images

16/22 Marcos Rojo – 6 out of 10

Went close with an early header and had a good contest with Costa – even if it may have overstepped the line on occasions.

AFP/Getty Images

17/22 Matteo Darmian – 6 out of 10

Was dragged out of position on a number of occasions by Willian.

Getty Images

18/22 Ander Herrera – 3 out of 10

Sent off after 36 minutes for two fouls on Hazard. The first was justified, but the second looked slightly harsh, although very stupid.

Getty Images

19/22 Paul Pogba – 5 out of 10

His usual quiet self in the big games. Yet to establish himself against one of the top teams, which he will ultimately be judged upon.

AFP/Getty Images

20/22 Ashley Young – 5 out of 10

Played almost as a wing-back, despite having Darmian behind him. Had a good battle with Moses until he hacked him down in frustration.

Getty Images

21/22 Henrikh Mkhitaryan – 5 out of 10

Sacrificed by Mourinho after Herrera's red card but didn't really get into the game prior to that.

Getty Images

22/22 Marcus Rashford – 7 out of 10

Ran relentlessly and looked sharp despite his illness. Gave Chelsea's defenders a tough time and nearly scoring after a mazy solo run.

AFP/Getty Images
If the build-up to this fixture was dominated by subtle mind games about who exactly plays counter-attacking football and what exactly constitutes that type of approach, the match started with two robust sides that created a lot of properly physical confrontations - and that occasionally threatened to spread the benches. This had spark.
Mourinho has often been accused of lacking the required innovation in recent years, but his starting line-up was something rarely seen in the game: four centre-halves at the back, two effective wing-backs and an entire gameplan that seemed to be just about stopping Hazard.
With the spike of the occasion, it was perhaps inevitable that two players like Herrera and Diego Costa would come together early on, although they helped each other up in an endearing moment that was quite different from what was to come.
These early clashes still created enough space for some football, although mostly from Chelsea. United's best opportunity came from a punt up that looked to release Marcus Rashford - back in the team after Mourinho so conspicuously and pointedly saying he was ill - with Henrikh Mkhitaryan then driving just wide. It wasn't long until Hazard eventually got free, though. His supreme run and shot on 16 minutes almost opened the scoring, and temporarily saw Chelsea open up.
They laid siege for the next few minutes, with David De Gea pulling off the save of the game from an improvised Gary Cahill shot in the box.
It wasn't going to be long, either, until it properly kicked off. With United players appearing to be on some kind of rota to tackle Hazard, the Belgian was caught by Herrera on 20 minutes. A yellow card came out and another warning had been offered. It was not heeded. With referee Michael Oliver now repeatedly telling players that he would get more cards, Herrera went in on Hazard with a more routine challenge on 35 minutes, the playmaker again going down. It saw the Spaniard go off. Oliver got a second card out, leading to Conte aggressively celebrating as if it was a last-minute equaliser.
It was far from the only flashpoint on the sideline. Chelsea fans near the press box had been showing how much their attitude to Mourinho had changed by telling him where to go in obviously vulgar terms, leading to him holding up three fingers and pointing to the pitch to obviously highlight how many titles he'd won more, and the home fans to sing "it's all your fault", "you ruined it" among other such offerings.
Moments later, after Marcos Alonso and Antonio Valencia had been involved in another head-to-head, Mourinho was straight over to the fourth official to complain… only for Conte to charge over and start screaming in his face. It was as if the Italian had been waiting for the opportunity. There were no subtle mind games here.
Oliver was unwilling to let it continue, however, and called both managers over for a talking-to.
Mourinho had probably made his own biggest statement by hauling off Mkhitaryan for Marouane Fellaini the second Herrera was sent off, making his gameplan now abundantly clear. The necessity with this kind of approach and a mere 10 men on the pitch, though, is that you need everyone doing their job to the maximum.
The again-subdued Paul Pogba was not doing that, got caught just after 50 minutes, and Kante caught the ball well to make it 1-0 from the edge of the box. In truth, the shot seemed to surprise both Pogba and De Gea - probably because this was just Kante's second goal for Chelsea and third in English football - but it was no surprise Conte's side were in the lead. The pattern had been set since the red card. Mourinho looked as livid after the goal as he'd done at any other point in the game.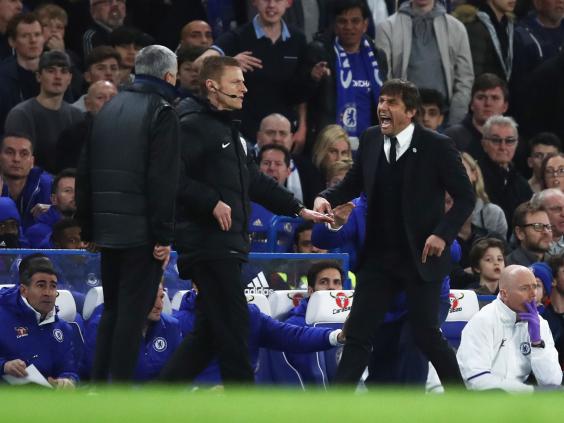 Chelsea were by then in total command with a series of efforts - from Victor Moses to Costa - that went narrowly wide, although there was one big warning with the game still at 1-0 when Rashford too easily got free from Gary Cahill on the break… but then finished imprecisely for Thibaut Courtois to save well.
Possibly alerted into action, though, there was an impressive mental sharpness about what Chelsea did thereafter. They supremely manipulated the space - and the extra man - to herd United into their own area like cattle. It's difficult to say whether frustration got the better of Mourinho's side once that started to happen, but a few challenges and fouls bore that hallmark.
Valencia went in with conspicuous aggression on Alonso, and at one point Pogba was resorted to just bundling Kante to the ground. It was the only time he could get near him, the only time he could get something on target. The world-record signing tried a shot close to the end of the game that could still have rescued United, only for it to go pitifully wide.
Mourinho won't win three trophies, but Conte can still win two, after beating United again.
Reuse content