The most famous footballer in the Championship intends on winning it. He has little immediate interest in qualifying through the play-offs and when you are as decorated and celebrated as Miguel Layun, Watford's Mexican left-back, why would you?
Layun may not be a household name here yet, having started just 10 games in English football. But by 2015's best objective measure of global renown – Twitter followers – Layun is twice as famous as anyone else in his division.
More than one million people follow Layun, a result of his four years at Club America, Mexico's biggest team. He started at America as a joke, and left as captain and two-time Liga MX champion. He represented his country at last summer's World Cup, falling just minutes short of reaching the quarter-finals. So why exactly is he sat here in a canteen in Hertfordshire, telling The Independent about trying to speak Italian to Northern Irishman Craig Cathcart?
It is no slight on Watford or the Championship to wonder whether Layun is too big-time for all this. In Mexico there has been shock and disdain that one of their stars would swap the Estadio Azteca for Vicarage Road, one fifth of its size. But to Layun the move is a wonderful chance. This is the power and allure of the Premier League: a brief spell at a strong Championship team is worthwhile as a possible route to the top flight.
Layun plans to get out of the Championship as quickly as possible. He says promotion is "all that I have in my head", that it explains why he is there, after training, talking about his first experiences of Huddersfield Town and Bolton Wanderers. But then he corrects himself and aims higher.
"Actually, I'm not just thinking about promotion, or about the play-offs," Layun says in his near-perfect American-tinged English. "I want to go to win the Championship, and get promotion with first place. I know it's not easy, but I think we can do it. If we just want to take the play-offs, that should be easy for us. But if we want pressure, we have to think bigger things, we have to want to win the Championship, we have to win every single match."
This is typical of Layun: of his confidence, enthusiasm, openness to new challenges. He could have stayed at Club America and been the hero of the biggest team in the biggest football city in the world. But he has thrown away all that idolisation and embraced the temporary anonymity of the English second tier.
Mexican football has not been impressed. National coach Miguel Herrera said it was a "grave error" and might hinder Layun's chances. So is he worried about the reaction in his homeland? "No. I wasn't and I'm not," he says. "You can't let what other people think be more important than what you think. For me, this is an opportunity to play in the Premier League. I love challenges. I am not a comfortable guy, I don't like that life. This was the best option."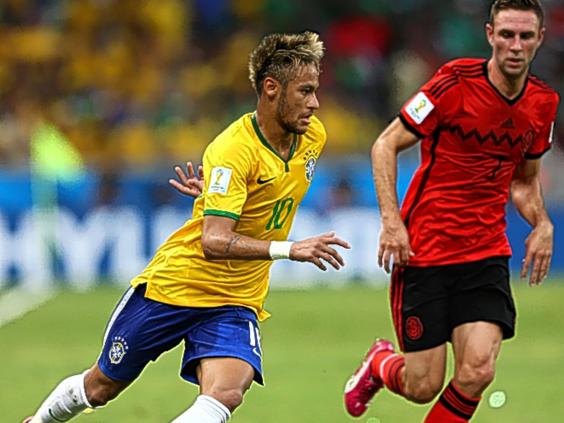 Watford, though, is different from other Championship clubs, with an international feel more accommodating for players like Layun. Since the Pozzo family bought the club in 2012 they have signed talent from all over the world.
"It is not just the English way, you have a lot of brain on the pitch," Layun says, "different ways to see football." Different ways to speak football too, and Layun is a translator for this multilingual side.
"I speak Spanish with [Juan Carlos] Paredes. English with Troy [Deeney], Ben [Watson] and Craig [Cathcart]. And Italian with [Gabriele] Angella, [Daniel] Toszer, [Gianni] Munari, [Odion] Ighalo. You have to be ready to speak different languages at the same time. Sometimes I just get confused: sometimes I am talking with Angella, and then I want to talk to Craig, and I start talking in Italian. Oh my god! But it's very interesting. It means being more concentrated on the pitch."
Language is not his main concern. The Championship has a rhythm all of its own and Layun is still getting up to speed. There is a tactical difference too. Layun is a wing-back who is asked by Slavisa Jokanovic to play as one of five midfielders, not one of five defenders as in Mexico.
But he "loves the philosophy" of the Serbian coach, and understandably so. Watford are the form team in the Championship. They have won 12 of their last 16 games and are now in third place, one point behind leaders Middlesbrough. Layun's aim for first place is very plausible.
If Watford were to be promoted they would likely flourish in the Premier League thanks to their connections, their location and the profile of their squad. "In the Premier League we would work better than here," Layun suggests, "because in the second division of any country, football is more physical. In the first division you have to think, you have to play a different way, and that is the way we play."
Here are the optimism and the confidence that have made a success of a career that might have gone nowhere. Layun was 19 when he was relegated with his first team, Veracruz. "I thought it was the end of my career." When he was 21 he tried Italian football, joining Atalanta, but he only played twice and was not part of Antonio Conte's plans to save the team from relegation.
Layun was offered a route back to Mexico by Club America, the sleeping giants whom he supported as a boy. "America is the most important team in Mexico," Layun explains. "We have a lot of supporters, and a lot of haters. All of the country is waiting to see what happens to America."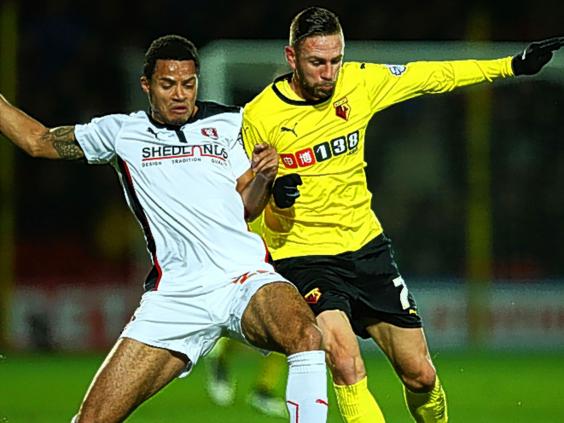 The demanding fans soon got on his back as the team struggled. "They criticised what I was doing on the pitch. Everything that happened with the team was my fault. It was like a snowball, it was unstoppable. It made me grow up."
All the criticism cohered around a hashtag – #todoesculpadelayun – "everything is Layun's fault". The attention was incessant – 1m followers come at a price – and it was only when Layun embraced it as his own that his career turned round. "One moment I just chose to start laughing," he remembers, "that was the moment things changed." Layun was driving home one day, had to stop with a flat tyre and tweeted that it was "all his fault". "That is when it started getting comic."
When Herrera, Layun's old coach from Veracruz, arrived, results started to improve and in May 2013 America played the two-legged championship final against Cruz Azul. In front of 105,000 fans at the Estadio Azteca, they were 2-0 down on aggregate with two minutes left. Implausibly, they took the game to extra-time – the goalkeeper scored the 93rd-minute equaliser – and then to penalties. Layun scored the decisive kick.
"It was a very difficult moment," he says, "because the supporters were not very good with me. But in Mexico we say 'take the bull by the horns', and I turned things a different way." Layun was a hero, soon to be the captain, and he won a second title in December. When he left, the club called him "one of the last idols of Americanism".
So the pressure of the next few weeks – Wolves away on Saturday, then Reading at home – is nothing new or daunting. "I love it, I don't like to play without pressure. You have to know how to handle it, how to play with it. The pressure all depends on us."
Reuse content