Nicolas Otamendi can pull off the look of a menacing centre-half without too much effort.
The Manchester City defender has the haircut of an American GI, a beard which could earn him a walk-on part in Pirates of the Caribbean and more tattoos than Robert De Niro in Cape Fear, so it is little surprise that he greets the mention of referees with a grin and a shrug.
"I always treat referees as well as I can and with respect," Otamendi says as we sit down to chat after City training. "But I think it [appearance] can be a factor with officials, depending on your personality and how you play. But yes, the beard and the tattoos help the aggressive image. I suppose it brings a bit more to it."
Otamendi, City's £31.7m summer signing from Valencia in La Liga, travels to Goodison Park for Wednesday night's Capital One Cup semi-final, first leg against Everton having racked up five bookings in 22 appearances for Manuel Pellegrini's team, but in the absence of City's injured captain, Vincent Kompany, the Argentine's grit and determination has helped the team negotiate a testing run of fixtures, domestically and in the Champions League.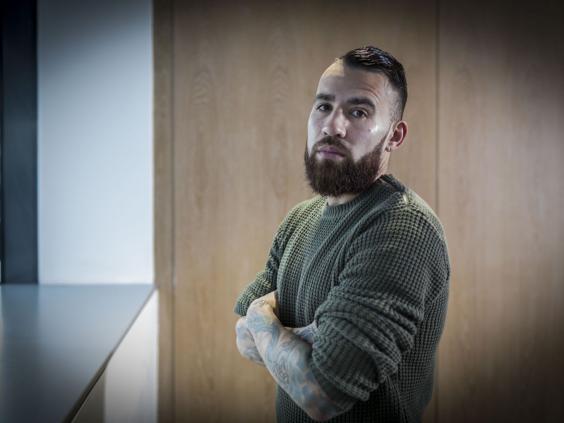 The 27-year-old's tussle with Everton striker Romelu Lukaku this evening is likely to be a key battle which will decide the eventual outcome of the tie, but Otamendi insists he has more to his game than mere physical intimidation.
"What excites me about this league and football in England is the physical aspect," Otamendi says. "You are playing with and against top players, but they are also very physical. When I am defending, one of the things that is crucial for me is anticipating the play. You need to make sure you find the best option to stop these players.
"A player like Lukaku has great qualities and a lot of class, so you have to make sure you find a way of stopping his ability. But while the beard and tattoos may make me more fearsome, I also try to be a commanding, ball-winning centre-half and that is what I have always been looking to do.
"I started to let the beard grow at Valencia and I just liked it, so since then, it has become a big part of my personality, just like those tattoos. People always ask me about them. I had my first done when I was 14 and each one has some significance to it. My brother and my children are on there, and the face of my grandfather too. Most are personal, but if I see a design which catches my eye, I will go for it.
"At the moment there is one I am looking at which will be football related, but I need to find the correct place to have it on my body."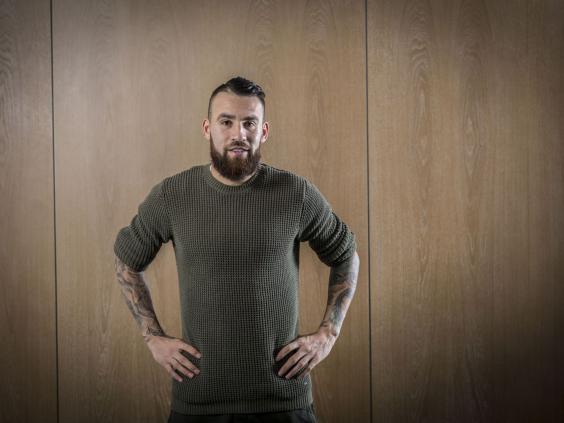 Despite his well-honed tough-guy image, Otamendi projects a more light-hearted figure off the pitch, smiling and giggling his way through this interview, but happily switching from good cop to bad cop whenever the camera shutter clicks away.
He admits to spending time away from the game "finding shows for my kids (Morena, seven, Mia, six, and Valentin, one) to go to" and searching out restaurants for his family when they visit from Argentina.
But there is also the sanctuary of the punchbag at his home in Cheshire, which Otamendi confesses to pounding regularly having been bitten by the boxing bug as a youngster in Buenos Aires. "There was a time, maybe a two-year period when I was younger, when I would train with my cousin in a gym back home in Argentina and I really enjoyed it," he says. "Not the competing, because I didn't have any fights, but it is just a great way of keeping fit and I think any sportsman could learn from the way boxers train.
"I absolutely love it. On holiday, I do it a lot and I have a bag at home, so I am always working out, especially when my cousin, who is a kick-boxer and taekwondo teacher, comes over.
"We are always on the bag and I love to do it. I also like watching and I watch the fights on TV. I saw the Anthony Joshua fight recently and he is a fighter that impressed me. I know about [the Manchester City fanatic] Ricky Hatton too. I haven't met him yet, but maybe soon."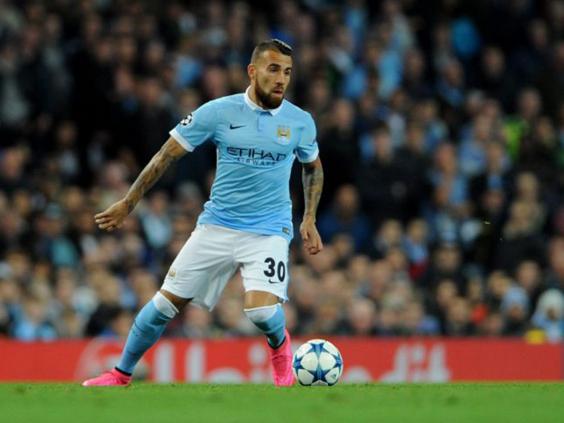 Otamendi versus Lukaku could quite easily translate into a heavyweight clash in the ring rather than on the football pitch, but like any good boxer, Otamendi accepts that a good defence is crucial and City have been unable to claim that distinction on a consistent basis this season.
Kompany's prolonged absence due to injury has destabilised Manuel Pellegrini's back four and Otamendi has shared criticism over the club's defensive failings with Eliaquim Mangala and Martin Demichelis. But the former Valencia, Porto and Velez Sarsfield centre-half admits that criticism comes with the territory and nobody should be immune to it.
"No defender likes to concede goals or receive criticism," Otamendi says. "We have all been subjected to some criticism at some point this season, but any team would miss Vinny. He is a top player, he is aggressive on the pitch and he has been a big loss for us.
"We hope to get him back as quickly as possible and that anyone the manager puts in to replace him can stay solid during that time. The games I played together with Vinny, I really enjoyed the partnership, both in the derby against Manchester United and in the Champions League against Sevilla.
"I felt we were developing something there. He is obviously a top player and he helps us a great deal when he is on the pitch, but recently, I have been playing with Mangala and he is a top player too. He is young, but he is developing as a professional and also as a personality – I can see that on the pitch. He was different when I played with him at Porto. He was a lot more aggressive on the pitch, but I think he has developed since then and is a good fit for the Premier League.
The 17 strikers who could move in January
The 17 strikers who could move in January
1/17 Edinson Cavani (PSG)

Age: 28

Stats in 2015-16: 22 games, 11 goals Value: £32million Teams interested: Man United, Arsenal - The Uruguayan is reportedly happy to cross the channel once PSG find a suitable replacement. With an excellent hit rate in Ligue 1 this year, Louis van Gaal feels he could provide experienced support for Anthony Martial as the Frenchman settles in to regular first-team time while Wayne Rooney's form dips. Arsenal tried to sign him last year, but a £50m price tag changed their minds. With the Gunners' injury crisis worsening, he could pique their interest once more. Cavani has been unhappy at PSG having to play second-fiddle to Zlatan Ibrahimovic in past seasons.

2/17 Gonzalo Higuain (Napoli)

Age: 27

Stats in 2015-16: 19 games, 18 goals Value: £40m Teams Interested: Arsenal, Chelsea A proven finisher at club and international level, Higuain is enjoying a stellar season in Naples. With Napoli in the hunt for their first Serie A title in 26 years, It would surely take a mammoth fee to steal the Argentine - in the prime of his career - away from Italy.

2015 Getty Images

3/17 Marco Reus (Borussia Dortmund)

Age: 26

Stats in 2015-16: 19 games, 13 goals Value: £50m Teams Interested: : Liverpool, Arsenal, Manchester United, Chelsea A player whose name seems to be brought up when any top side's transfer targets are mentioned, Reus is a world class forward who could give a plethora of clubs in England the 'X Factor' needed to secure league and European titles. Having signed a new contract with Dortmund earlier in the year when Jurgen Klopp was still there, Liverpool are the bookies' favourites to claim his signature.

2015 Getty Images For MAN

4/17 Pierre-Emerick Aubameyang (Borussia Dortmund)

Age: 26

Stats in 2015-16: 19 games, 25 goals Value: £40m+ Teams interested: Man Utd, Chelsea, Arsenal, Liverpool The Gabonese striker has taken the Bundesliga by storm this season, but will surely be keen to try his hand in a new league while playing in his prime. United seem to be the frontrunners for his services if he opts to move. Is said to have made a pact with Reus that they will leave the club at the same time.

Getty Images

5/17 Mauro Icardi (Internazionale)

Age: 22

Stats in 2015-16: 12 games, 4 goals Value: £35m Teams Interested: Chelsea, Arsenal, Liverpool Icardi is captain of the Nerazzurri at the tender age of 22, and top scored last season as Inter Milan finished 8th in Serie A. He hasn't quite hit the same heights this season but provides an all-round game that few young players in Europe can match - his off-field antics and temper may be a warning flag for some suitors.

6/17 Alexandre Lacazette (Lyon)

Age: 24

Stats in 2015-16: 21 games, 8 goals Value: £20m+ Teams interested: Chelsea Lyon's talisman has been unable to repeat his goalscoring heroics from last season, when he top scored in Ligue 1 with 27 goals, as his side whimpered out of the Champions League last week. The French side may still be unwilling to sell one of their most crucial players for anything less than full whack.

7/17 Alexandre Pato (Sao Paulo)

Age: 26

Stats in 2015: 33 games, 10 goals Value: £14m Teams interested: Liverpool, Arsenal Jurgen Klopp's first signing in Merseyside could be former AC Milan star Pato. A deal 'in principal' is already believed to exist, and he would provide the German with more attacking options, with the Brazilian able to play wide or through the middle. Danny Ings is out for the rest of the season, Daniel Sturridge remains a constant injury concern and Divock Origi has only shown flashes of promise.

2015 Getty Images

8/17 Saido Berahino (West Brom)

Age: 22

Stats in 2015-16: 11 games, 3 goals Value: £20m Teams interested: Tottenham, Chelsea A stellar 2014-15 season nearly ended up with the Englishman at White Hart Lane, but the deal was called off after the Baggies asked more than Spurs were willing to pay. With Tony Pulis and Berahino not seeing eye-to-eye, he could make a fine replacement for Diego Costa at Chelsea who is having similar managerial issues at Chelsea, or a decent back-up for Harry Kane at Tottenham.

2015 Getty Images

9/17 Sadio Mane (Southampton)

Age: 23

Stats in 2015-16: 17 games, 6 goals Value: £20 Million Teams interested: Man United, Chelsea Though Ronald Koeman is adamant that the African footballer of the year candidate is not for sale, Manchester United and Chelsea are fiercely interested. United offered the Saints £20m in the summer, but were rejected, and though they may try again in the New Year, a similar outcome is likely.

2015 Getty Images

10/17 Charlie Austin (QPR)

Age: 26

Stats in 2015-16: 14 games, 8 goals Value: £15m Teams Interested: Sunderland, Newcastle, West Ham It was a surprise that no Premier League sides snapped up Austin after his superb 2014/15 season, when his 18 goals led him to fourth place in the Golden boot charts. £15m sounds steep but Austin is a proven goalscorer in the top flight - so it would be no surprise to see a mid-low table Premier League side take a chance with him.

2015 Getty Images

11/17 Zlatan Ibrahimovic (PSG)

Age: 34

Stats in 2015-16: 19 games, 14 goals Value: Unknown Teams interested: Chelsea Jose Mourinho has supposedly kept good contact with the Sweden superstar since managing him at Inter Milan in 2008-09. Ibrahimovic is out of contract at PSG in the summer, and before he fulfils his plan of retiring in MLS, the striker could be tempted to the Premier League, with a pre-contract agreement on the cards in January to potentially re-unite with Mourinho.

12/17 Breel Embolo (Basel)

Age: 18

Stats in 2015-16: 22 games, 8 goals Value: £15m Teams Interested: Tottenham, Arsenal, Everton A prodigious young talent, Embolo has drawn many admirers for displays that belie his age in Switzerland and at international level. Comparisons have been made between Embolo and Romelu Lukaku due to his powerful physique and any potential suitors of the Cameroon born striker will hope he develops like the Everton forward.

13/17 Gabriel (Santos)

Age: 19

Stats in 2015: 30 games, 10 goals Value: £30m Teams Interested: Arsenal, Chelsea Described in Brazil as 'Better than Neymar', Santos' Gabriel Barbosa- nicknamed 'GabiGol'- has already developed into a fine finisher, with more than 40 goals before his 20th birthday. Chelsea missed out on signing Neymar from the Brazilian giants back in 2010, and could face competition from Arsenal in seeking out the forward's signature this time around.

All rights reserved

14/17 Michy Batshuayi (Lyon)

Age: 22

Stats in 2015-16: 17 games, 10 goals Value: £30m Teams Interested: Chelsea, Arsenal, Tottenham Ahead of Zlatan Ibrahimovic as Ligue 1's second top scorer this season, Batshuayi has come on in leaps and bounds since his move from Standard Liege in 2014. Comparisons with the likes of Christian Benteke and Romelu Lukaku seem to be part and parcel of being a young Belgian forward, but the Marseille striker looks like he is well on his way to equalling or even overtaking his compatriots.

15/17 Nabil Fekir (Lyon)

Age: 22

Stats in 2015-16: 4 games, 4 goals Value: £35m Teams Interested: Arsenal, Liverpool, Spurs Deceptively strong, with a low centre of gravity and a wand for a left foot, Nabil Fekir's rise to prominence last season with Lyon drew many comparisons with Barcelona superstar Leo Messi, and scooped him France's young player of the year award in the process. Despite his current injury problems he should be fit by the January transfer window- his versatility would be a great asset to the number of top sides said to be courting him.

16/17 Domenico Berardi (Sassuolo)

Age: 21

Stats in 2015-16: 11 games, 2 goals Value: £10m+ Teams interested: Liverpool The young Italian is a versatile forward, equally adept at scoring or assisting, who could be an interesting addition to Liverpool's squad. Sassuolo claim that they will not sell him this January, while Juventus, who previously co-owned the striker, are said to have an option to sign him ahead of other interested parties

2015 Getty Images

17/17 Jamie Vardy (Leicester City)

Age: 28

Stats in 2015-16: 16 games, 14 goals Value: £30m+ Teams interested: Chelsea The England international has been a revelation this season, scoring in a Premier League record 11 consecutive games for high-flying, surprise package Leicester. As hard a worker and as fast as any player in the top flight, Vardy's stock will never likely be so high. Would the likes of Chelsea really take a risk on his purple patch continuing?
"But Mangala, me, Demichelis and Kompany, we all have to learn from the errors that we make. It is not specific to one individual. There is no such thing as a perfect centre-back, and sometimes, when you let a goal in, it is nobody's fault, especially if the other team has scored a good one."
Having been linked consistently with a summer move to neighbours United before signing for City in late August – "It was just rumours about United, there was no real contact," he says – Otamendi has become the most consistent of Pellegrini's defenders in Kompany's absence.
But having been part of the club's £150m transfer recruitment drive, Otamendi insists that the club should prepare for the second half of this season expecting to win a minimum of one trophy, starting with the Capital One Cup. "We have strengthened our team and we have some top-class players, so we should expect to win at least one of the trophies that we enter," he says. "Everton will be a difficult tie, but we believe we can go through to the final
"We have lacked consistency recently and haven't been able to go on a run, but I feel we are growing game by game and that is the objective. We just have to win as many of those as we can."
Silverware and glory may even see Otamendi drop the tough-as-teak persona and smile on the pitch as much as he does off it.
Reuse content