There is one moment from which Phil Brown has never properly recovered. The one that he is always asked about. Four-nil down at Manchester City, he kept his Hull City players on the pitch, sat them down and delivered his half-time team talk in full view of 40,000 people.
It made him seem by turns flippant and egocentric, concerned with his own image rather than the club's long-term future. Although when Hull's most successful manager left Humberside in March 2010, it was precisely that long-term future which troubled him most.
"We were on the verge of building a 92-acre training ground but with the intervention of a new chairman that did not manifest itself," said Brown. "I believe that, had I stayed, we would have survived a second season in the Premier League and, with that new training ground, we would have remained a Premier League club for 20 years.
"The new chairman did not share that vision. He was a short-term man and that is no good to me. Maybe for that reason alone, it was best that we did part company." His dismissal sent Brown on a journey that took him to Southend, where he is making the final preparations for Saturday's FA Cup home tie with Hull.
His CV is impressive – as Sam Allardyce's assistant he helped bring European football to Bolton, he took Hull into the top flight and kept them there. However, few jobs have come his way. He briefly managed Preston, who had just sacked Darren Ferguson which meant his father withdrew the Manchester United loan players from Deepdale. The Stoke manager, Tony Pulis, did the same. Preston were relegated.
There was talk of Hartlepool, a club he had once played for, taking him on but nothing came of it. Does the shadow of the Etihad still hang over Phil Brown? "I am quite proud of the fact that we went to the Emirates and beat a very good Arsenal side. I am very proud of the fact that after nine games Hull had the record number of points – 20 – for a newly promoted team," he said.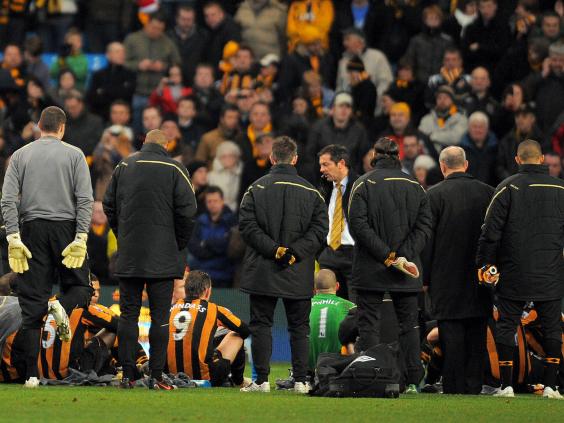 "Instead of that, I am judged on a half-time team talk at Manchester City. I was told it meant I had lost the dressing room and that I had exposed the club to ridicule. But the bigger picture was that we had won at the Emirates, we had won at White Hart Lane, we had won at St James' Park and lost 4-3 at Old Trafford. People choose to forget that."
When, at the Wembley play-off final in 2008, Brown ended Hull's status as being the largest English conurbation never to have staged top-flight football, he remarked: "This is the greatest day of my life and always will be." Six years on, is it still true?
"No, I had better, which seems a strange thing to say. The last day of my first season in the Premier League was probably it [the one on which he sang "Sloop John B" to the crowd]. Against every odd we had survived."
Brown is a far deeper thinker about football than his public image. His chief concern at Southend, as at Hull, was the training ground. When Kevin Keegan took over the ruins of Newcastle United in 1992, the first thing he did was have the training ground redecorated. Brown did the same.
"It was an old nightclub and it wasn't really an environment that was conducive to anything," he said. "The chairman offered me £50,000-worth of investment to do it up and that is one of the keys to success because it makes the players want to come into work."
However, it is difficult to imagine Brown can have the kind of distant vision he once had for Hull when with Southend in League Two, where survival means not going out of business rather than not being relegated.
"This is real football with real people and real problems and I am enthused by it," he said. "I have always taken my strength from a river and I always will. I grew up on the banks of the Tyne, I had some of my best years in football on the banks of the Humber and now here I am on the banks of the Thames."
Reuse content