There is only one player left in the FA Cup this season who can say that he has paraded the famous trophy around the old Wembley Stadium but then Diego Poyet, of Charlton Athletic, was five years old at the time.
It is almost 14 years since Diego's father Gus won the FA Cup with Chelsea when, for the first time, the players involved their families in the post-match celebrations. Along with his older brother Matias, now 20 and studying economics at Leeds University, Diego joined his father on the famous turf. "I've got pictures of us on the pitch and it was my main memory of his time at Chelsea," he says. "I was only five. I was a bit scared!"
Now 18, Diego is a professional footballer himself, and with his dad Gus, both in the quarter-finals this weekend, is part of a great family FA Cup story. Gus's Sunderland face Hull City, in a break from their relegation struggle in the Premier League and a week after they lost the League Cup final to Manchester City. Diego is part of a Charlton side struggling in the Championship but one game away from a Wembley semi-final if they can beat League One Sheffield United.
Born in Zaragoza in Spain to Uruguayan parents, Diego came to England at two years old when Gus was signed by Chelsea in 1997. A midfielder, he has captained England at Under-16 and Under-17 level. At home in Kent he speaks nothing but Spanish to his parents. The rest of the time he speaks English like any teenager brought up in Greater London.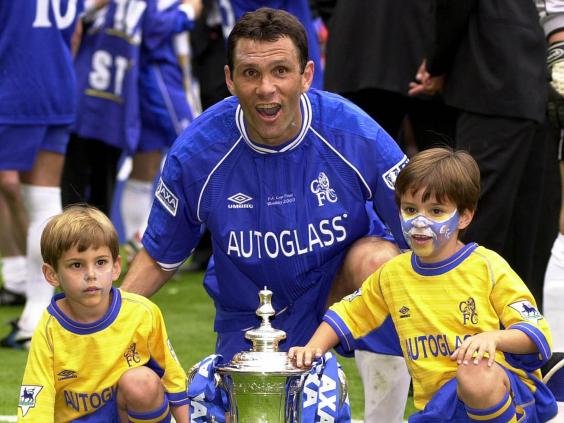 A polite, modest young man, Poyet is a prime example of a richly diverse new generation of young Britons – a generation who have grown up here, born to parents who moved to this country from overseas. One only needs to look at the names in the Football Association's junior England teams to see that elite football is one of the first aspects of modern life to reflect this change.
"I consider myself an English-style footballer and an English person although we always speak Spanish at home," Diego says. "I went to a tournament in France with the England Under-16s. In the first game we played Uruguay, and when I told my dad – and that I was captain – he just said 'I've got to be there'.
"The Uruguayan lads didn't realise the connection at first, then after the game they recognised my dad and started speaking to me in Spanish. They said it was weird as all game I was speaking English to my team-mates!
"People always ask me whether I consider myself English and I do because I've lived here all my life – apart from the two years in Spain when I was really young and one year in Uruguay. All my friends are English. I do consider myself English.
"I do understand how  people with parents from other countries feel. There's always going to be people [here] that don't like it. I remember that from when there was talk of [Manuel] Almunia playing for England. There are always people that will be against it. But it is becoming more common.
"I can still play for Uruguay. I was born in Spain. I have a Uruguayan passport. I have played for England and it was a great time. Now I'm not involved in the current squad, the Under-19s. But if the chance came then I'd have to take it."
His Charlton debut came in the FA Cup third round win over Oxford United in January and he also played against Sheffield Wednesday in the fifth round. His performance in the 1-0 win over Queen's Park Rangers in the League earned him the man-of-the-match award. Things are just starting to take off nicely for him with the priority being staying in the Championship with Charlton and a manager, in Chris Powell, for whom he has great respect.
As a child he began playing Sunday league for Ascot United and at nine had a year in Montevideo with his family when they moved back there after Gus's retirement from playing in 2004. The Poyets returned when Gus was offered the Swindon Town assistant manager's job by Dennis Wise and Diego came back determined to join an academy. He got a trial at his nearest club, Charlton, and has been there ever since.
"Now I've started playing in the first team, people compare me to my dad but they realise that we're nothing like each other, position-wise," he says. "It has disadvantages but great advantages as well, like his knowledge and being able to learn from him. I like it, it doesn't bother me at all.
"I've always said I wouldn't want to play under him. There were rumours of me moving to Sunderland but for the time being I'd rather do it for myself."
There was no pressure from his dad to be a footballer and Diego played rugby union well into his teens, developing into a decent fly-half. He and his brother spent many happy hours at Leeds United's training ground, when Gus worked there with Wise, practising with their father in the afternoon, and the bond remains just as close these days although they see much less of each other.
"As a player, Dad was more attacking whereas I am happy to sit in front of the back four," Diego says. "I do other things attacking-wise. But when we sit at home and watch a match on TV he gets me to watch other players.
"He makes me concentrate on one player. He says, 'Look at the player in your position, evaluate and try to copy him.' He wants me to look and learn not just sit and watch the game – to take something from it.
"The main one in the past was Paul Scholes. I would ask, 'How come he seems to have so much time?' And Dad would say, 'Watch how he stands still sometimes when the play is moving and he gets himself an extra yard'. Or Xabi Alonso at Real Madrid, he would tell me to watch what he did off the ball."
Two years ago Diego's appendix ruptured after an FA Youth Cup game at Old Trafford. The first operation went wrong and he was rushed back to hospital for further surgery. He lost 13 kilos in weight and missed six months of his football development which, given the competition at that level, could have ended his hopes of a professional career.
There were times when Gus would spend the night on a temporary bed in Diego's hospital room in London, and then dash down to Brighton, where he was manager, to take training. The surgeon had warned that Diego might need part of his intestine removed, although that was eventually deemed unnecessary. The following summer his dad trained with him every day to help Diego gradually build up his strength to play again.
Given the obvious closeness between father and son, how would it feel to face his dad in the FA Cup semi-finals if it came to that? "To be honest, I would love it," Diego says. "The way I see it there are some very tough teams left in the Cup but if we both got through and played each other in the semis then at least one Poyet will be guaranteed to be in the FA Cup final.
"The worst result would be getting through and drawing City and if Sunderland got through and drew, say, Arsenal. But if we play each other then we will go to Wembley again – although it would feel really weird if we were both at Wembley for the semi-final! There have been times, at Charlton last season, when dad was Brighton manager and it was awkward. Even watching the game."
It is also refreshing to hear, from one so young, a real passion for the FA Cup. Diego may have been born into a generation that has not come to regard the Cup with the reverence previous generations had for it, but he himself knows just what it means.
"For me it is massive," he says. "We are one win away from Wembley. I have only played six games professionally. It is like a dream for a club like Charlton to be able to take 40,000 fans to Wembley. It would be absolutely amazing for us. I still take the Cup very seriously. I know my dad will never forget the day he won the FA Cup. In the family we know how serious it is."
My other life: Non-stop film viewing
I fill the long coach journeys in football by watching films. I have seen "Non-Stop", the new Liam Neeson film, and we watched "The Wolf of Wall Street" on the team bus recently. There was someone checking our ages because it was rated 18!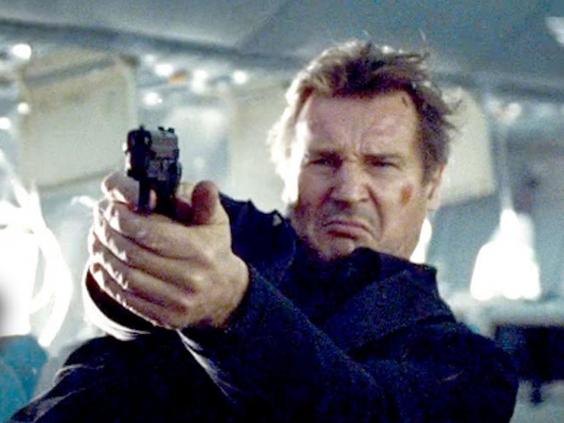 Reuse content