Brian Clough took his teams to six League Cup finals but the great man did not lose a semi-final quite as heroically as his son did here.
Tottenham reached the Capital One Cup final after Christian Eriksen scored his second of a remarkable night but, when he converted Harry Kane's pass, Spurs had been three minutes from extra time and close to something altogether more humbling.
Last season Nigel Clough's Sheffield United had lost an FA Cup semi-final despite scoring three times and last night they were denied an appearance in another final after almost standing the night on its head.
Sheffield United 2 Tottenham 2 player ratings
Sheffield United 2 Tottenham 2 player ratings
1/12 Michel Vorm

Fumbled ball into the path of Jamie Murphy early in the game and was lucky the striker didn't punish him. Well beaten by a fantastic Che Adams finish from a tight angle for Sheffield United's first goal but could do nothing when Adams' effort to level the tie at 2-2 deflected off Jan Vertonghen. 6/10

PA

2/12 Kyle Walker

Cleared off the line after Jamie Murphy's effort inside the first ten minutes of the match. Utilised his pace very well against Ben Harris, the Blades full-back, who had a torrid time against the England international. 7

Getty Images

3/12 Eric Dier

The young centre-back put in another strong performance alongside Jan Vertonghen. He is still learning but these are the types of games that will help him mature. 6

Getty Images

4/12 Jan Vertonghen

Very steady as he usually is. The role of captain suited him tonight. He was able to motivate his teammates when reaching the final looked a little uncertain after Sheffield United pulled two goals back to level the tie. 7

Getty Images

5/12 Ben Davies

Had a much stronger game than he did in the first leg. He handled Jamal Campbell-Ryce much better and frequently looked to supply Ryan Mason and Christian Eriksen. 6

Getty Images

6/12 Benjamin Stambouli

He didn't do anything particularly extravagant but what he did do was prevent Jose Baxter getting forward enough to be a threat. Calm and assured. 7

Getty Images

7/12 Ryan Mason

Tenacious in midfield and never stopped running. Another excellent performance from him as his understanding with Benjamin Stambouli grows even stronger. 7

Reuters

8/12 Moussa Dembele

He fed Harry Kane in attack well before being replaced by Paulinho after he was clipped by Sheffield United captain Michael Doyle. 6

Getty Images

9/12 Erik Lamela

Replaced by Andros Townsend after an indifferent performance. He hasn't convinced many at White Hart Lane this season and on tonight's showing his hasn't done himself any favours either. Too pedestrian and too lightweight when going up against Jamie Murphy. 5

Getty Images

10/12 Christian Eriksen

Beautiful free-kick to take the lead in the first half. He was superb throughout and it was no surprise when he won the game with a clinical left-footed finish past Mark Howard in the closing stages. 8

Getty Images

11/12 Harry Kane

He worked incredibly hard to get into space on his own up front. Never stopped putting defender Jay McEveley under pressure either. 7

Getty Images

12/12 From the bench: Andros Townsend

He failed to make too much of an impact when he came on with 16 minutes remaining. He didn't impose himself enough on the Sheffield United defence to cause any major problems. 5
When Clough reflected on the first-leg defeat, settled by Andros Townsend's penalty, he remarked how the Tottenham manager, Mauricio Pochettino, had been able to bring on footballers of the quality of Paulinho and Roberto Soldado "while I had to rely on a teenager I'd signed from Ilkeston Town."
That was Che Adams and, when he came on here, Tottenham, cushioned by Eriksen's free-kick, were cruising towards a repeat of the 2008 League Cup final with Chelsea and the only romance was the sight of snowflakes dancing in the floodlights.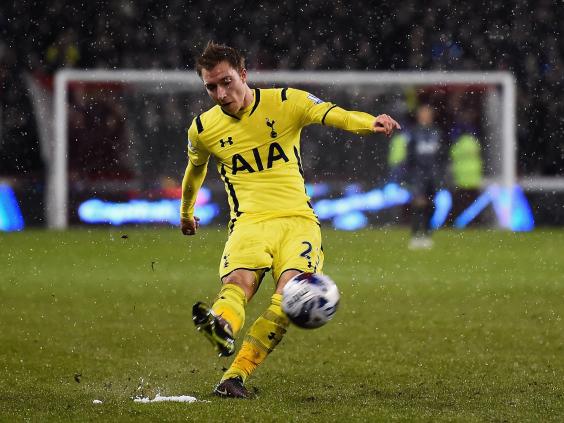 Che is a revolutionary name and now he proceeded to upset every calculation, first by sliding home Ryan Flynn's low cross that had split apart the Spurs defence and then by controlling another cross, this time from Jamie Murphy, and driving the ball home. Moments later, another of United's teenagers, Louis Reed, had the chance to win the game but sent his shot into the Bramall Lane Kop.
Then came Tottenham's counter-attack and the result everybody had expected when the game began. The 2008 League Cup final will be replayed but in Pochettino and Jose Mourinho the two clubs have rather better managers than they did then.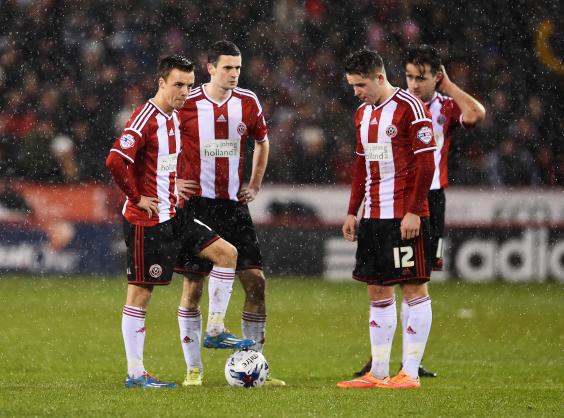 Before kick-off, Clough, not entirely flippantly, had said he would take a penalty shoot-out there and then. The degree of difficulty facing Sheffield United could be gauged by the fact that in more than 100 League Cup semi-finals, only twice have a lower-division side overcome a first-leg deficit.
The first was Middlesbrough in 1998 and they had unnerved Liverpool both by the speed of their play and the sheer passion of the Riverside Stadium. Tottenham had been promised a similar reception, although what might have unhinged Spurs was not any hatred from the crowd, who generously applauded the returning Kyle Walker, but the sound of Def Leppard being played at maximum volume.
Pochettino had remarked that having played in the Copa Libertadores for Newell's Old Boys he was quite used to passion. When they arrived in Colombia to face America de Cali, there had been bricks through the windows of the team bus and players pelted with batteries on the pitch.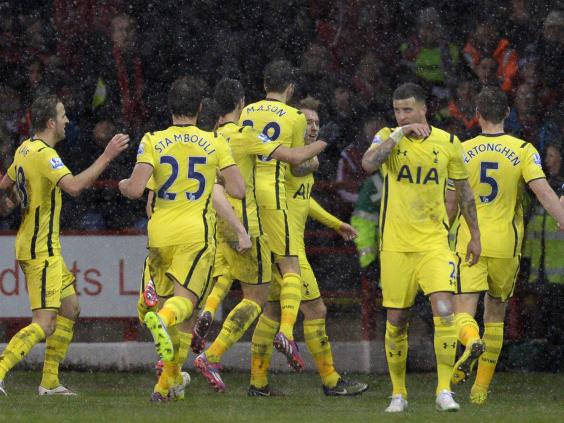 However, it was unlikely they would have had to cope with relentless driving snow that arrived over the hills of Sheffield precisely an hour before kick-off and swirled down thereafter.
His side at least managed to get to the ground on time, which is more than Clough's team had achieved when their bus required two and a half hours to travel from their hotel in Islington to White Hart Lane. It took Spurs considerably less time to fly from London to Doncaster.
They were, as Pochettino had promised they would be, faster and more aggressive than they had been at White Hart Lane. Harry Kane and Ryan Mason both loosed off early shots but before 10 minutes were up, Sheffield United almost had the opening goal Clough craved.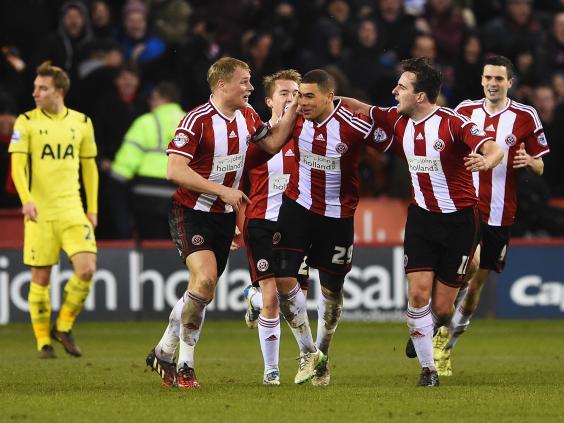 In the first leg Jamal Campbell-Ryce had pushed and stretched the Tottenham left-back, Ben Davies, and early on he began where he had left off in London.
Michael Vorm came to meet Campbell-Ryce's cross, dropped it under pressure from Stefan Scougall and Jamie Murphy would have put United ahead had Walker, who was brought up in Sheffield and joined United at the age of seven, not cleared it off the line. When Clough comes to analyse the night, this would be the moment that it slipped from his grasp.
Their manager had not allowed his players to prepare for the semi-final by taking them off to a hotel, saying it would only "crank up the pressure". As much as possible, he wanted Sheffield United to go into the game as if it were an ordinary league match.
The trouble is that, in contrast to their remarkable cup record, United have not been terribly good at ordinary league matches, which is why they went into the night ninth in League One.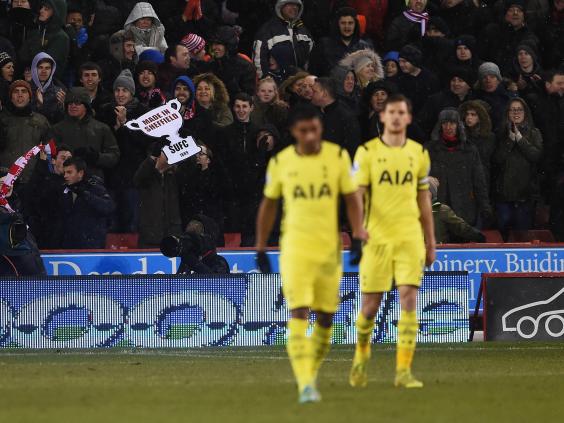 Generally Kane was allowed far too much space and, had the striker selected his shots or his final ball only slightly better, the tie would have been settled long before the interval. By then, however, Sheffield United needed to score twice to take the tie into extra time and three to win it.
As the teams came out for the second half, Bramall Lane's announcer shouted into his microphone: "We haven't come this far to throw it away now" but you wondered if he or those who sang the Blades' version of "Annie's Song" when the game restarted really believed it. They had probably known their fate since Christian Eriksen scored.
Of all the players on whom the Tottenham chairman, Daniel Levy, lavished his Gareth Bale money, it was only the £11m he had paid Ajax for Eriksen that has proved real value. The Dane's speciality is a free-kick delivered from the kind of angle he was presented with here.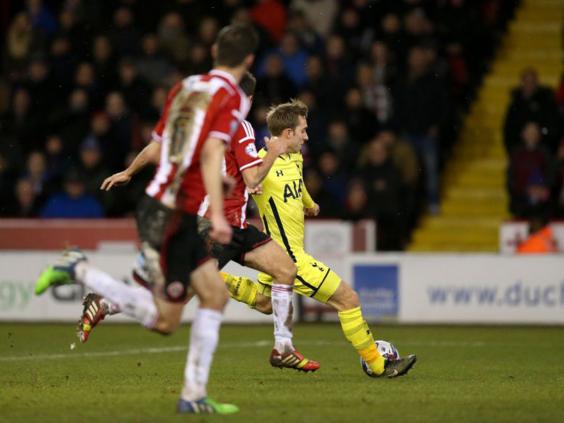 It struck the net at roughly the intersection of post and crossbar, the one place were no goalkeeper in the world could hope to reach. For the 5,500 who had made the journey from London to Yorkshire, the return trip would be a daunting one but, metaphorically, the roads led to Wembley.
Reuse content