Winter sun shone over Sheffield's seven hills on Thursday. A waterlogged pitch had claimed his side's home fixture against Brentford the previous evening, but as Nigel Clough, the Sheffield United manager, turned his focus to the FA Cup at their Shirecliffe training ground, it seemed only fitting there should be a break in the clouds. For United, the lowest-ranked club still standing, the old pot has provided a shaft of light for supporters amid the gloom of a League One survival scrap. As Clough, reflecting on the scalps of Aston Villa and Fulham, noted: "It's put a smile on their faces."
This weekend's fifth-round bill includes heavyweight contests at the Emirates and Etihad, with Arsenal hosting Liverpool and Manchester City facing Chelsea, but the place to be for the undiluted flavour of the FA Cup, to see its alchemical properties truly at work, is the Steel City. In a season pockmarked by awful starts, managerial sackings and relegation anxieties for both Sheffield teams, a combined 50,000 people will head down to Hillsborough and Bramall Lane with a collective spring in their step.
Today Wednesday take on Championship strugglers Charlton; tomorrow United, third bottom of League One, welcome Nottingham Forest. There is genuine hope that for the first time since 1993, when they met in the semi-finals, both teams could end the weekend in the hat for the last eight. "I think all of Sheffield is hoping for a Sheffield quarter-final," said Clough.
The FA Cup may have been the one major honour that eluded his father Brian – and Clough Jnr was in the Forest side beaten in the 1991 final by Tottenham Hotspur – but he regards it with an old-timer's respect. "Apart from the big boys in the early rounds, I still think this means as much as anything," he said. "You try and get a semi-final ticket and then you'll see what this competition means."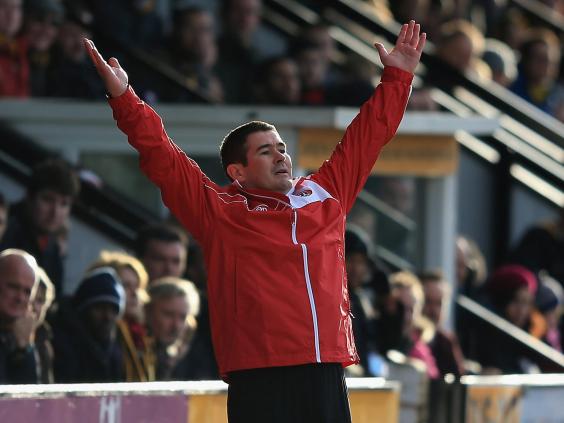 Survival in League One "is the biggest priority by far" but Clough welcomes the distraction of the Cup. "We don't see it as a hindrance but a help," he said. "Somebody said this morning that the last thing we want is a replay but I will take a replay over getting knocked out. We want to stay in the competition."
It was a view echoed across the city by his Wednesday counterpart, Stuart Gray. "We've played Macclesfield, we've played Rochdale and I've played the strongest team I can, possibly because I was brought up as a child watching the FA Cup and with the excitement it generates among fans. I've got a few foreign boys here and I asked them if they realised what the FA Cup means. After we got the win at Rochdale, they could understand the importance of it."
In both the blue and red halves of Sheffield, the first part of this season was the stuff of nightmares. Wednesday had to wait until 2 November for their first league victory; United won just one of their opening 11 league fixtures and responded by replacing David Weir with Clough. Wednesday gave Dave Jones more time but dismissed him eventually in December, with the club second bottom of the Championship.
United and Wednesday were founder members of the Premier League and have seven FA Cups between them. Despite their troubles, for Clough this remains a big football city. "It's amazing that it supports two football clubs of such size," he said. Wednesday have the Championship's sixth-highest average attendance – 21,237 – while only Wolverhampton Wanderers surpass United's 16,987 average in League One. And if United's fans are known for their glass-half-empty approach, they made themselves heard at Villa Park and Craven Cottage in the previous rounds with noisy renditions of the "Greasy Chip Butty Song" – an ode to the joys of a night out in Sheffield, to the tune of John Denver's "Annie's Song". "You feel on a supporter base that you are an equal," added Clough. "It helps tremendously."
United's Cup feats – successive away victories at Colchester United, Cambridge United, Villa and Fulham –are remarkable when you consider that they have won just once in 14 away league fixtures. "We have ridden our luck in the Cup at times but you have to do that. We certainly haven't had a break in the league," Clough said.
Now for a home tie with in-form Forest, a game lent added intrigue by Clough's City Ground connections. His last match before his sacking by Derby County in September was a 1-0 defeat by Forest and there is no love lost between him and Billy Davies. Clough is more concerned with the puzzle of translating United's Cup form to the league. "Maybe we have the sort of team that aren't better than League One but find it easier to deal with what Villa and Fulham throw at you than what we get week in, week out in League One."
The Cup has brought the best out of Ryan Flynn, the Scottish winger who won two FA Youth Cups with Liverpool and scored a brilliant individual goal to beat Villa. "That was definitely my most special goal," said Flynn, adding: "When we get the ball down, we have got good players and do create chances and we are just managing to take a few in these FA Cup games."
While United were FA Cup semi-finalists last in 2003, Wednesday have not been to a quarter-final since 1997 or to Wembley since 1993, the year they finished runners-up in both domestic cup competitions under Trevor Francis. They have since had two spells in League One. Reflecting on their decline, Steve Walmsley, a Sheffield Star columnist, said: "You thought we were on our way to being one of the top seven or eight clubs in the country, with 30-odd thousand gates at home. It's amazing how bad management at a football club can just ruin it. One of the daftest decisions Wednesday ever made was sacking Trevor Francis for finishing 13th in the Premier League [in 1995]. It's been a downward path ever since."
And unlike United, who secured fresh investment last September when owner Kevin McCabe sold a 50 per cent stake in the club to Saudi Prince Abdullah bin Mosaad bin Abdulaziz al-Saud, Wednesday have a team of loanees and free signings as owner Milan Mandaric continues to look for a buyer.
After eight weeks in caretaker charge, Gray had his promotion from first-team coach confirmed after the fourth-round success at Rochdale and has reaped the benefits of bringing back forward Chris Maguire – frozen out by Jones – and switching Kieran Lee to a central midfield role.
"We've got a bit of self-belief but we haven't achieved anything – all we've done is get out of the bottom three," said the 53-year-old. That said, a victory today would provide a rare whiff of Wembley. "One thing it does is it allows the fans to dream," he added – and in Sheffield these days that is not something to sniff at.