The match at St Mary's is one of those FA Cup ties which provide the padding at the fourth round stage, an ersatz Premier League fixture with none of the cup's fabled romance about it. But Southampton versus Crystal Palace will stir vivid memories in fans of a certain age.
It is the clubs' first meeting in the competition since April 1976. Brotherhood of Man topped the charts, winning the Eurovision Song Contest that night, Britain and Iceland were engaged in the Cod War, and FA Cup semi-finals were still played on club grounds. At Stamford Bridge, Saints, then in the old Division Two, met Palace, then in Division Three.
Such a fixture, though unlikely now, is not inconceivable. Wigan and Sheffield United both reached last year's semis only to be kept apart in the draw. But a closer examination reveals a different age.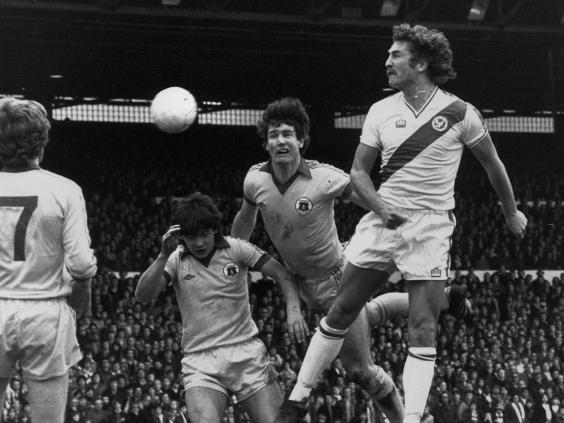 The spearhead of Southampton's attack was Mick Channon, England's leading striker despite spending a second successive season in the second tier. Alongside him was Peter Osgood, one of the Seventies' most glamourous players, and still only 29. Palace's key player, Peter Taylor, had just made his England debut. Other players of note included internationals Jim McCalliog, Peter Rodrigues and Alan Whittle. There were also a clutch of young players who would go on to grace the top flight including Jim Cannon, Dave Swindlehurst and Nicky Holmes. 
Now such players would be sitting on a Premier League bench, or farmed out on loan. Channon, Taylor and Osgood would be in the top flight as would McCalliog, Rodrigues and Whittle – who joined Palace after winning the title at Everton and stayed through two relegations.
What was different? "Players tended to stay at clubs longer," Cannon said. "There was no freedom of contract. You'd sign a two-year deal with a two-year option and if the club wanted to keep you that was that, you couldn't get out of it. All the cards were stacked in their favour. But there wasn't the wage gap there is now."
First Division players then were thought to get about twice that of a third division pro, now it is nearer 20 times. With appearance money and win bonuses a lower division regular could out-earn a top flight reserve - especially as only one substitute was allowed and squad rotation unknown. As Richard Money, Cambridge United's manager, said in The Independent yesterday when explaining why he left Liverpool for Luton Town in 1982, 'salaries were not colossal and playing was the major part of the mindset'.
This relative wage parity reflected club incomes. Broadcast revenues were small with only the FA Cup final and some internationals live. Shirt sponsorship, corporate boxes and other earners were still in the future. Gate money was the main income and clubs had to split this with the away team. It made for a more even game: in ten seasons to 1976 seven different clubs won the title, a dozen made the top three. In the last ten seasons three shared the title, five finished in the top three.
With relegation less traumatic managers were given time. Palace's boss had taken them from the First Division to the Third, and not been sacked. Malcolm Allison was, though, no ordinary manager. With his fedora and cigar Allison became the face of Palace's FA Cup campaign, a run that began in the first round against Walton & Hersham but took off in the fourth with victory at then-mighty Leeds United.
"He put the club on the map," said Cannon, "and his coaching was brilliant. But he'd watch the Dutch and he'd expect us to play like Johan Cruyff. Frank Lord, who was the coach, would say 'Malcolm, he's Jim Cannon, not Johan Neeskens'."
Team-mate Ian Evans recalled: "Derek Jeffries, who was a no-nonsense northern lad, would say to Malcolm, "why can't we just go out and play," because he was always working on our tactics.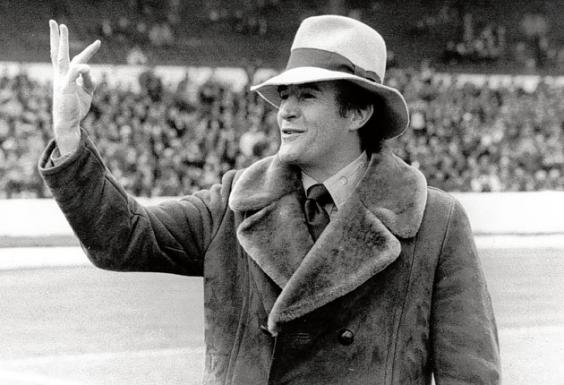 "He deserved to work with better players, but he improved me. He got you working on your ball skills," added Cannon.
He was very innovative. Malcolm played wing-backs. It was quite unheard of in England then. No one knew how to play us. At Leeds Peter Lorimer, who was playing right wing, shouted to Don Revie, 'what do I do with him?' I was No.3 and he thought I was full-back, but I kept going forward. We hammered Leeds, we didn't nick it." Late in the game defender Stewart Jump was so relaxed he looked over to Allison and puffed an imaginary cigar.
A Taylor-inspired Palace won in front of 54,407 at Chelsea, then at promotion-bound Sunderland. With the supporters' club selling fedoras by the box-load they looked set to become the first third tier team to reach the final – especially when the draw paired Manchester United and Derby County, both chasing the title, in the other semi.
But Saints also felt destiny was theirs, especially McCalliog. Their run began at top-flight Aston Villa. McCalliog scored twice but said: "A good night turned into one the worst of my life. We went for a few drinks in a club in Birmingham and I was called to the phone. It was to tell me my mum had cancer. She was 52. As it got closer and closer to Wembley my motivation was to win the cup for my mum. Thankfully she made it, though she had to watch on TV at home."
"We came together for that cup, felt it was meant to be." It nearly was not, though, when they struggled away to Fourth Division Bradford City in the sixth round. Then they got a free-kick. Osgood scooped it up and McCalliog volleyed. "As soon as I hit it I knew, you do. It dipped over the all and left the 'keeper stranded. I remember doing a little jig on the touchline."
Come the semi Palace were missing Martin Hinshelwood and Stewart Jump, two key players. Maybe because of that, or simply nerves as the final loomed, they froze.
. "We never got going", admits Cannon. "We were disappointed in them," said McCalliog. But Saints still found it hard to put them away and a replay beckoned. "I remember Micky Channon saying 'I'll see you on Tuesday at Highbury'," said Cannon. Then, with 16 minutes left, Paul Gilchrist scored from 25 yards. Six minutes later McCalliog sent Channon clear. "He'd be offside all the time, he never bent his run, but over 15-35 yards no one could catch him," said the Scot. " I'd get the ball, have a quick glance to see which side he was on, then hit it. I used to say, 'you run, I'll hit it'."
Cannon tackled Channon, Pat Patridge gave a penalty. "The ball went for a throw-in and it was outside the box," said Cannon, whose assessment is supported by video.
Southampton went on to beat Manchester United at Wembley, McCalliog laying on Stokes' winner. Cannon, after 15 years at Palace, went into the building trade and is now retired. McCalliog, after a spell in the USA, like many players of that era, now serves up breakfast rather than chances, running the well-reviewed Langside B&B in Ayrshire with his wife Debbie. "We work hard, have a laugh, and try and make people comfortable," he said.
It is hard to imagine a wealthy modern player running a B&B in their late sixties, but McCalliog said: "Don't believe it, they have cash but also temptations. They can make bad investments or put X thousand pounds on a bet. Players are mollycoddled, the world outside football is a wee bit different."
It is indeed, more, now, than ever.
--
FA Cup semi-final, 3 April 1976: Southampton 2 Crystal Palace 0
Southampton: Turner; Rodrigues, Steele, Blyth, Peach; Holmes, McCalliog, Gilchrist; Osgood, Stokes, Channon.
Crystal Palace: Hammond; Jeffries, Wall, Evans; J Johnson, Holder, Chatterton, Cannon; Whittle, Swindlehurst, Taylor.
Scorers: Gilchrist 74, Peach pen 80.
Attendance: 52,810 (Stamford Bridge)
--
FIVE ASIDES
1) Why Newcastle are in no rush for a new manager
Newcastle MD Lee Charnley said it may be summer before a new manager arrives. Should we be surprised? There is nothing left to play for this season. Besides, Newcastle may be stagnating on the pitch, but they are now Europe's 19th highest-earning club, which is success for Mike Ashley.
2) Still all quiet on financial fair play front for QPR
Nearly two months after the Football League began examining club books, and weeks after penalising Leeds, Nottingham Forest and Blackburn Rovers, there is still no verdict on whether Queen's Park Rangers broke Financial Fair Play rules last season. One suspects the lawyers are busy.
3) Foreign invasion is not limited to the men's game
WSL champions Liverpool Ladies signed Nigeria's Asisat Oshoalad. She is their fourth close-season signing, all foreign. The Football Association wants a strong league, but faces following the men with two in three players ineligible for England.
4) Foreign invasion is not limited to the men's game
WSL champions Liverpool Ladies signed Nigeria's Asisat Oshoalad yesterday. She is their fourth close-season signing, all foreign. The Football Association wants a strong league, but faces following the men with two in three players ineligible for England.
5) Sayonara as Japan's stars  go missing in shoot-out
Keisuke Honda and Shinji Kagawa missed the penalties that sent holders Japan out of the Asian Cup. It really is amazing, from Mario Kempes and Liam Brady  in 1980 onwards, how often the best players miss in shoot-outs.
twitter.com/GlennMoore7
Reuse content