True to his word, Claudio Ranieri allowed his overachieving Leicester team to celebrate with champagne and a night out after chalking up 40 Premier League points. 
It was a disappointing 0-0 draw against 10-man Bournemouth that took them there. But a promise is a promise. The mark that traditionally ensures against relegation was Ranieri's first target when he took the reins at the King Power Stadium last summer, and it had been met.
Furthermore, most of those taking the credit will have their feet up when Leicester meet Tottenham in the FA Cup at White Hart Lane this afternoon. No wonder the Italian has a reputation for being impossible to dislike.
The principals will return for Wednesday's Premier League match at the same venue. Yet they will do so to a warning that if any among them imagine Ranieri to be a soft touch, or that they can cruise through what remains of a season in which they have already exceeded expectations, they can think again.
"We are doing something nobody could have expected," Ranieri said. "But if we lose the impetus now I will be furious, desperate. And if someone loses his focus, he will be out of the team."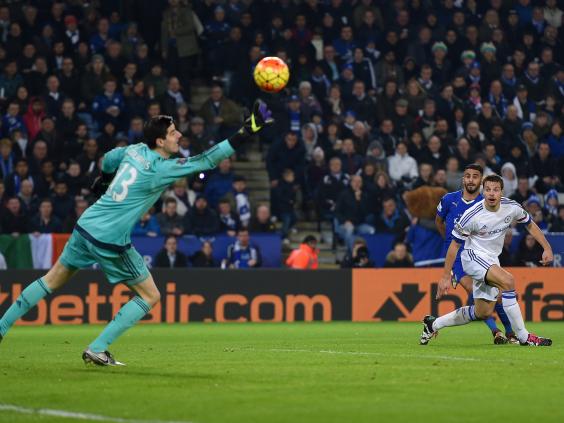 It was almost the first time in the interview that Ranieri did not smile. Leicester's season is at a crossroads, perhaps, and you sense he is aware. They may be second in the Premier League, having led the field at Christmas, but the Bournemouth match was the third in a row in which his side did not score. 
The dilemma for Ranieri is how best to manage what lies ahead. On the one hand, he says there are teams better equipped than Leicester to win the title and admits that qualifying for the Champions League was a goal for another year. On the other, he does not want his team to put a limit on their ambitions.
"When we started we wanted to build a very good team over two, three, four years," he said. "At the moment, maybe we make the steps two at a time rather than one. Sometimes this happens and you can run until the end. But sometimes you make something and have to stay calm for one month and then start again and grow.
"For me it's important not just to build this season but next year, the next year, the year after that. I want to build the future with this team. That is my vision. It is also the philosophy of the owner. The owner had the vision of the top four."
The FA Cup, too, is part of the dilemma. Leicester have never won it, losing in a record four finals, yet with six performances they could put that right and land a first major trophy since the 2000 League Cup. 
Ranieri, though, has determined that his priority is the League and in doing so set his own ambitions to one side. Were he to win it, he would match Carlo Ancelotti and Jose Mourinho, the only managers who have won the leading domestic cups in England, Italy and Spain.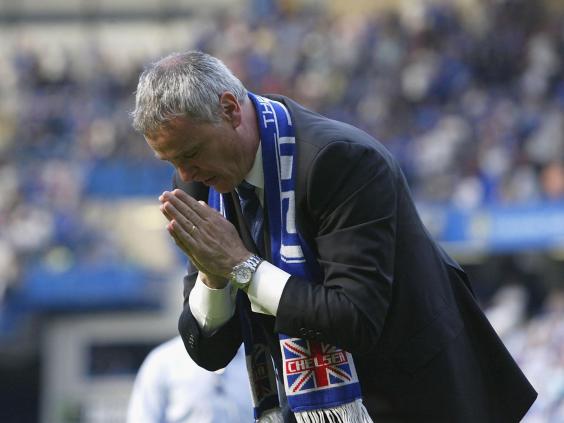 "I would love to win the Cup," he said. "I reached the final at Cardiff with Chelsea and would love to be on the touchline for a Wembley final. I have been in some of the biggest stadiums around the world, but not Wembley. Always in the stand, never on the pitch. In England the FA Cup is more important, sometimes more than the Premier League.
"But the League is the priority and so I think of Tottenham on Wednesday and then Aston Villa [on Saturday]. The mentality does not change. We still want to win but [today] is an opportunity for players who did not play so far. It is important for me to look at these players, to see if they are ready to fight."
Ranieri, then, will not so much tinker today as make changes across the board, from goalkeeper to centre-forward, from which position Jamie Vardy is ruled out anyway after undergoing minor groin surgery. 
Riyad Mahrez will almost certainly be rested, along with N'Golo Kanté, the season's revelation in central midfield, which could allow Ranieri to give new signing Demarai Gray his debut, with on-loan Nathan Dyer on the other flank, and offer Gökhan Inler, the season's forgotten man, a chance in central midfield.
Ranieri signed Inler for £5 million from Napoli, having lost Esteban Cambiasso, but has rarely played the Swiss, largely because, having planned to play three at the back and three in midfield, he changed his thinking to 4-4-2 or 4-2-3-1. 
"I want to help Inler – he is a good man," Ranieri says. "He wants to play in the European Championships and it is no good for him to play one game and then nothing for one month. So maybe he will go on loan."
If he does, Ranieri will sign a replacement but, that apart, he hints that Gray, the 19-year-old who cost £3.5m from Birmingham, may be his only business in the transfer window. No one, he insists, will leave, not Vardy, Mahrez or Kanté – linked this week with Arsenal – barring an astronomical offer.
"We don't need to sell," Ranieri said. "Other clubs may come to us but we don't need money so they will have to increase [a bid] for us even to start to think."
On that score, at least, Ranieri's thinking is clear.
Reuse content