Mauricio Pochettino still does not know when Erik Lamela will return to the Tottenham Hotspur team, six weeks after he came back to London to recover from a hip injury.
Lamela has not played for Tottenham for almost five months and is still not taking part in full training with the rest of the squad. Tottenham said today that he is "now stepping up his rehabilitation" but Pochettino admitted at his press conference that he "does not know" when Lamela will be involved again with the first team.
It has been a difficult season for Lamela whose last first team appearance was against Liverpool in the League Cup on 24 October last year. He returned to Argentina in December to tend to his brother who was involved in a serious accident. In January Lamela went back to Rome for treatment on his hip injury and to benefit from a change in his environment.
After a scan in Rome on 20 January revealed that Lamela did not need an operation, he returned to London the following week to recover.  But six weeks on Lamela is still not pain-free meaning that Pochettino and his staff cannot draw up a plan for the Argentina international's return to full training.
Pochettino is always reluctant to put a timescale on a player's return from injury but in the case of Lamela he insisted he genuinely did not know when he would be able to call on the player again.
"I can't say one, two or three weeks, or one month or maybe next season, [because] I don't know," Pochettino said. "My position is too difficult. We are assessing him every day. From how he is in the morning, we prepare a plan. Sometimes he is involved from the beginning in the warm-up with the team, sometimes he feels pain, and we change the plan. It is day by day."
Spurs hope that if Lamela's pain recedes that he will be able to join in full training again soon but the reality is that they do not know when that will be. "We hope he can be available again as soon as possible, as that is our idea," Pochettino said. "But we can't give any more information."
Spurs' only other injury absence is Danny Rose, who is still out with a knee injury sustained in January. It was initially hoped that Rose would be back by the start of March but he did not recover as quickly as expected, meaning that he will have to wait until after the international break later this month.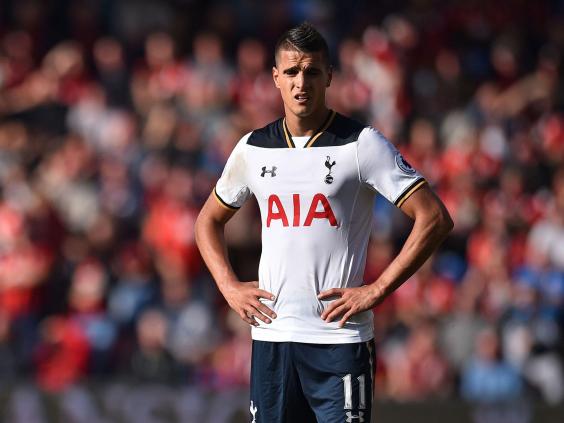 "I cannot give the date but we are happy he is doing well with his recovery," Pochettino said. "Now there is one week and then we have the international break. We will see if in two or three weeks he can be available to stay with the group, train, and see when he can compete and be ready again."
Reuse content