For the 351 hardy souls who had travelled for four-and-a-half hours and some 200 miles to watch Charlton Athletic lose 4-3 in a dismal performance to Shrewsbury, there was, at least, one small consolation.
"The fans showed great discipline and desire to travel all this way to watch that," an incandescent Karl Robinson, manager since November, raged afterwards. "That is what I call caring for your club. In fact, I might get some of them to play: can we still sign non-contracted players?"
Unlikely opportunities to pull on their beloved club's shirt aside, Charlton supporters have had precious little reason for cheer of late. This time ten years ago the club were battling to stay in the Premier League. Now they are battling to stay in League One. Successive relegations, an unthinkable prospect as recently as the New Year, now looks a possibility. Charlton have lost their last three matches and, in February, took only three points from a possible 21.
Tuesday's loss to Shrewsbury was, quite possibly, the worst of the lot. Charlton were leading 2-1 at half-time but conspired to lose the game 4-3, the luckless Ricky Holmes scoring a hat-trick and yet still ending up on the losing side. And so down the Addicks slide to 15th, just six points above the drop zone and with matches against promotion contenders Scunthorpe and Bradford looming menacingly on the horizon.
In his post-match interview, Robinson didn't so much hit the panic button, as obliterate it.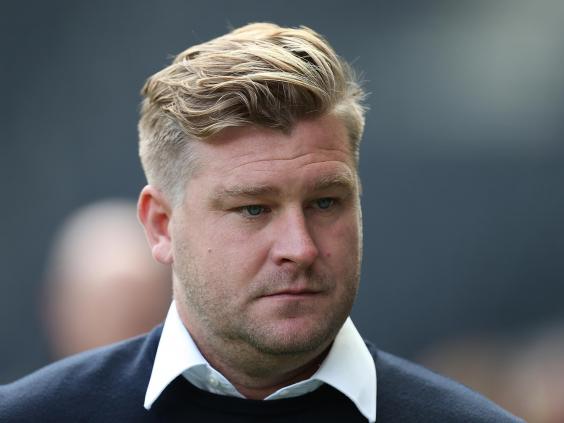 "Too many people have been getting away with things for too long and some of the players don't deserve the Charlton Athletic shirt," he snarled, as the club's unfortunate press officer presumably hit the pause button on their dictaphone.
"I wish I could be honest and speak about how big some of the problems are. I do not think some of them have the bottle to stand up. For too long, too many people have dodged bullets and the manager has always been the one who gets it in the neck."
Charlton's ten managers in three years
Charlton's ten managers in three years
1/10 Chris Powell

January 2011 – March 2014

Getty Images

2/10 José Riga

March 2014 – May 2014

Getty Images

3/10 Bob Peeters

May 2014 – January 2015

Getty Images

4/10 Damian Matthew & England Ben Roberts (Caretakers)

January 2015

Getty Images

5/10 Guy Luzon

January 2015 – October 2015

Getty Images

6/10 Karel Fraeye

October 2015 – January 2016

Getty Images

7/10 José Riga (second spell)

January 2016 – May 2016

Getty Images

8/10 Russell Slade

June 2016 – November 2016

Getty Images

9/10 Kevin Nugent (Caretaker)

November 2016

10/10 Karl Robinson

November 2016 – Present

Getty Images
Clearly, Charlton are a squad divided. Worse, they are a club divided, too. Even on the internet's infinite column inches there is not quite enough space to detail the catalogue of errors presided over by the much-maligned Roland Duchâtelet, a multimillionaire Belgian businessman who took over the club in 2014. Duchâtelet is a history-maker on two fronts: not only is he the richest owner in the club's history, he has also led them to their lowest ever league position.
In a nutshell: shortly after arriving and with the club newly-promoted club legend Chris Powell was unceremoniously given the boot after "failing to agree the club's football strategy going forward" with Duchâtelet. Six permanent managers have since followed (José Riga twice). The club's CEO, Katrien Meire, has insisted that fans are, in fact, "customers"; stated in an interview in the Belgian press that she has little interest in the club's history and remarked that that their sense of ownership of the club is "weird". Presumably for her there is nothing "weird" about owner Duchâtelet deciding not to attend a game in over two years.
And that's without even delving into the more surreal incidents: such as the time one rather adventurous couple were snapped on CCTV having sex on the pitch, only for it to later emerge the video was a club-backed publicity stunt for their pitch hire scheme. Or the introduction of "the UK's first pitch-side fan sofa", which survived until the final home game of last season before being ripped up by irate fans. Such episodes would be comic if the future of the club wasn't at stake.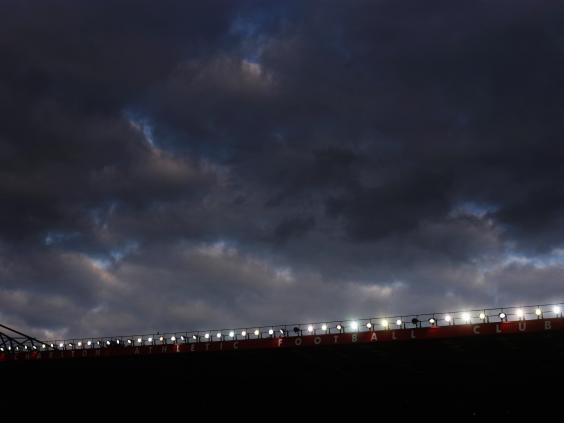 Predictably, Charlton's supporters are not taking it lying down. Various different fan groups have come together under the banner of 'Coalition Against Roland Duchâtelet' (CARD) and on Saturday, these supporters are taking their fight to Belgium, having united with the supporters of Sint-Truidense, a second-division side also experiencing the negative effects of being owned by the businessman.
"We just want to continue to make it clear to Duchâtelet that while he continues to embarrass and humiliate us as a section of society, we will continue to embarrass him," Clive Harris, one of the 250 supporters travelling to Belgium, tells The Independent ahead of the weekend.
"There could actually be 500 people marching as we expect a similar number of Sint-Truidense supporters. Last year we drove a taxi to Belgium on a three-day tour to protest what was going on and we could tell that it got under his skin because he actually shouted at us whereas previously he had just ignored us."
Charlton have responded to the protest by providing free coach travel and breakfast for supporters who instead opt to journey to Sixfields instead of Sint-Truiden.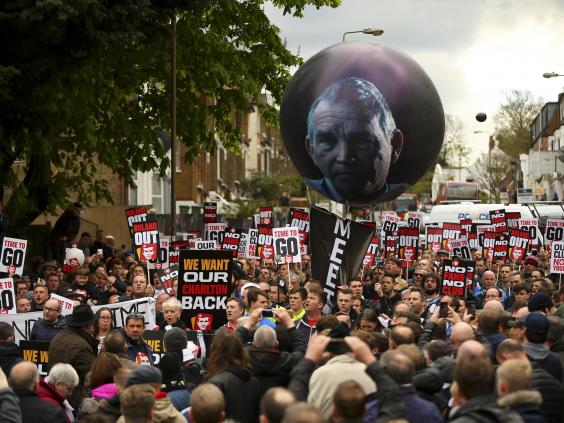 There have been two comments made by the hierarchy that particularly rankle. The first is when Duchâtelet accused a section of "confused" supporters of "wanting the club to fail". The second came when Meire claimed in a meeting that the protests organised by supporters – well organised, good natured, vociferously backed – were the unhappy actions of only "two per cent" of the fanbase.
"We are all still supporters of the club so we take no joy whatsoever in seeing the downturn in results or seeing the struggles on and off the pitch," Harris counters. "And we certainly get more frustrated seeing all of the empty seats at The Valley because we remember it when it used to be full.
"What is more frustrating is that we are repeatedly being told that these are the committed actions of a few extremists. That's what he's saying all the time. But really it's the other way round; they are the extreme actions of committed supporters. It's not a few bitter ex-employees like they keep saying – none of them have worked for the club under the current regime."
And so, while Charlton are fighting for their future in League One in a pivotal relegation six-pointer away at 17th-place Northampton Town, 500 of their most committed supporters will be fighting for the club's future in the Flemish city of Sint-Truiden. "I could be doing better things than spending my weekend in Belgium," Harris adds. "But we are involved in a fight for our existence."
Reuse content