What price would you put on loyalty, that all too rare commodity in modern football?
Eddie Howe, the talented young English manager of Championship high-flyers Bournemouth, knows he may well be a target when the next Premier League vacancy arises.
The salary offer would no doubt dwarf what he is earning at Dean Court but, when the question of a bigger job is put to him, Howe has a simple answer: "Seriously I would have to say no," he replied. "I wouldn't leave Bournemouth. I've built something here and I want to see that come to fruition.
"Now some people might say that is either brave or stupid. I certainly don't lack ambition, far from it,  but at this stage in my career, if  I'm going to manage in the Premier League I'd like to do it with  this club."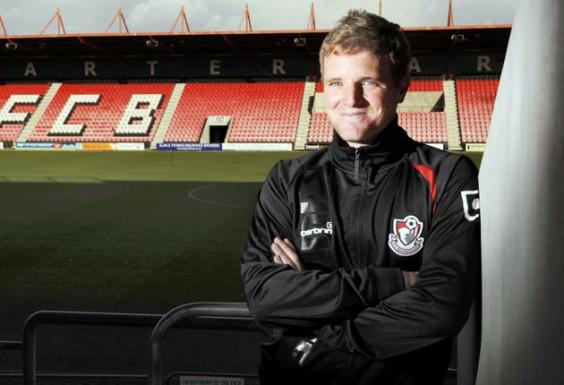 That is some statement of intent when you remember that Howe plies his trade in the Championship,  a division in which Ipswich's Mick McCarthy is the longest-serving manager at just under two years.
Howe's career at Bournemouth is split in two by the 21 months he spent at Burnley. His first spell, which began on New Year's Eve 2008, saw him take over a club struggling to overcome a 17-point deduction for financial irregularities in League Two.
He said: "The club was on it knees. We had bailiffs knocking on the door every day, nobody was being paid and there was no investment in the club or the facilities.
"The burden on me and my assistant, Jason Tindall, was huge but we look back on that time with fond memories because it was such a good learning experience.
"We even paid some of our staff out of our own pocket because we wanted to give ourselves a fighting chance. It was right to get the best people and no-one was going to sanction that or pay for it at that time."
Survival came down to the wire and Howe was informed later that Bournemouth were barely 15 minutes from going out of business.
He said: "Some people may say survival isn't an achievement but I beg to differ – we might never achieve something so significant again."
The following season, and with a transfer embargo in place, Howe led Bournemouth to promotion and the offers began to come in. Fearing being perceived as lacking ambition, he eventually succumbed and  left Bournemouth for Burnley in January, 2011.
"I felt I needed to take myself out of my comfort zone and so took the job furthest away and the one I felt was the hardest," he said.
Sadly, the death of Howe's mother, Annie, 15 months after his arrival at Turf Moor paved the way for his unexpected return to Bournemouth six months later.
He said: "When I left Burnley, I felt there was a line people didn't want to hear. I could have told the whole story but there were people I wanted to  protect. I felt I had to leave for  my family.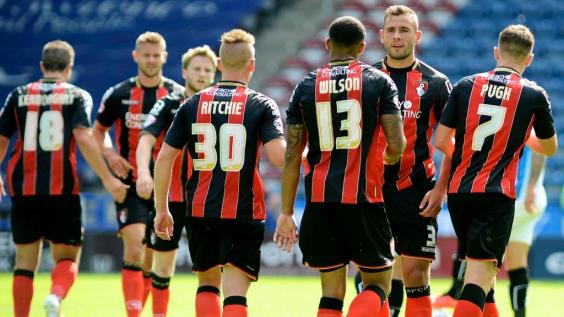 "Initially, I dismissed going back to Bournemouth but the more I thought about it, the more I felt it made sense. Nonetheless, I still felt that leaving Burnley was a sign of weakness.
"I lost my mum very suddenly. There was no grieving process. I missed the Crystal Palace game but I wasn't able to grieve properly. I wasn't prepared for it. I was in a job that was 24/7. I was very committed to Burnley until the day I left but I wasn't able to deal with my personal issues. What I will say is that Burnley were fantastic to me, I could never find fault in the support they showed me right to the end."
There had been major changes at Bournemouth while Howe had been away, with new owner Maxim Demin, chairman Jeff Moston and CEO Neill Blake newly in place.
Although the club was financially stable, they were struggling in League One. But against all the odds Howe worked his magic again and Bournemouth won promotion to the Championship.
He said: "The rise of the club has been so quick when you consider that six years ago we were bottom of League Two. I think it has surprised people but I don't think people realise how close we are to achieving something special here. My aim when I came back was to get Bournemouth in the Premier League. That is the goal. That is what I want to do.
"Whether we can do it, I don't know but there would be nothing more satisfying for me to go on that journey from League Two to the  Premier League."
Reuse content