Wolverhampton Wanderers' previous season in the Championship was a dismal mess and manager Kenny Jackett, who dragged them back into the second tier, will remain vigilant against the danger of complacency this time.
Wolves host Norwich City at Carrow Road tomorrow afternoon, their first Championship game since they lost 2-0 at Brighton in May 2013, which confirmed their drop into League One. Jackett came in soon after and dismantled that team, knowing he needed to build something new.
"Wolves last year needed a new team," Jackett told The Independent yesterday. "They needed to focus on some players that didn't have the baggage of two relegations."
It was with a trimmed, tight-knit squad of 20 players that Jackett took on League One last season, and Wolves rediscovered the focus, passion and ambition they had misplaced, winning the division with 103 points.
That success came without their high-profile, high-paid, twice-relegated players, including Roger Johnson, Jamie O'Hara and Kevin Doyle, who this pre-season have been deemed surplus to requirements, separated from the rest of the players and become known as the "bomb squad".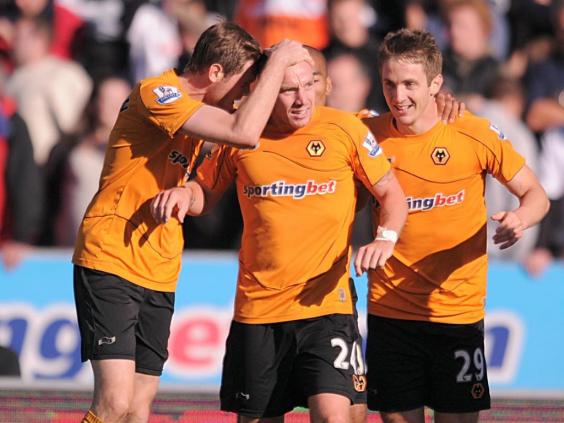 Though one might think a return to Championship football might prompt him to include those players with a bit more experience and quality, Jackett insisted that he would not change his mind, that he would stick with the young, hungry players who did so well last year.
"We have assessed them and played them in pre-season," Jackett said of the separate "group three" players. "If somebody could add something, I wouldn't hesitate, but I doubt very much I'm going to use them."
The hardest thing to change at a football club is the atmosphere. Having turned Wolves around and expelled the complacency, Jackett will not drop his guard and allow the old problems to resurface.
"What we can't do now is to take [the new atmosphere] for granted," Jackett promised. "The supporters are positive, and we have to use that, but we can't take it for granted. Every time you play you have to prove yourself to your supporters. Every season you have to earn that respect and that backing. It is up to us to roll our sleeves up and make sure we earn that respect."
While Norwich City will have to prove this season that they have moved on from their relegation last year, Wolves will field a side that is hungry, ambitious and looking up. Jackett brought in two only players this summer, Tommy Rowe – who is injured – and Rajiv van la Parra.
"We have a settled group," Jackett explained, "it's not changed at all. Last year we played very good football. Molineux is a big pitch, a perfect pitch, you need to keep the ball on the floor and play through the units. We've got to take confidence from it, everyone knows their jobs and roles, and use that as an advantage if we can."
Reuse content