Leeds United supporters have stepped up their campaign against unpopular owner Massimo Cellino by projecting a series of protest messages onto the side of Elland Road.
The controversial Italian has twice survived being disqualified by the Football League after failing their owners and directors test. Cellino has attracted fierce opposition since tantalising supporters with the prospect of buying the club before reneging on his promise and declining to offer them any exclusivity. 
In the wake of criticism of his ownership, the former Cagliari chairman then introduced a 'pie tax' in the South Stand meaning supporters must pay a mandatory charge of £5 on top of the standard ticket price for food and a drink.
Cellino is also in the process of taking on Sky Sports after locking the broadcaster out of the ground in December over fears that rescheduled fixtures effect fans' plans and have a crippling impact on match day revenue.
A section of the Leeds faithful stepped up their protests before the goalless Championship draw with Middlesbrough on Monday evening after Cellino appeared to mock customers during an interview translated into English from Italian.
The 59-year-old has since insisted to the Yorkshire Post that claims ticket prices were increased as a punishment for protests against him were "just a joke."
He added: "I never could do anything like that."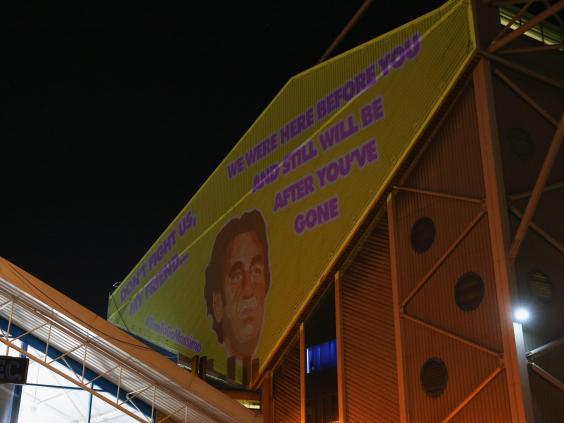 The 'Time to Go Massimo' group projected a series of messages of discontent onto the side of the East Stand ahead of kick-off before chanting their displeasure during the match. "We should be on the back page, not the front," one slide said while another was emblazoned with "17 reasons why it's time to go."
Also among their complaints is the decision to sell Sam Byram to West Ham United during the January transfer window while the appointment of David Hockaday in 2014, a manager whose previous experience was at Forest Green Rovers, still irritates Elland Road regulars. Former Crawley Town and Rotherham United boss Steve Evans is currently in charge of the club, who sit 16th in the table.
The anti-Cellino campaign was launched in the last week with a poster being installed on advertisement hoardings outside Leeds' home ground calling for the owner to sell his stake in the club. The Yorkshire club took legal action to have the slogans removed but 'Time to Go Massimo' spokesman Tom Banks says they have since consulted with the police.
"The club's legal people have written to us about the poster, claiming it was harassment and caused distress," he told Press Association. "They might do the same again, we can't speak for the club, but we're extremely confident we won't be doing anything illegal."

The fans' group has since revealed it raised over £4,000 from 228 individual donations for the stunt which cost £2,600.
Reuse content