It was only much later, when Martin Ling sieved through the small details in search of an understanding, that he realised the early morning training runs might have been a sign. He and his Leyton Orient staff used to drive in for 7am to beat the traffic, would use the extra hours to run, and it was while pounding the roads that he found himself disappearing into the corridors of his mind; lost in the thoughts of how he could retain his hold on football management. An hour of introspection had passed and he did not know where it had gone.
He dismissed it at the time. He brushed away, too, the sense when he had moved to manage Cambridge United that his team talks were empty noise – "not even convincing to me" – and also an incident when he named Lee Phillips, his striker, both in the side and as a substitute, as he read out the team. "Players started laughing, so I was: 'Oh, fucking hell Phillo. How did I manage that?!' Now I can see I was falling apart." As the smallest challenges became huge obstacles, he was tortured over how to tell Danny Crow, another striker, that he would be left out of the team. "I'd left players out for nine years, hundreds of them, but I'm thinking he's got a wife and kids. It became a huge problem."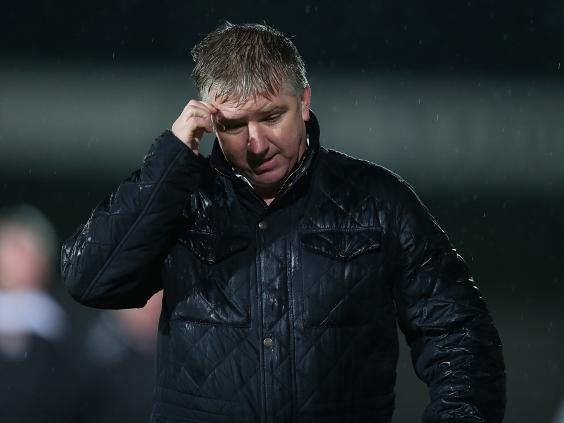 Only when Ling had suffered a catastrophic mental disintegration did he accept that he – the 5ft 8in, eight stone east Londoner who'd laughed in the faces of those who'd told him he was too small for football by making it all the way to the Premier League with Swindon Town – had been on the way to a collapse. The treatment of last resort which he turned to – five rounds of electroconvulsive therapy, in which electrodes were strapped to his head and a current passed through his brain to induce a seizure – provides a sense of how utterly lost he became, while staggering through football's lower reaches.
The narrative of Ling's decline forms a vivid part of the superb new book which seeks to understand, like never before, the interior mind and challenges of a football manager. Michael Calvin's Living on the Volcano reaches way beyond all the standard press conference propaganda.
There is the self-confessed introvert Mark Hughes, and Brendan Rodgers, discussing ways to nurture Mario Balotelli. And then there is Ling, who'd gone through the whole gamut of rejection by the age of 16, knocked back by West Ham and Arsenal, before venturing to the West Country with his cockney accent, to forge a path as a player. He certainly didn't see future struggles coming.
"You think of all the things that you're trained to do – look after your family, be a strong man..." the 49-year-old reflects when we meet at an Essex hotel lobby off the M25, where Charlton and Millwall tracksuits reveal players and coaches going about their lives on the football carousel. Mental health being so incalculable and complex, it is impossible to create a link between bad results and Ling's disintegration. But his sacking by Barry Hearn at Orient, in January 2009, started the process of destabilisation which continued when he arrived into the chaos of Cambridge – with their absent American owners and the Wild West practices of a new chairman, George Rolls, who would be banned by the FA for 3,076 breaches of betting regulations.
It was at the Abbey Stadium that he became prone to escalating panic, in episodes of wild irrationality. Like driving down the A1 to meet the squad at the A14 Brampton Hut services, en route to the away game at Rushden on the August Bank Holiday of 2009, and realising he had not put gel in his hair. "I had a total panic about where I was going to get gel from. I had to look right for this game," he relates. The match brought a 1-1 draw but he bolted, even incapable of telling the Rushden manager Justin Edinburgh – a good friend and ex-team-mate at Southend – that he would not be taking a post-match drink. "Nothing in my power could get me into Justin's room," Ling recalls. "I felt totally distant from what was going on."
Ling's wife Caroline – a monumental source of strength throughout what was to follow – called her husband's friend Dean Smith, his assistant at Orient, and through the League Managers Association, there was help from a psychotherapist, Peter Kolb. He told Caroline Ling to get the man out cutting the grass, pounding the running machine they kept in the garage – anything to break the introspection. "I just wanted to pull the blankets over my head," Ling says. Bad news stories on the bulletins felt apocalyptic. The concurrence of his Orient dismissal and the gravely severe illness of Ling's father might be significant.
Ling was back at work within 10 days, with the cover story that he had been laid low by a virus. He remained fragile. A panic attack on a train home after the last scheduled session with Kolb prompted what was to become a recurring feature: Ling, in the depths of his irrationality, believing that pain was symptomatic of serious illness and asking his wife to summon an ambulance.
He left Cambridge in February 2011, was hired by Torquay United four months later, and it was after reaching the play-offs but starting the 2012-13 season only modestly – one win and four draws in seven – that he began spiralling. He turned to the LMA again but could not break the decline. It was on a Sunday in January 2013 that he became so convinced that a headache was evidence of a brain tumour that he was admitted to the Royal Devon and Exeter Hospital where a lumber puncture – a deeply uncomfortable procedure to remove spinal fluid for testing – was scheduled for the following morning.
This irrational fear of serious illness does have some rationale behind it. "It's because I don't want it to be depression," Ling says. "I want it to be a brain tumour because I don't want to go back down there to the place I was in. People can see cancer or a broken leg. I wanted it to be something physical because I didn't want it to be mental health again. When I rationalised it during the night and I'd come back to reality again, I'd think: 'I'm going to have a lumber puncture in my spine here and there's nothing wrong with me. I haven't got a pain in my head at all now.' But I couldn't stop it. How could I say: 'I built it up last night to make sure you kept me in'? You feel embarrassed, don't you?"
He was discharged and decided to bolt back to London for a few days, ahead of Torquay's trip to Cheltenham the following Tuesday. It was on the M5, halfway between Exeter and Taunton, that he was overcome once more, gripping the steering wheel on the inside lane, feeling chest pains and trying to make it through to Taunton services. "What went on in those last miles I can't know," he says. "A survival instinct comes in: 'Hold on to the wheel straight. You'll make it to the services. They'll get you an ambulance.' I phoned my wife and said 'I'm suffering a heart attack. I'm dying.' She said: 'Martin, on Sunday it was a brain tumour. It's a panic attack.' I had the momentary thought of just running across the M5."
 An ambulance woman took tests and indicated everything was clear. Ling was still in the ambulance with her, in a state of profound distress, when his assistant Shaun Taylor arrived to scoop him up, get him to London and – within 24 hours – the Priory clinic at Roehampton. And it was after he struggled for any kind of escape from the thick blackness there across the course of three weeks that he met a young Essex outpatient whom he knew only as "Kate", who seemed to have found chinks of light – cheerfulness – from within her own dark place. How and why? Ling wanted to know. She told him she was undergoing twice weekly electroconvulsive therapy, a treatment which health professionals use to treat conditions such as severe depression, catatonia or mania. The conversations had stayed with him when it was suggested he might consider the treatment.
"When I speak about ECT now, everyone gives me that look," Ling says. "But at that stage, when I'd been in the Priory for three weeks and nothing was working, I'd have taken anything. When it comes down to it, they're putting the pads on before you're anaesthetised and yes, you're scared. They're going to send whatever they're sending – an electronic volt – through my head, and I know I'm going to convulse. And when I'm lying there I'm thinking 'this could kill me.' And it says that in the paperwork, to cover them."
 He was told it could take eight treatments to get a breakthrough and the first three seemed to make no difference. "I was thinking: 'I'm having my brain fried and still nothing works'." It was the fourth of the procedures, which stretched across two weeks, which brought a breakthrough. "Whether it was a natural shift and the tablets finally kicked in, or the ECT, I don't know," he says. "All I do know is that the therapy I hated suddenly made sense. I made a joke in one of the sessions and the consultant burst out laughing. Gradually, it felt I'd got myself back."
There was some initial memory loss, though the evidence of our hour and a half of conversation is that Ling is sharp and dynamic, over two years on. He also happens to be the finest of company. He is working in colleges for the excellent Tottenham Hotspur Foundation Monday to Friday, running his own football school, called Lingselite, co-commentating for BBC Radio  London and scouting for his old friend Smith – now Walsall manager.  And it is self-evident that he would return to management if he only could.
"Do I think I'm going to get back? No, in my heart of hearts," he reflects. "My CV always got me a job before all of this but it hasn't since." He has seen mental illness from both sides now and knows about the stigma. "If someone came to me in 2009 with my problems I would have seen them as weak," he reflects. "Well, I consider myself strong. Some people who have not suffered this believe you are swinging the lead, I think. There's a different story when you've lived through it."
Reuse content