Alex Neil began this season managing Hamilton Academical against Arbroath in a Scottish League Cup tie front of 730 spectators. He hopes to finish it in a Championship play-off final in front of 90,000 at Wembley with more than £120m at stake.
It is quite a journey, but to complete it he must today outwit a man who had two promotions under his belt before 33-year-old Neil was born.
In the summer of 1981 Mick McCarthy was a Barnsley  centre-half who had helped the team climb from the Fourth Division to the Second. He has since played and managed at World Cups, reaching the latter by way of a play-off in Tehran which must make today's East Anglian dust-up at Carrow Road, intense though it will be, seem like a barn dance.
"I'd be very surprised if we went anywhere to play the second leg of a play-off, with such a prize at stake, and the atmosphere wasn't hostile," said McCarthy. "The fact that it's our nearest and not so dearest will make it even more intense. And I've always preferred playing and managing in those atmospheres.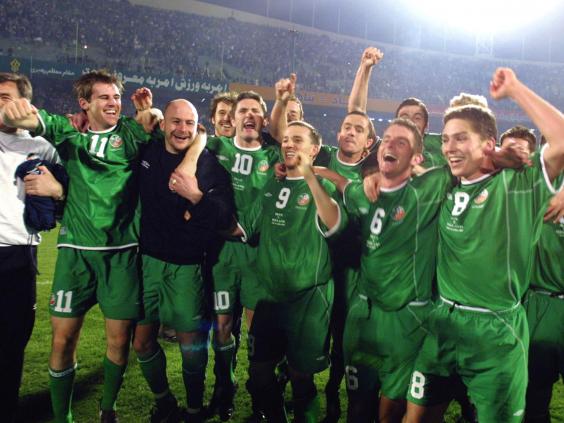 "I've got loads of memories from that Iran game. It was an amazing atmosphere. They let them [the fans] in hours and hours before, so when we got there it was already kicking off. When the match was almost over they decided to set fire to every programme in the stadium. It was ablaze. Then they scored after about 93 minutes and suddenly the noise level erupted again."
McCarthy also played in Old Firm derbies for Celtic, but while his experience eclipses Neil's, the game is about players and Norwich, freshly relegated from the Premier League, have better ones than their impecunious rivals. They finished eight points ahead in the Championship, are in better form, and beat their Suffolk neighbours home and away in the regular season. If they play to potential they will win.
"We know exactly what is coming and we know exactly how we are going to go about trying to win the game," said Neil who has won 15 and lost three of his 23 Norwich games. He added: "Now it is just about performing on the day and making sure we are completely focused."
The gap is not insurmountable for an Ipswich team seeking a return to the top flight after 13 years. In the first leg at Portman Road, the teams drew 1-1.
Norwich's Lewis Grabban is suspended, Ipswich are without striker Luke Varney who ruptured his Achilles tendon in the first leg.
It could go to penalties. McCarthy said he told his players as they practised: "You'll only have one, so no pressure, it might only be worth a 130 million quid!"
Reuse content