It was when the new manager was contacted about the forthcoming season's fixture list, last June, that all did not seem what it should be. "What's your reaction to Walsall away?" Darren Kelly was asked, and since he'd just been appointed to lead Oldham Athletic, one of the founding members of the Premier League, his uncertainty was a surprise. 
"Our fixtures…?" 
"We start at Walsall…"
"Oh, the fixtures are out today?" 
Things did not pick up from there. Kelly, an Irish former Carlisle United and Derry City player with no prior managerial experience, called the Sinn Fein politician Martin McGuinness and former Provisional IRA leader a "#legend" on Twitter and received death threats, which required a Greater Manchester Police investigation. Neither this, nor much else, fitted the expectations of the Oldham chairman, Simon Corney, who made his eye-catching managerial appointment having allowed Lee Johnson to leave for Barnsley last February for a compensation figure of £100,000.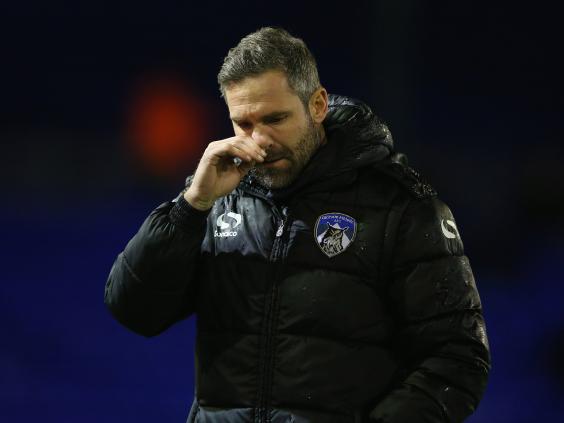 Kelly was described as a Sunderland "academy coach" when hired, though he had actually worked with very young, pre-scholarship age boys at the Premier League club. He'd been a "Youth Development Phase Lead Coach" at Sunderland according to a CV-building company, sportcareers.co.uk, which boasted it had helped Kelly to produce a CV, "high-quality covering letters" and "a bespoke management philosophy brochure" to get through the door at Boundary Park. Some sources suggest even he was surprised to get the job. He did not respond to The Independent's calls this week.
The experienced candidates Oldham overlooked when Johnson left tell us most about the state of penury the football side of the business has been reduced to. Phil Brown went for the job and was unsuccessful. Iain Dowie, the fans' favourite, looked a contender but was not even spoken to.
It was a year ago this month when Oldham dramatically reversed their deeply controversial scheme to sign convicted rapist Ched Evans – a saga which revealed their desperation for a cheap, decent player, despite the reputational damage it might cause. The picture has sharply deteriorated since. 
The club are one point off the foot of League One ahead of their derby match with Bury this weekend; on the brink of completing the fall from Premier League to bottom division in a little over 20 years. 
It seems the board realised within two weeks that hiring Kelly would compound their problems. There was an expectation that he would bring Sunderland contacts and prospects – even the name Duncan Watmore was being whispered – but none came, while training is said by some to have been chaotic and to have failed to get the players adequately fit for that Walsall trip. Corney, who is based in New York, took to signing players through his own contacts and brought in David Dunn, capped once for England during a distinguished Blackburn Rovers career, who was told he could expect to be manager if results went as badly as was feared. 
Kelly was sacked on 12 September after a 5-1 thrashing at home to Peterborough and walked into the manager's job at Halifax, where he started with a 7-1 home defeat and was sacked after 10 games, including seven National League defeats in eight. 
Corney made good on his promise to Dunn within 24 hours of removing Kelly, but he could not improve things in his first managerial role. Wages were paid late, Dunn paid out of his own pocket for a canteen facility at the training ground and four new players who had agreed to come in before Oldham lost to Millwall a fortnight ago pulled out because the salaries were not there from a club where the top earners command £2,000. 
Richie Wellens, on loan and keen to stay, wanted £1,000 a week, was offered £600 and went to Shrewsbury. Jean-Yves M'voto, on £1,000 at Leyton Orient, was offered £500 and said no. The former Manchester United trainee Richard Eckersley is thought to earn £250 a week basic. 
Dunn was sacked 11 days ago, after a run of eight games without a win. He is thought to be phlegmatic but was never given a transfer window to affect the way he might be judged on his first managerial job.
The financial position is very interesting – and by no means a case of another Greater Manchester club haemorrhaging cash, like desolate Bolton Wanderers, 17 miles down the M60 and M61. Though Oldham owe Corney and his two business partners £6m, which dates to their initial takeover and investment in 2003, Corney says the cash would only be called in if the club reached the Premier League. 
Last year Oldham made a £400,000 profit. The owners have capitalised on the land surrounding the stadium – hived off from the club for hefty sums by the owners. A company called Brass Bank, not Oldham Athletic, now owns the land.
Behind the Chadderton Road End, where the Clayton Arms fans' bar and sports centre once stood, there is now an estate of modern houses, sold by Ryder & Dutton, a local estate agency – one of whose partners, Ian Hill, has joined the Oldham Athletic board. It has never been made public how much Brass Bank earned from that development.
On another side of the ground, the former directors', press and VIP car park was sold to the hospital for a new dialysis centre. It has never been made public how much Brass Bank earned for that, either. Around 1,000 cars belonging to hospital staff occupy the car parks surrounding Boundary Park. It has never been made public how much Brass Bank earned from that. 
The land is clearly more significant than the club. When Marwan Koukash, owner of the Salford Red Devils rugby league club, was looking at buying Athletic, he pulled out because they would not sell him the land as part of the deal.
The completion of the new main stand – currently 18 months behind schedule – would help. It has been beset by problems. On a wet and cold Friday last year, a number of local businesses arrived there for one of the first Christmas events in the new conference suite. They were literally at the door when they discovered a last-minute health and safety inspection had ruled the premises unsafe. Guests, dressed in their Christmas best, were shepherded to a local Indian restaurant instead. Others went home.
Football life also seems fragile for today's opponents Bury, who were hit with a winding-up petition by HMRC this week, over an unpaid £156,000 tax bill. They insisted it was an administrative error. The club have three County Court judgments against them, are yet to publish accounts for 2015 and have not staged the AGM shareholders were due. 
Oldham were expected to announce the appointment of Kevin Russell to the coaching staff this week but revealed on Thursday that they could not agree a deal which would make it financially viable for the former Stoke and Wrexham striker to travel daily from his home in Stoke. The post will instead go to Peter Shirtliff, whom Oldham's third manager of the season, John Sheridan, knows well, though they have been out of touch for several years. 
Shirtliff will be asked to help prevent Oldham's first drop to the fourth tier since 1969, for which it is thought he may earn in the region of £18,000 a year. The club which once walked among giants, with Andy Ritchie, Graeme Sharp, Gunnar Halle and all, occupies another world now.
Reuse content