Millwall signed veteran striker Ricardo Fuller this summer to add experience, presence and expertise up front but he might also bring them someone they had not expected: Usain Bolt.
Fuller and Bolt, both from Kingston, Jamaica, are great friends and Millwall's new centre-forward will try to  persuade the fastest man on the planet to come down to The Den, even if he is known to support a different club.
"The next time Bolt is in London I am going to invite him to watch a Millwall game at The Den," Fuller said, speaking on the pitch of his new home ground. "Though he supports Man United, I know he will come here. Who knows? He might even start supporting us!"
It has been an enjoyable summer for Fuller, who signed a one-year deal for Ian Holloway's Championship side after spending time with his old friend back at home. "I saw Bolt when I went home for the summer," Fuller said, "I was with Ricardo Gardner as well. We always hang out and go for a drink, everybody knows everybody in Jamaica. Bolt's trainer, Glen Mills, used to coach me on the track as well. People might see Bolt as this so-called 'superstar' but he's a normal guy. It's different in Jamaica."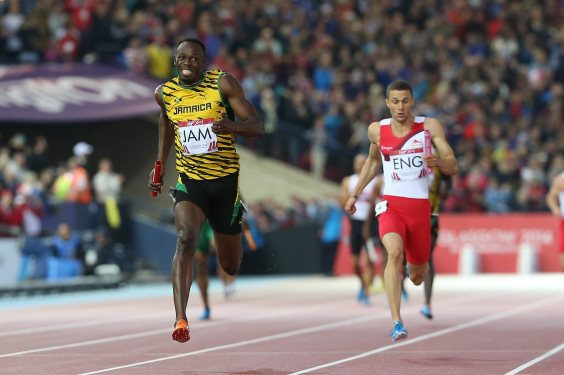 Fuller's commitments at his new club, and Holloway's pre-season, prevented him from watching in the flesh as Jamaica won eight track gold medals at the Commonwealth Games. "I wanted to go to Glasgow but could not get there because of training," Fuller said. "Was I pleased with how we did? What do you think? We always run the track."
Fuller said that, even at 34, he is the fastest in training at Millwall along with Carlos Edwards, a 35-year-old Trinidadian. "For me age is just a number," Fuller said, "I train the hardest every day. The stats show it."
After spending last season at Blackpool, where he turned down a contract extension this summer, Fuller is delighted with the challenge of Millwall and working under Holloway – an old friend of Tony Pulis, for whom Fuller did so well at Stoke City.
"A manager has to connect and do something for me," Fuller explained. "The gaffer reminds me of Tony Pulis and I know the two of them go way back. They are both straightforward and speak the truth, and like to crack a joke when they need to and sometimes even when they don't need to. That's football and sometimes as a player you need that to get the stresses and strains off your mind. The gaffer does that and he is also a nice guy."
Holloway and Pulis played together for Bristol Rovers in the early 1980s and, while they have different understandings of how the game should be played, they are certainly both true to themselves, which Fuller appreciates.
"Mr Pulis was straightforward and so is Mr Holloway. I read people and go with my intuition, and I had a good feeling about coming here. I have blended straight away with the group. Football needs more characters like the gaffer. It's what the game's all about, whether it is on the pitch, off the pitch or in interviews. It's good for the game."
Holloway wanted to sign Bobby Zamora as well as Fuller, but values Fuller's ability to win the ball, hold it up and to beat opponents, as well as off-the-field duties. "The manager explained he needed players with experience to show the young lads around," Fuller said. "We have some strikers coming through with good attributes.
"The Germany squad have a good mix of old and young players and they are world champions. You need that in any successful squad."
Reuse content