A peeling poster featuring a photograph of the president, Teodoro Obiang Nguema, clings to the wall above the tunnel, a slogan proclaiming Equatorial Guinea to be a land of culture and riches.
On the pitch, a man in a green T-shirt pushes a lawnmower back and forth. Another, plumper, taller man in a navy suit tugs at the netting behind the goal. On the street outside, music thumps from huge speakers and the central market hums with a swirl of haggling.
On the street named after Patrice Lumumba, the first democratically elected president of the Republic of Congo, who was shot dead in 1961, this is the old national stadium in Malabo, which is being used as a training ground during the African Cup of Nations.
It was here, on Christmas Day 1975, that the then president Francisco Macias Nguema had 150 dissidents executed while a full orchestra played the Mary Hopkin hit "Those Were the Days". Macias had won the election in 1968, when Spain gave Equatorial Guinea its independence. He was the son of a witch doctor known as His Saintly Father and had done badly at a Spanish mission school before becoming a mayor and being groomed for the presidency by Spaniards who thought he would be sympathetic to their interests.
Democracy did not last long – Francoist Spain was perhaps not the best model – and Macias soon set about neutralising his political rivals. Most gruesomely, one had his legs broken and was starved to death. So many people tried to flee Macias's regime that he banned access to the coast and had the main road out of the mainland part of the country mined.
One of those who did get out was the former Arsenal full-back Lauren, whose mother was pregnant with him when she fled to Cameroon after her husband, a senior politician, was arrested.
As a Fang, Macias persecuted the Bubi, the country's other major ethnic group. He declared western medicine "un-African" and closed schools and newspapers.
His paranoia was not entirely unfounded: Equatorial Guinea was ripe for a coup and attempts were made. Frederick Forsyth wrote of one in his 1974 novel The Dogs of War, supposedly a fictional account of an attack on "Zangaro", a made-up African state clearly based on Equatorial Guinea. In The Wonga Coup, Adam Roberts suggests The Dogs of War is actually a detailed and accurate account of a genuine attempt to topple Macias a year earlier, which Forsyth may have partly financed, although the author insists the £100,000 he paid to various arms dealers and mercenaries was purely for information.
For six years after that attempt to topple him, Macias's regime limped on. Partially blind and partially deaf, he began to lose his mind, holding conversations with those he had killed and insisting places be set for them at dinner. By 1979, he had retreated to a fortified villa in Mongomo, where African Cup Group C will get under way on Monday. Eventually he stopped paying the military, who, led by his nephew Obiang, rose against him.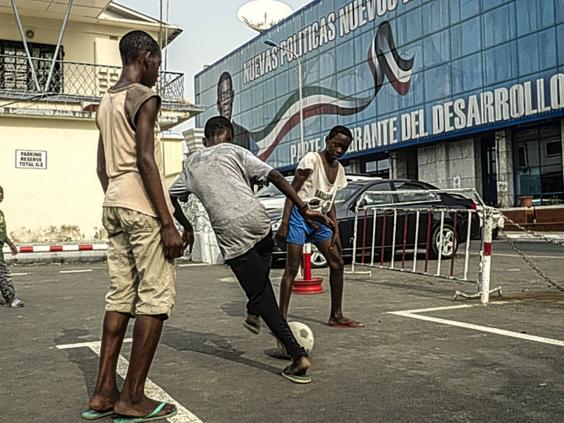 He was deposed on 3 August 1979 and fled with suitcases full of money to a wooden hut, where he took villagers hostage and prepared for his last battle in a bamboo bunker. He was finally captured after fierce fighting in the jungle, in which hundreds were killed. The hut burned down, destroying between $60m and $150m, the country's entire foreign reserves. He was tried in the national cinema, sentenced to death and executed by firing squad. Obiang has ruled ever since.
For a long time, nobody paid Equatorial Guinea much attention, but the discovery of oil in the mid-1990s brought the country unimaginable wealth, the vast majority of which remains in the hands of the Obiang family.
The president's critics speak of excesses, such as when his son Teodorin took journalists with him as he bought 30 suits on a spree on Paris, but others point out that he has invested heavily in roads, hospitals and schools.
The oil has made Equatorial Guinea even more attractive to conspirators and in 2004 the British former SAS officer Simon Mann led a coup attempt, which Mark Thatcher supported by investing in aircraft.
Believing he had the tacit support of the Spanish, US and South African governments, Mann flew with a few dozen mercenaries to Harare, Zimbabwe, where he was intercepted and jailed. Eventually extradited to Equatorial Guinea, he served two years in jail before being released in November 2009.
The oil also made it possible for Equatorial Guinea to step in as hosts for the Cup when Morocco withdrew. This is a country where it is possible to get things done quickly.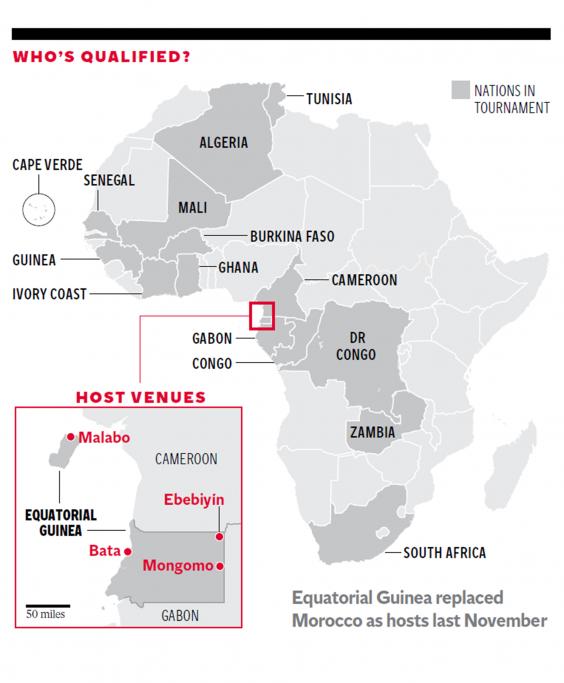 The stadiums in Malabo and Bata have needed little work since Equatorial Guinea co-hosted the tournament three years ago, but the stadiums in Mongomo and Ebebiyin are rather more basic. The pitch in Mongomo was relaid last month, while Ebebiyin, although it hosted the Equatoguinean Cup final in November, can hold only 5,000 fans. Given how poor attendances were three years ago, that may not matter.
Although there was significant crowd congestion before the opening game in Bata in 2012, games not involving the hosts were sparsely attended and even the quarter-final in Malabo between Equatorial Guinea and Ivory Coast attracted an attendance of fewer than 10,000.
That is, at least, an issue the local organisers are aware of. Tickets in Ebebiyin and Mongomo will cost between 500 and 5,000 CFA (58p-£5.80), while in Bata and Malabo they will cost between 1,000 and 15,000 CFA. "We have to give solemnity to Nations Cup; it is necessary to buy tickets to fill the stadiums," Obiang said. He also revealed he will pay for 10,000 tickets at each venue to be distributed free. "Let those who have the means help the poor," he said.
There will not be many travelling fans. The Confederation of African Football estimated 1,000 but it may not be that many, with the late change of host nation, problems with accommodation and fears about Ebola dissuading many. That said, around 120 Malian fans drove through Malabo yesterday on pick-ups, waving flags, tooting horns and drawing waves from bemused locals.
Still, the spectre of Ebola hangs over the tournament. Everybody arriving at Malabo airport was screened, all passengers having their temperature taken twice and being made to wash their hands with antiseptic gel. Guinea, who trained at the old stadium yesterday, had to play their home qualifiers in Casablanca, Morocco.
"It's bonded us," said the Sheffield Wednesday defender Kamil Zayatte, the Guinea captain. "Because Ebola is in Guinea, they think we're sick and when we see that, we said, 'OK we're going to do this for our people'."