Each time Brazil have started a game at this World Cup the fans in the stadium have stood up and sung the national anthem a cappella, making a rousing wall of sound that makes your hair stand on edge. The practice of singing beyond the recorded musical accompaniment started at the Confederations Cup last year, where it was seen as a powerful incentive for the team and a statement of unity at a time when thousands were protesting outside the stadiums.
Yet, at the four matches Brazil have played so far, after the dramatic opening chorus the home fans have barely made any noise at all – certainly not compared with passionate and loud chants from the supporters of the other South American teams. The underwhelming performance of Brazilian fans has become a point of concern. Public opinion is that, rather than being an asset for Brazil to be playing at home, it has become a problem.
"There is a lack of mutual synchronicity between the national team and the fans in the stadiums," says the columnist and ESPN pundit Antero Greco. "The footballers are not playing well and the fans are silent. The stadium is really quiet and the national team doesn't feel the support that they expect in difficult moments. It is a vicious circle that will be difficult to break."
Since Brazil's first game against Croatia, in Sao Paulo, the behaviour and composition of the Brazilian fans has been the subject of controversy. Brazil is a mixed-raced country but pretty much the only black Brazilian faces at the stadiums have been the players, in all four cities they have played in. Tickets are affordable only to the upper middle class, which is almost exclusively white. Says Greco: "In World Cups, families go to the stadiums. It looks lovely, but they are a public who are not used to feeling the tension in a game. The prevailing view is that the people who go are treating the football in the same way they would treat a musical, a tennis match or a trip to the mall."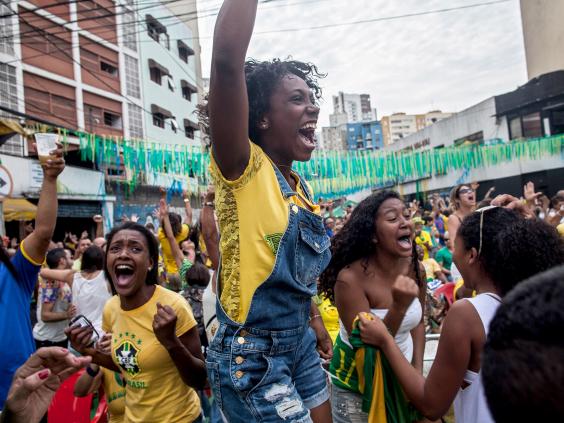 The issue of wealthy, fair-weather fans filling stadiums is common to all World Cups, but it has provoked much soul-searching here because of the role of football in the creation of national identity, the history of racial miscegenation, and the huge discrepancies between rich and poor.
At the Croatia match, one of the few times a chant could be heard was when the screens showed an image of President Dilma Rousseff celebrating a goal. The chant, an obscene insult, became one of the main talking points of the first week of the tournament, denounced on all sides of the political spectrum as unbefitting of the occasion. What do the richest people in the country's richest city who managed to get World Cup tickets have to complain about?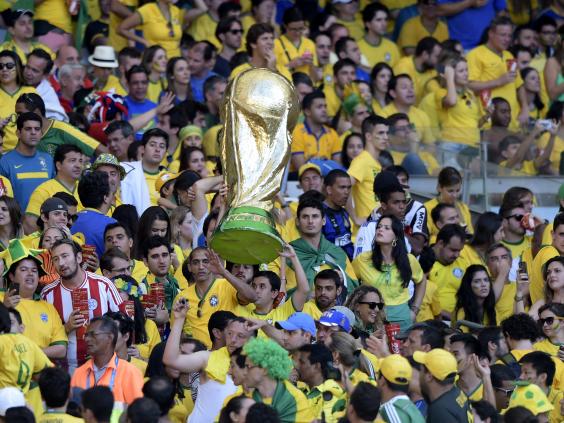 When other South American countries began their games, their fans copied the hosts in singing their anthems a cappella, but kept on cheering all through the 90 minutes. Brazilian newspapers and TV suggested one reason the Brazilian fans were so quiet was there is only one national chant, which goes "Eu sou brasileiro, com muito orgulho, com muito amor" – I'm Brazilian, with lots of pride, with lots of love – which gets boring to sing again and again. Newspapers printed suggestions for new tunes. Coach Luiz Felipe Scolari told the main news programme on Globo, the largest TV station, that he agreed the fans lacked a song everyone could join in with, and suggested the samba song "Ta escrito", which the squad sings a lot together. "They love that song," he said.
Brazil 1 Chile 1 (Brazil win 3-2 on penalties) player ratings
Brazil 1 Chile 1 (Brazil win 3-2 on penalties) player ratings
1/22 Julio Cesar

Had precious little to do in the first half but stood up firm when challenged more often in the second period. Made an emphatic save from Charles Aranguiz after 64 minutes. Made several great saves in the shoot-out! 7

Getty Images

2/22 Dani Alves

Was regularly berated by Luis Felipe Scolari for failing to track back after losing possession. Was tricky to deal with upfront but poor at the back. 6

Getty Images

3/22 Marcelo

Like Dani Alves, Marcelo was more of an attacking threat that a beacon of defensive solidity. 6

Getty Images

4/22 Thiago Silva

Was typically emphatic in the air but struggled to make an impact going forward. The obvious, but only exception, was his flick onto David Luiz for the PSG-bound defender's early goal. 7

Getty Images

5/22 David Luiz

The most passionate man on the pitch, David Luiz wore his heart on his sleeve. Occasionally getting too wrapped up in his emptions, though, he'll need to control his temperament in future. 6

Getty Images

6/22 Fernandinho

Taken off towards the end, this was a decent if unremarkable display from the Manchester City ace. 6

Getty Images

7/22 Luiz Gustavo

Does the unglamorous job of mopping up after his teammates' mistakes but, with their relaxed attitude to keeping possession, this is an invaluable role. 7

Getty Images

8/22 Hulk

A constant menace throughout, gliding through the Chilean defence with relative ease, but will perhaps only be remembered for the poor pass which lead to Alexis Sanchez's equaliser. 6.5

Getty Images

9/22 Oscar

Had a quiet afternoon and, with his reputation climbing an ever steepening gradient, the Chelsea man will have expected to do more today. 6

Getty Images

10/22 Neymar

Carried a nation's hopes on his shoulders with relative ease. Worried the Brazilian faithful with an early injury but kept running until the very end. 7

Getty Images

11/22 Fred

Ineffectual for large periods, like he has been for much of this World Cup, Fred showed little desire to make chances out of nothing. Expected his teammates to do the work. 5

Getty Images

12/22 Claudio Bravo

Will have been expecting a far busier afternoon but, thanks to his defence, was well protected all game long. 6.5

Getty images

13/22 Eugenio Mena

Despite being foolishly booked in the early exchanges, earning himself a one game ban, Eugenio Mena was a rock at the heart of the Chilean defence. Heading every ball, blocking every shot and tackling any Brazilian which dared stray too close – this was a masterful defensive display. 8

Getty images

14/22 Gonzalo Jara

A thoroughly impressive shift at the back of Chile's system. While many question his inclusion in their squad, Gonzalo Jara continues to prove his doubters wrong. 7

Getty images

15/22 Gary Medel

Nicknamed the 'Pitbull', Cardiff City's midfield general raced across the central areas with a canine desire to chase the ball. Delivered an effective performance. 7

Getty images

16/22 Mauricio Isla

Galloped forward at any opportunity with a performance which defined a breathless first half. Became more defensively minded in the second period but his work-rate was unrivalled. 7

Getty images

17/22 Francisco Silva

Perched just in front of the Chilean defence, Francisco Silva's job was simple and he made it look so. Dealt with the threats of Hulk and Neymar with an effortless swagger. 7.5

Getty images

18/22 Marcelo Diaz

Remaining composed in the midst of a packed Chilean midfield, when Brazil relentlessly piled on the pressure, Marcelo Diaz is the reason the hosts were contained for so long. 7.5

Getty images

19/22 Arturo Vidal

It is no surprise that Arturo Vidal has been linked with a £44million move to Manchester United of late. Kept possession well but his tackles had a worrying bite to them. Could have been dismissed on more than one occasion. 7

Getty images

20/22 Charles Aranguiz

A thorn in every Brazilian defender's side, Charles Aranguiz was regularly seen racing down the flanks with menace. A peerless display. 8

Getty images

21/22 Alexis Sanchez

Played the role of controller for much of this tie. Ran the midfield single-handedly and drove his side forward along with him. Deserved his goal and more. 8

Getty images

22/22 Eduardo Vargas

Not as threatening as his colleagues but still put in an admirable shift. 6

Getty images
Some fans have made it a mission to inspire the crowds. Victor Machado, aged 29, and a group of his friends printed 40,000 flyers with new songs to cheer the team, and distributed them before Brazil's match against Chile. Did it work? "The Brazil support was better than in the other games, but still it is so much worse than what it should be," he says, adding that a major issue was Fifa's ban on musical instruments, since Brazilians are used to having accompaniment during games.
At the beginning of last Saturday's game, the Brazilian fans booed the Chilean anthem, which drew criticism as unsporting and rude. Once the match began, the players made signs to the crowd to encourage them to cheer. But in the second half, with Chile dominating, the crowd barely reacted, even though Brazilians made up about 50,000 of the 58,000 present. "It's sad, but it's true. The Brazilian national team is not the priority of the fans in the stadium, and won't be," wrote Jose Antonio Lima on the blog Esporte Fino. "The players need to understand this and look for motivation and confidence within the squad. Since they are certainly not going to get it from the stands."
Alex Bellos is the author of 'Futebol: the Brazilian Way of Life'
Reuse content